Business Proposal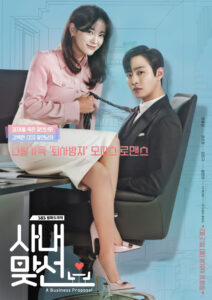 Details:
Title: Business Proposal (English title)
Revised romanization: Sanaematsun
Hangul: 사내맞선
Plot:
Shin Ha-Ri (Kim Se-Jeong) is an ordinary company worker who has a rich friend, Jin Young-Seo, who happens to be a daughter of a conglomerate. Young-Seo has been set up on a blind date by her parents but she didn't want to go, so she asked her friend Ha-Ri to show up to the date pretending to be her. Ha-Ri agreed and is shocked to see that her blind date is Kang Tae-Mu (Ahn Hyo-Seop), the CEO of the company where she works at!
Main Cast:
Kim Se-Jeong as Shin Ha-Ri
Ahn Hyo-Seop as Kang Tae-Moo
Seol In-Ah as Jin Young-Seo
Shop Shin Ha-Ri (Kim Se-Jeong)'s Outfits:

Shop Jin Young-Seo (Seol In-Ah)'s Outfits:

Shop Kang Tae-Moo (Ahn Hyo-Seop)'s Outfits: