Well, it seems like we are not the only ones who are thoroughly enjoying 'Business Proposal' as the drama skyrocketed in popularity with its latest episodes. It is an enjoyable watch with its unabashed portrayal of age-old romantic tropes and self-awareness humor. Also, Kim Se-Jeong's wardrobe keeps pulling us in for more.
Therefore, we have managed to compile a set of outfits worn by Se-Jeong as Shin Ha-Ri in the previous two episodes of the drama.
Have you read?
Kim Se-Jeong's Fashion in the K-Drama 'Business Proposal' Episodes 3-4
Please note: This post contains affiliate links to products we trust and recommend. If you choose to purchase a helpful product using these links, we may receive a small commission for referring you – at no extra cost to you. These funds help us keep this blog up and running.
Look #1
In episode 3, her GUKA check set-up looked straight out of the fashion cult movie 'Clueless' with its 90s-inspired check-patterned jacket and skirt.
Pins
Look #2
Her adorable varsity logo sweatshirt in this scene is from Sandro.
Pins
Look #3
For a laidback stay at home, Se-Jeong's BLUR edition sweatshirt and sweatpants in brown from BLUR1.0 capture the right mood.
Pins
Look #4
Se-Jeong's chic outfit in this scene was achieved with the help of a red cape coat from KHINIC and the Willis top handle bag from COACH.
Pins
Look #5
This grey 'You My Love' sweatshirt Se-Jeong wears is from AMONG.
Pins
Look #6
Se-Jeong's all-white outfit here consists of a trimming tweed jacket and skirt from O!Oi and a buttercream grace jacket from NEUL. Moreover, she wore a pretty pair of patent leather pumps from NODALETO and carried Prada's Galleria tote bag.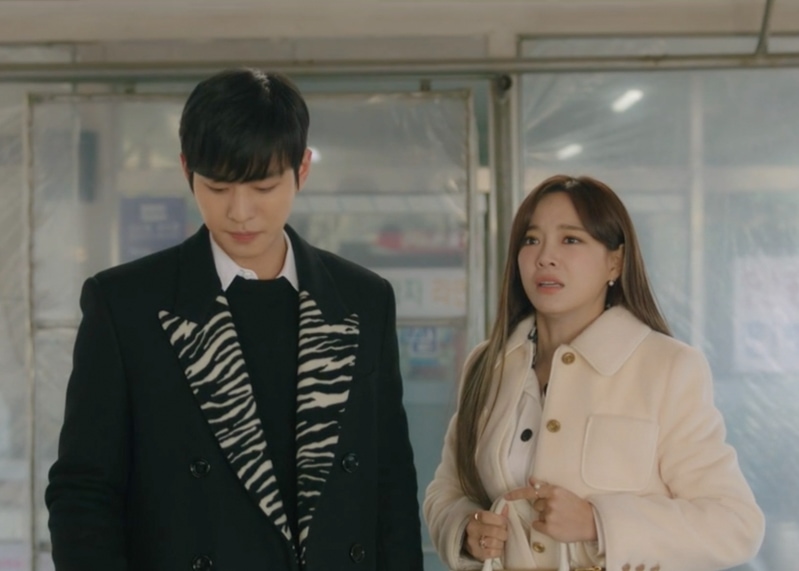 Look #7
We are loving the assortment of casual wear shown so far as Se-Jeong chills in an off-white logo graphic hoodie from Marc Jacobs.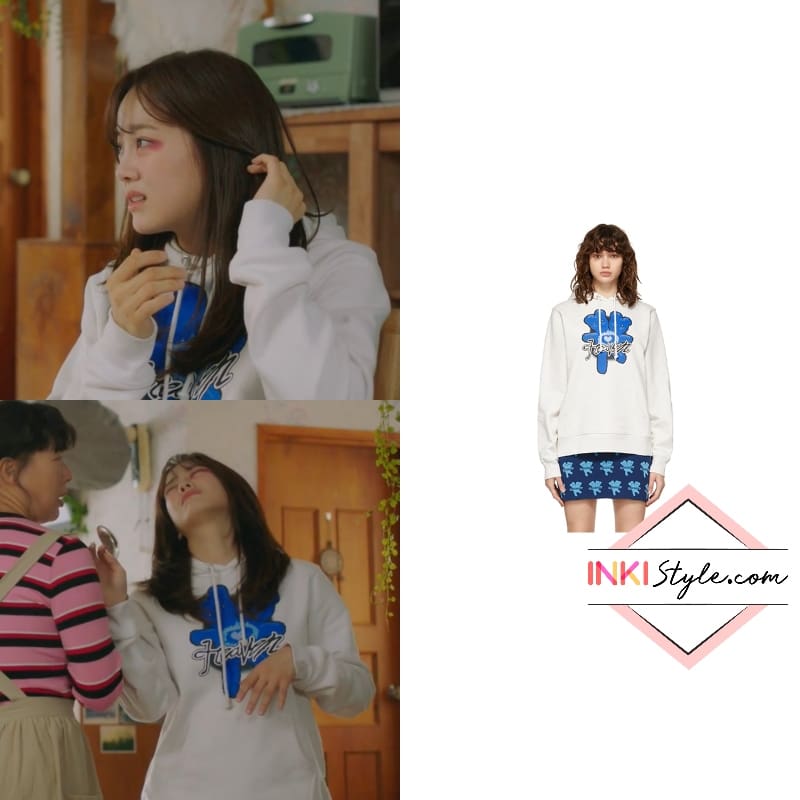 Pins
Look #8
At this point, we think that checks are Se-Jeong's favorite pattern (and rightfully so) because episode 4 features yet another stylish round-neck check jacket from tetu.
Pins
Look #9
This brown punk bear fleece jacket from CLUT STUDIO is too cute to be true. Not only is it cozy but it also oozes charm.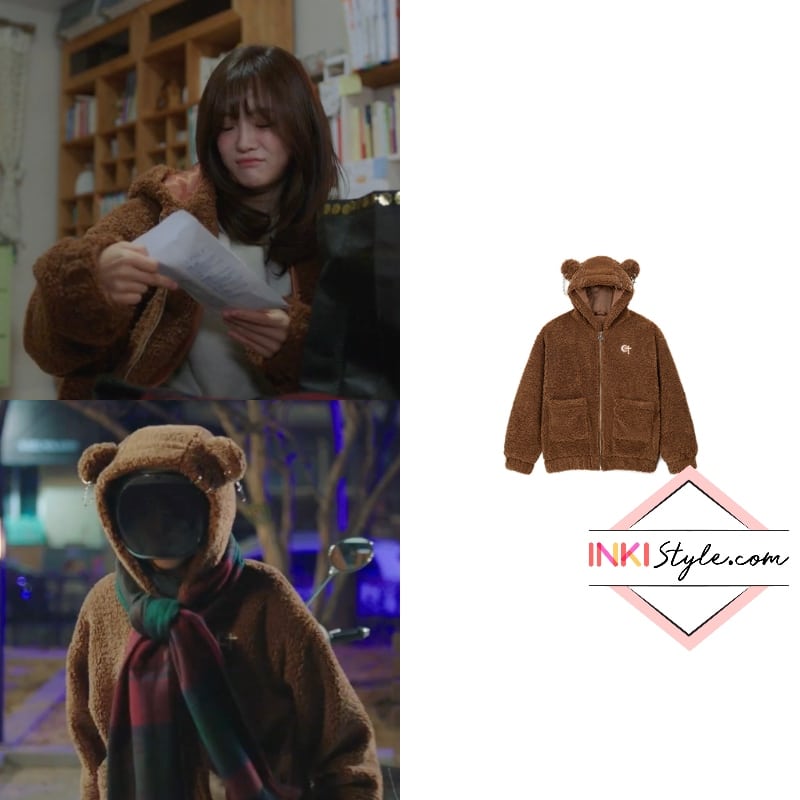 Pins
Look #10
Se-Jeong's fashion game is on point as she cut a stunning figure in a white C checked double button jacket from curetty and carried a Madeline crystal-buckle crossbody bag from Jimmy Choo.
Pins
Look #11
Se-Jeong's final outfit for today is a glamorous one that is perfect for a date night out. She wore an ivory round collar slim frill medium dress from Dint and carried a stylish Salvatore Ferragamo double Gancio shoulder bag. Not to mention, her angel wing earrings from GETMEBLING are a mark of great styling.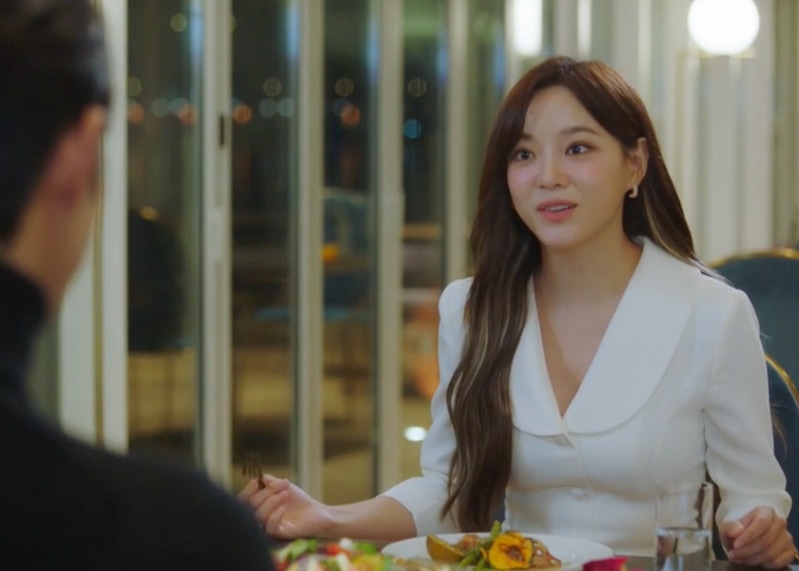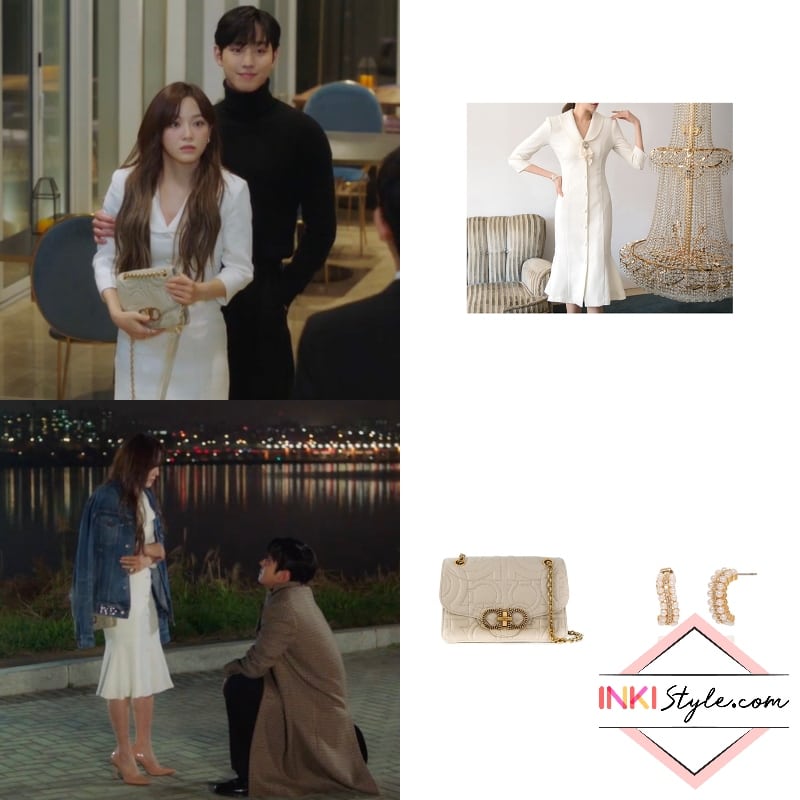 Pins
Continue reading:
Read more about the fashion in the Korean drama 'Business Proposal' here.
If you like this post, share it with a friend who might like it as well. And don't forget to follow our Facebook Page for more news on Korean fashion & beauty!