On October 17, (G)I-DLE dropped one of their boldest and most impressive music videos in their 4-year career, 'Nxde'! Besides the lyrics, vocals, or visuals in the MV, which were all out-of-the-box—today we're going to focus on the iconic fashion choices showcased by the girls.
With that being said, read on as we break down the impressive and unforgettable outfits worn by (G)I-DLE in the MV—from Marilyn-Monro-inspired outfits to Madonna-inspired looks, and everything in between!
(G)I-DLE's 'Nxde' MV Fashion
Please note: This post contains affiliate links to products we trust and recommend. If you choose to purchase a helpful product using these links, we may receive a small commission for referring you – at no extra cost to you. These funds help us keep this blog up and running.
Minnie's Look #1
The first one on the list is Minnie, who looked gorgeous when she appeared wearing a gloved velvet minidress from VETEMENTS and a crystal star-charm chain necklace from Alessandra Rich.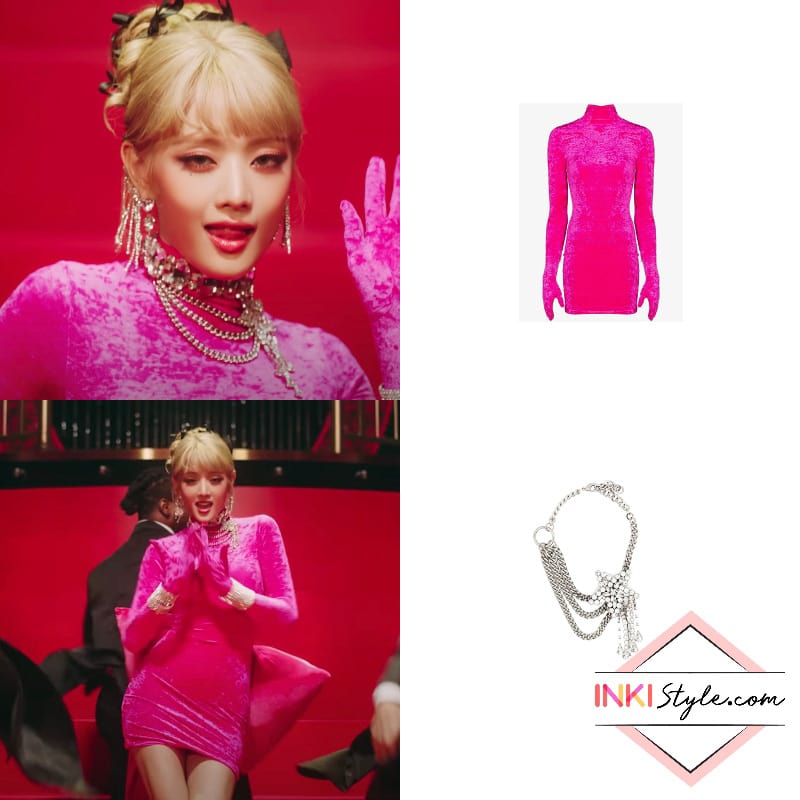 Pins
Minnie's Look #2
Her second look was as bold as ever, starring a halterneck cut-out midi dress from Mugler.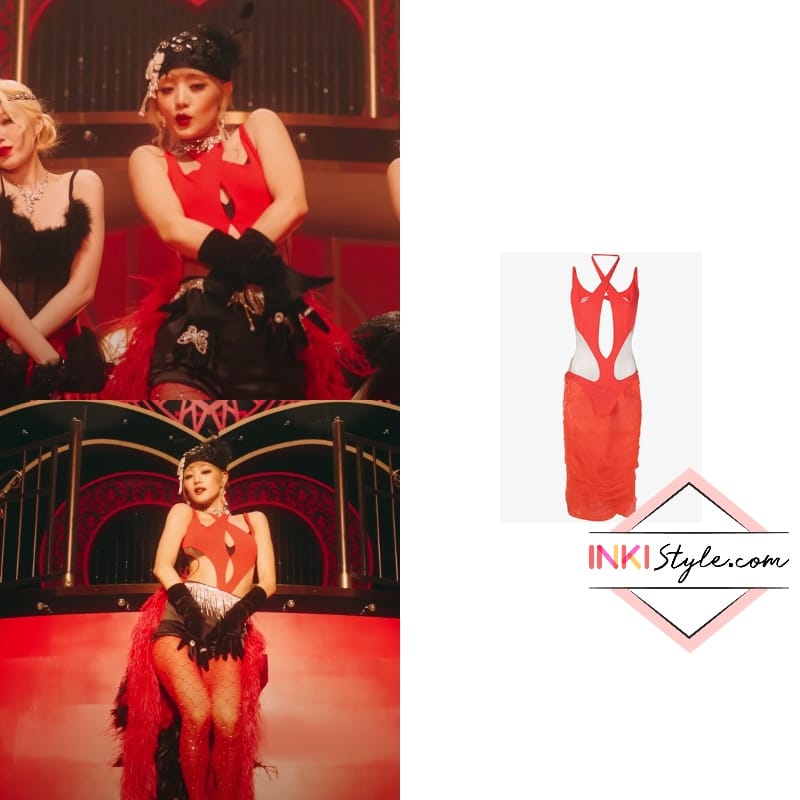 Pins
Minnie's Look #3
Pins
Soyeon's Look #1
The girls kept on showering us with bold and iconic looks. This time, Soyeon showed up in a crazy lace-up ruched velvet bralette from JEAN PAUL GAULTIER.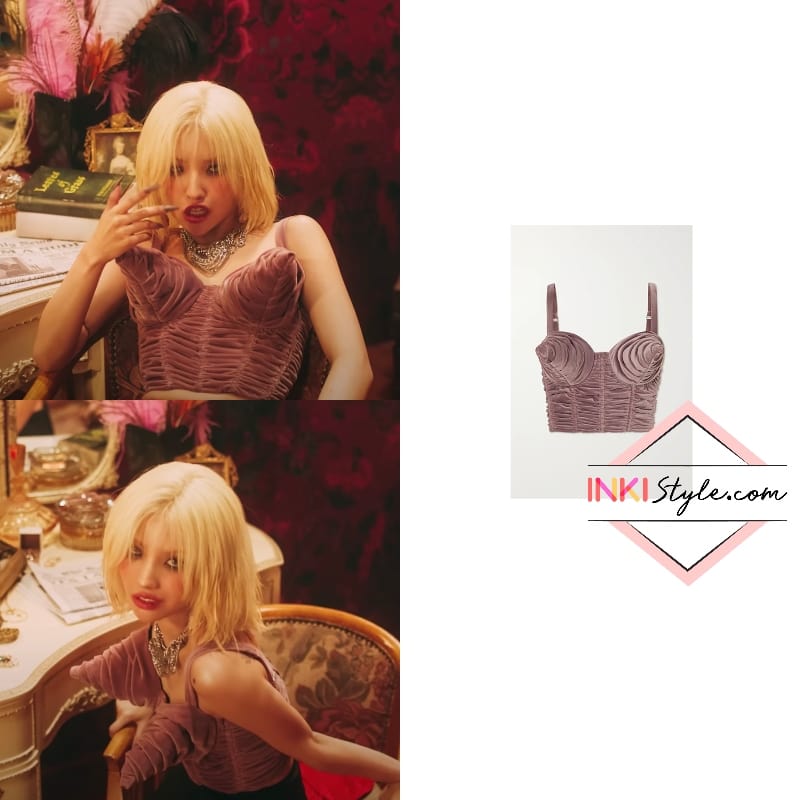 Pins
Soyeon's Look #2
To pull this gorgeous look off, Soyeon opted for a cute bustier corset from Mugler.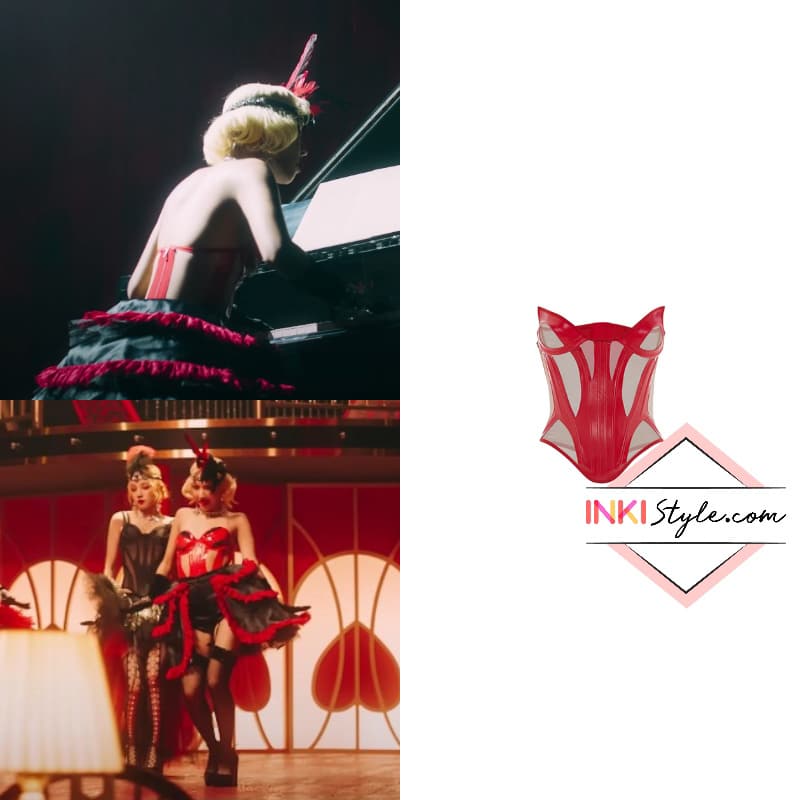 Pins
Soyeon's Look #3
This look of hers has both cool and crazy elements to it, featuring a modified version of the ivory bodysuit from TTSWTRS and a black tool belt miniskirt from DION LEE.
Pins
Miyeon's Look #1
We all fell for Miyeon when she wore this fancy silk top from Zimmermann.
Pins
Miyeon's Look #2
She looked beyond gorgeous in her corset mech & jersey bodysuit by Mugler.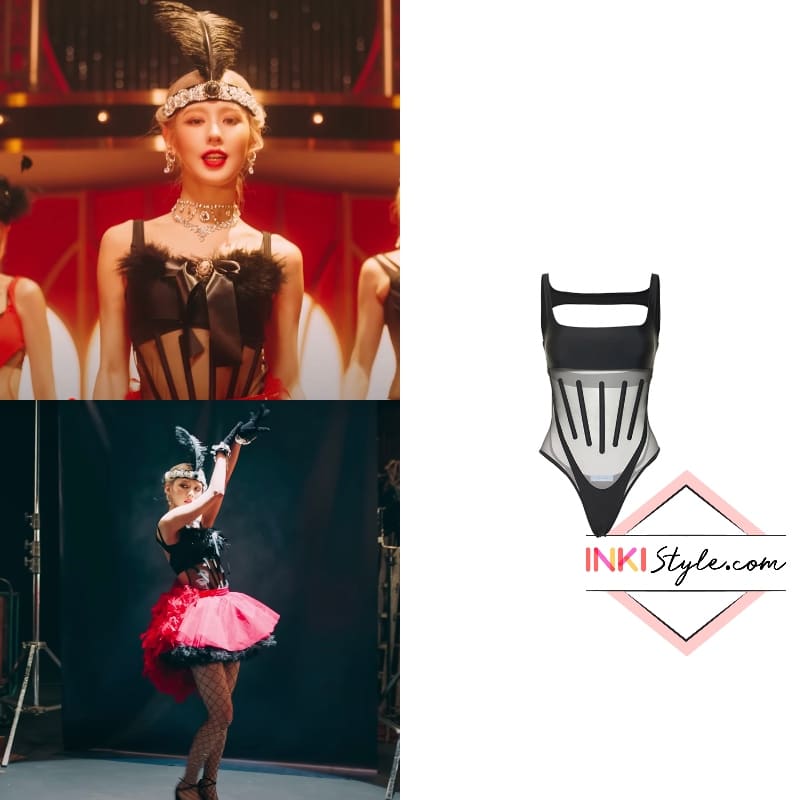 Pins
Miyeon's Look #3
Miyeon pulled off a stunning look consisting of a see-through, beige jinx tank top from MIAOU and a Paris Rara skirt from Charles Jeffrey Loverboy.
Pins
Yuqi's Look #1
Next, we have Yuqi looking like Marylin Monro while wearing a white postcard V-neck flared mini dress from ZIMMERMANN and a white poodle top handle bag from NODRESS!
Pins
Yuqi's Look #2
She nailed a gorgeous look using a black bonded mesh corset top from Mugler.
Pins
Yuqi's Look #3
While it's not easy to look as cool as Yuqi did here, you can at least copy her outfit by coupling a beige, see-through 2000 Archives Edition long-sleeve T-shirt from THEOPEN PRODUCT with a draped camouflage-patchwork skirt from Diesel.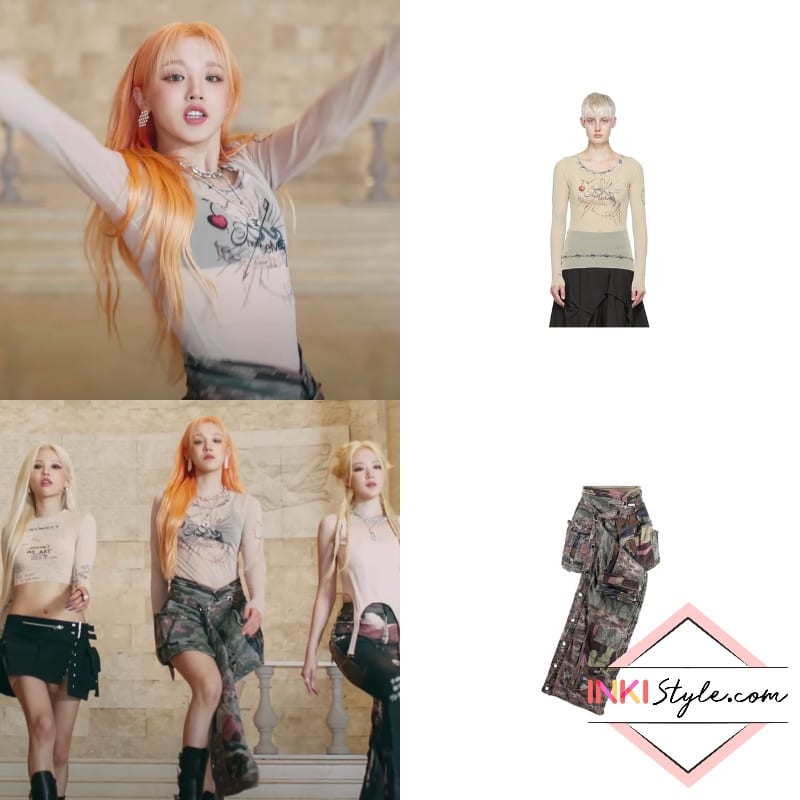 Pins
Yuqi's Look #4
This is probably one of the most awe-inspiring looks in the whole MV! To pull this one off, Yuqi paired a stunning, beige 'Vamos A La Playa' T-shirt with a matching maxi skirt, both from OTTOLINGER.
Pins
Shuhua's Look #1
With her flowy, blonde hair and green Doss pleated gown by Retrofete, Shuhua was an absolute feast for the eyes.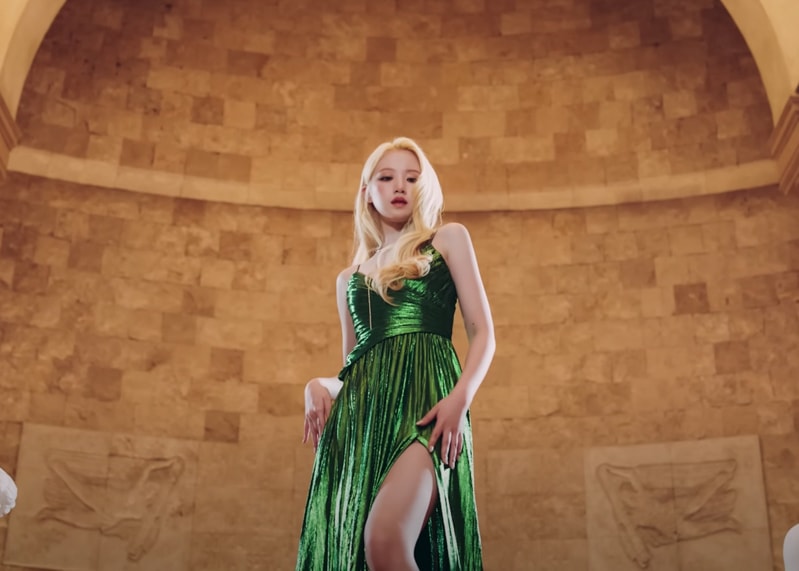 Pins
Shuhua's Look #2
She brought another stunning look to the table, which featured a cut-out detail sleeveless dress from Mugler.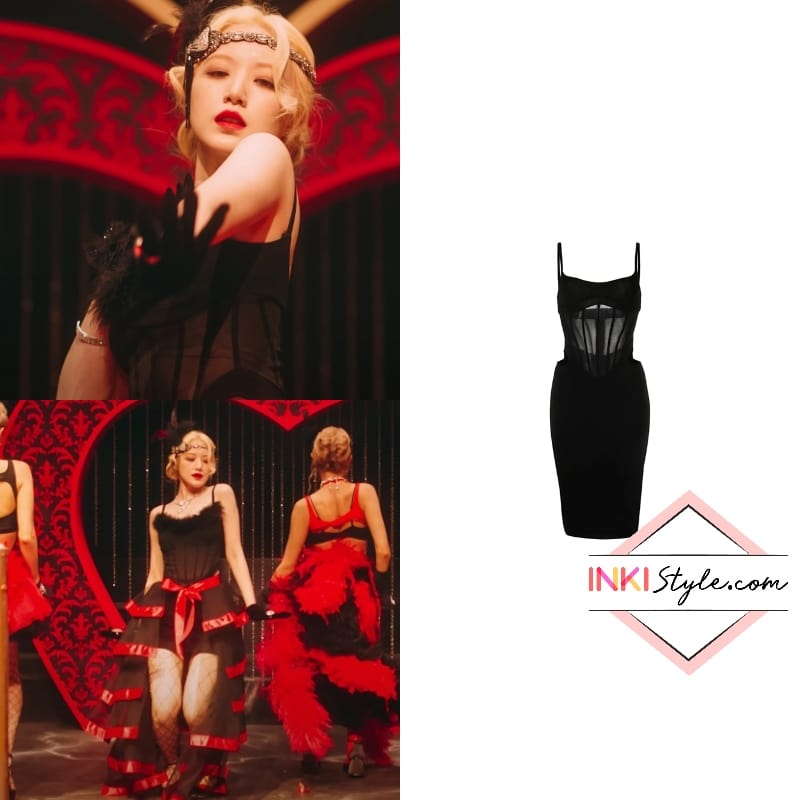 Pins
Shuhua's Look #3
And what's the best way to finish off this fashion-filled list? By showing you Shuhua in Dion Lee's corset-style zipped cropped top, of course!
Pins
If you like this post, share it with a friend who might like it as well. And don't forget to follow our Facebook Page for more news on Korean fashion & beauty!