SEVENTEEN's fourth studio album 'Face The Sun' is out now. Its lead single released on May 27, is absolutely 'HOT' just like its name. The members' eclectic fashion in the MV makes them look fierce, funky, and fun, and we can't wait to share all their looks with you!
So, here we are with a list of the outfits sported by the members of SEVENTEEN in their latest music video for 'Hot'.
Please note: This post contains affiliate links to products we trust and recommend. If you choose to purchase a helpful product using these links, we may receive a small commission for referring you – at no extra cost to you. These funds help us keep this blog up and running.
SEVENTEEN's 'Hot' MV Fashion
Mingyu's Look #1
Mingyu's first look is terrific as he dons a Palm Angels palm tree-print bomber jacket and Rick Owens zip-detail straight-leg trousers.
Pins
Mingyu's Look #2
Leopard print has a fanbase of its own and Mingyu totally rocks these snow leopard print trousers from Roberto Cavalli that he pairs with a Balmain white crepe blazer and leather square toe loafers from Martine Rose for a flattering look.
Pins
The8's Look #1
The8 paints a formidably stylish picture in this logo-patch sleeveless jacket from Vetements.
Pins
The8's Look #2
This Charles Jeffrey Loverboy x George Allen Loverboy top with its unique and alluring pattern is a scene-stealer.
Pins
Jun's Look #1
It is impossible to take your eyes off this silver nylon teddy jacket from Celine.
Pins
Jun's Look #2
Jun's next look has him wearing AGR abstract-print straight leg jeans and a color-block embroidered-logo T-shirt from Rhude for a fascinating look.
Pins
DK's Look #1
DK exudes charisma in this tie-dyed cotton bomber jacket from Celine.
Pins
DK's Look #2
For an equally appealing look, we see him next in a 1017 ALYX 9SM graphic zip shirt.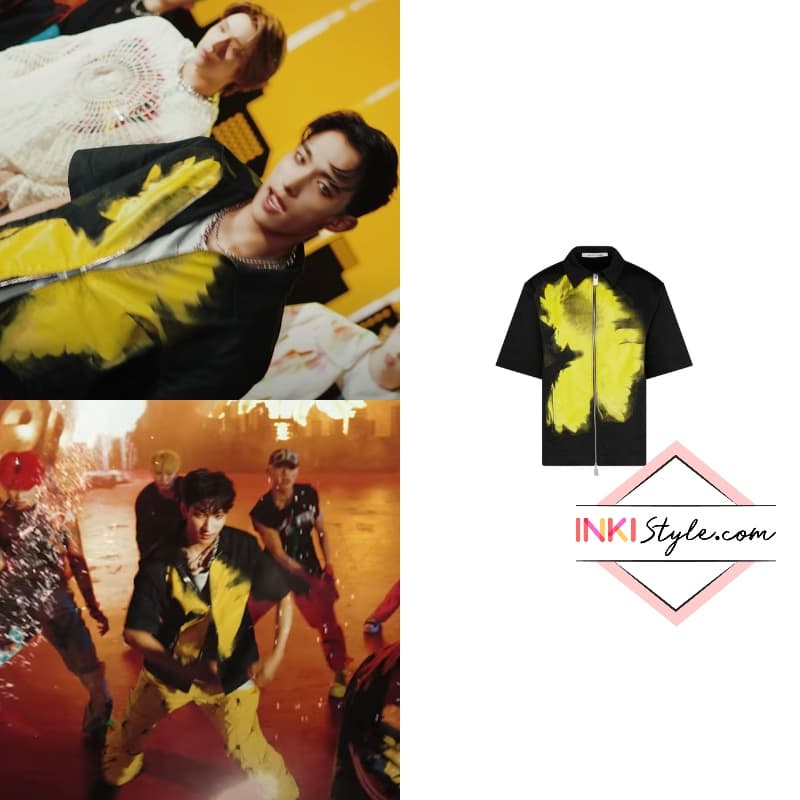 Pins
DK's Look #3
Here, DK pairs crescent moon-print paneled jeans with a matching crescent moon-print denim jacket from Marine Serre for a dapper all-black look.
Pins
Seungkwan's Look #1
Seungkwan looks fearless in a striking graphic-print silk bomber jacket and completes his outfit with these chain detail boots, both from Amiri.
Pins
Seungkwan's Look #2
For this classic black & white look, he pairs together a checkered pattern T-shirt and a trendy Teddy 80s zip bomber jacket from Saint Laurent.
Pins
Joshua's Look #1
Joshua's tall and brooding persona gets amplified in this graphic-print single-breasted blazer from Raf Simons.
Pins
Joshua's Look #2
He looks charming in this black satin varsity jacket with artist embroidery from Celine for his second look.
Pins
Hoshi's Look #1
Hoshi stands out in a golf abstract-pattern long-sleeved shirt from Rick Owens worn over a perforated logo tank top from Charles Jeffrey Loverboy.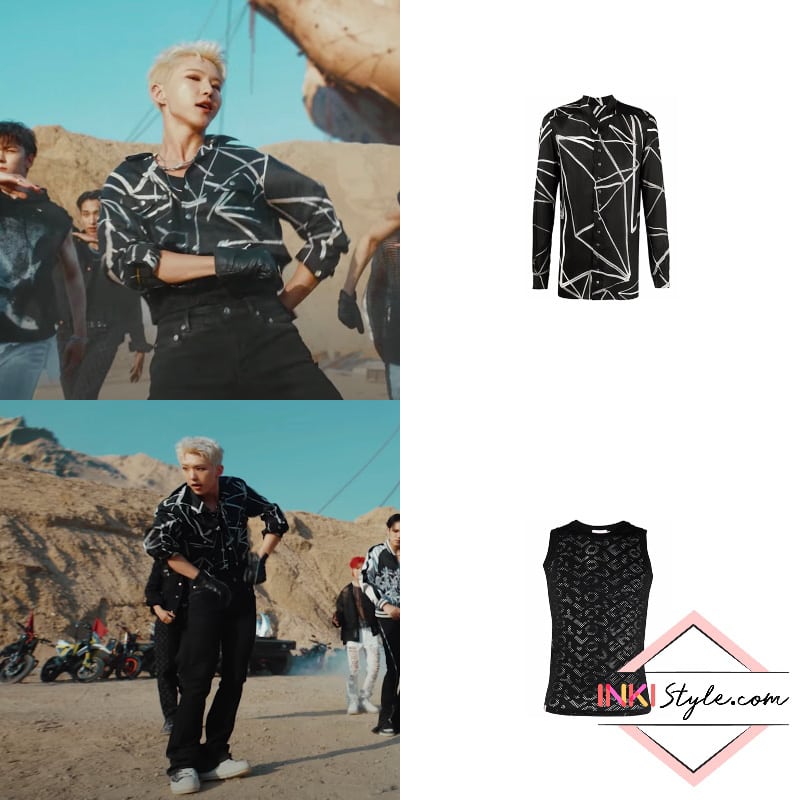 Pins
Hoshi's Look #2
His punk look here consists of a graphic-print layered T-shirt from Raf Simons that he pairs with a grey BB sprayed cap from Balenciaga.
Hoshi's Look #3
In a completely fresh and diverse look, we see Hoshi in an intricate Amiri tapestry long-sleeve bowling shirt and matching tapestry-print flared trousers.
Pins
Dino's Look #1
Dino's first fierce look has him in a black off-white bandana bomber jacket from Rhude.
Pins
Dino's Look #2
Next, he ups the ante in a tasteful black Ernest W. Baker quilted lamb leather vest and matching God's Masterful Children Harley distressed wax-applique jeans.
Pins
Woozi's Look
Woozi's suave look consists of classic floral print jeans and a floral print denim jacket from Ernest W. Baker paired with Prada's cloudburst thunder metallic chunky sneakers.
Pins
Wonwoo's Look
Wonwoo looks stunning in one of a kind caterpillar pants and jacket from Bottega Veneta, paired with black bounce calfskin loafers.
Pins
S.Coups' Look #1
S.Coups' aura is unmatchable in this Balenciaga inside-out single-breasted blazer.
Pins
S.Coups' Look #2
Pins
S.Coups' Look #3
Pins
Vernon's Look
Vernon's incredibly suave ensemble consists of a colorful abstract-print lightweight jacket from Martine Rose worn over a Namesake oversize tee and fashionable faded slim-cut jeans from Dsquared2.
Pins
Jeonghan's Look
Jeonghan's fun and stylish outfit consists of this eye-catching bomber jacket and straight-leg jeans from Versace.
Pins
If you like this post, share it with a friend who might like it as well. And don't forget to follow our Facebook Page for more news on Korean fashion & beauty!