As the episodes of 'Love In Contract' draw on, we can't help but become more in awe of Park Min-Young's jaw-dropping fashion. Her strong portrayal of Choi Sang-Eun would not be complete without some dazzling and daring outfit options.
Don't miss out on the best fashion moments captured in the previous two episodes of the drama.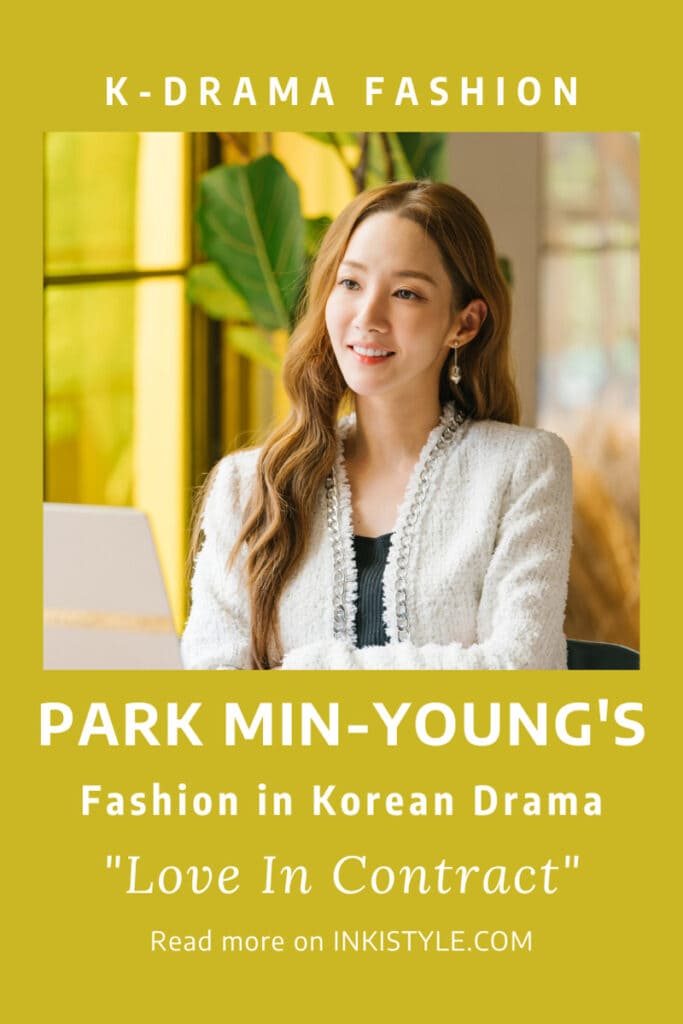 Have you read?
Park Min-Young's Fashion in the K-Drama 'Love In contract' Episodes 7-8
Please note: This post contains affiliate links to products we trust and recommend. If you choose to purchase a helpful product using these links, we may receive a small commission for referring you – at no extra cost to you. These funds help us keep this blog up and running.
Look #1
In episode 7, Min-Young made a stunning entrance in a forest green lace-detail ribbed mini dress from Self-Portrait. Her POMELLATO rose gold diamond hoop earrings were a lovely addition to the glamorous outfit.
Pins
Look #2
In this case, her abstract floral-print shirt and skirt from Marni is a refreshing ensemble that combines comfort with style.
Pins
Look #3
For an animated look, Min-Young paired a blue and grey V-neck sleeveless sweater from Dior with a white collar shirt and a black pleated skirt. She improved upon the simplicity of the clothes by wearing the 'Rose Des Vents' earrings, also from Dior.
Pins
Look #4
Min-Young's mango orange strapless maxi dress from BONDI BORN and suede wedge espadrille sandals from CASTAÑER are the best fit for a sunny day out on the beach or a picnic or even on a yacht!
Pins
Look #5
As fashionable as ever, Min-Young outdid herself here by wearing a white cut-out flared mini dress from Maje, coupled with gold earrings from NUMBERING to match the embroidered edges of the dress. She also carried the iconic corset small leather bucket bag from Alaïa to complement the overall look.
Pins
Look #6
Her minimalist yet graceful outfit in this scene is the definition of urban chic. To achieve the look, she assembled a beige silk tie shirt and ivory crêpe couture shorts, both from Valentino, to go with her Roger Vivier leather pumps. Additionally, the accessories include a silver and pearl necklace from NUMBERING and a small tote bag from Valentino.
Look #7
For one of Min-Young's first looks from episode 8, she wore a blue puff sleeve tiered dress from LANG&LU and slipped into a comfy pair of bright pink cotton slides from Dior.
Pins
Look #8
Next up, she styled a bustier playsuit from The Dolls House with a black crop blazer and nude petit earrings from POMELLATO.
Pins
Look #9
With a silk scarf from lescarf wrapped daintily around her hair, Min-Young cut a pretty figure in Celine's black mini-bustier dress and slouchy boots from Paris Texas.
Pins
Look #10
Here, Min-Young got her chain-cropped jacket and its matching chain-trim mini-skirt from Alice + Olivia. She then wore the crystal-embellished pumps from Valentino to finish the look.
Pins
Look #11
Min-Young's final outfit from the episode is a departure from her attractive signature style. Her casual appearance here features a zip-up hoodie from VERUTUM, a black mini Triomphe bag from Celine, and authentic mules from Vans.
Pins
Continue reading:
Read more about the fashion in the Korean drama 'Love In Contract' here.
If you like this post, share it with a friend who might like it as well. And don't forget to follow our Facebook Page for more news on Korean fashion & beauty!