We are all very excited to dive into some of the best Korean fashion trends in Spring/Summer 2022. Whereas the previous season may have gone into overdrive with the desire to get dressed up for even the most mundane of weekly grocery runs, the perspective for Spring and Summer is that be extra fabulous at all times, while reinforcing simple, glamorous, stunning clothes and outfits that can be thrown on in a hurry – the effortlessly chic.
In today's article, we have gathered some of the most popular elements in Korean fashion this season. Let's be inspired!
Please note: This post contains affiliate links to products we trust and recommend. If you choose to purchase a helpful product using these links, we may receive a small commission for referring you – at no extra cost to you. These funds help us keep this blog up and running.
Crop Top
Crop tops are more stylish and versatile this season than in the past.
Ningning (AESPA)
AESPA's member Ningning wore a knitted crop top and styled it with a pair of mid-waist jeans. 
Somi
Somi created a cool street-style look with a cropped graphic tee.
Shop the Trend

Low-Rise
Fashion trends are clearly leaning towards a bold feminine silhouette in SS22. The tops are getting shorter, while the waist of pants and skirts is getting lower.
Wonyoung (IVE)
We love Wonyoung's flirty academia look with a cropped sweater and a low-rise pleated skirt. 
Yoona
Yoona styled her low-rise skirt with an oversized blue button shirt and wrapped up her young and refreshing look with calf socks and white sneakers. 
Shop the Trend

Tie-Front Top
The tie-front top is this season's must-have. Though backless blouses have been hogging all the spotlights in recent years, the start of the season appears to have shifted to the front.
Seulgi (RED VELVET)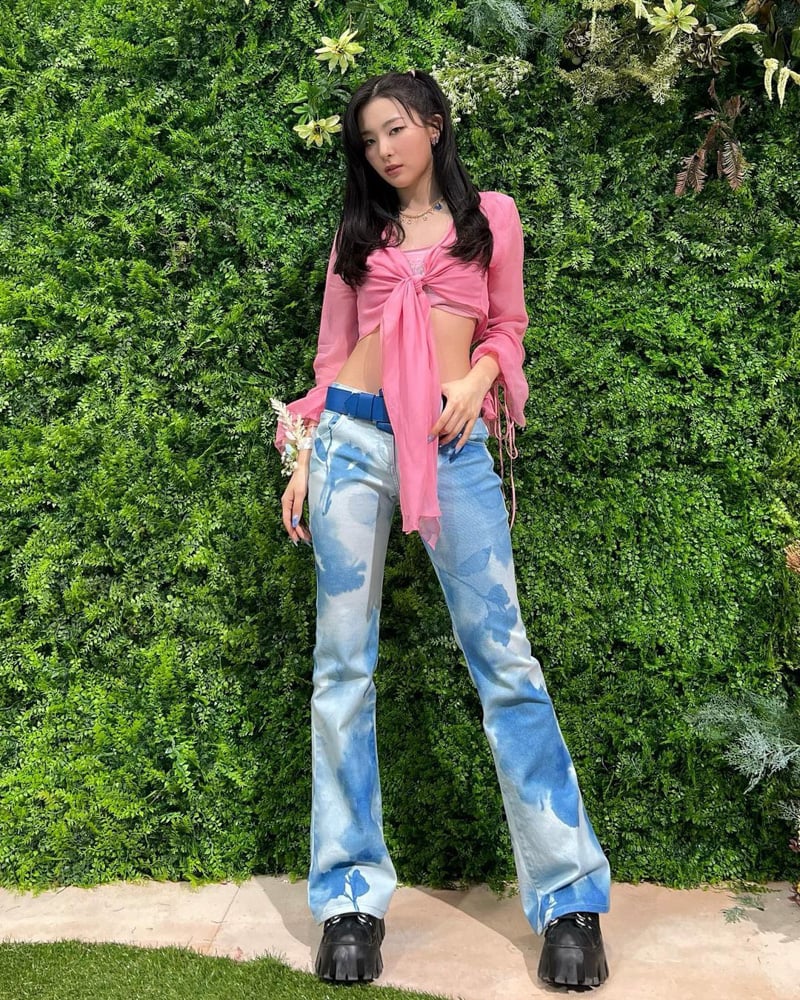 RED VELVET's Seulgi shared her feminine and sexy tie front top look in the 'Feel My Rhythm' music video and we are absolutely in love with it.
Shop the Trend

Colorful Plaid
Even during the minimalism craze that swept fashion in recent years, fashion icon Cher Horowitz from the movie 'Clueless' and her yellow plaid suit had a special place in our hearts. This season, colorful plaids are back again!
Jisoo (BLACKPINK)
BLACKPINK's Jisoo wore a chic yellow plaid dress with a white button shirt and a black tie creating a refreshing academia look.
Lily (NMIXX)
Lily's plaid on plaid look is bold and fun. 
Shop the Trend

Denim on Denim
Elevated denim – that is, denim on denim – is set to become a fashion focal point, according to one of the most prevalent Korean trends to emerge from SS22.
Rosé (BLACKPINK)
Rosé looks chic and stylish with her checked denim on denim look.
Yuna (ITZY)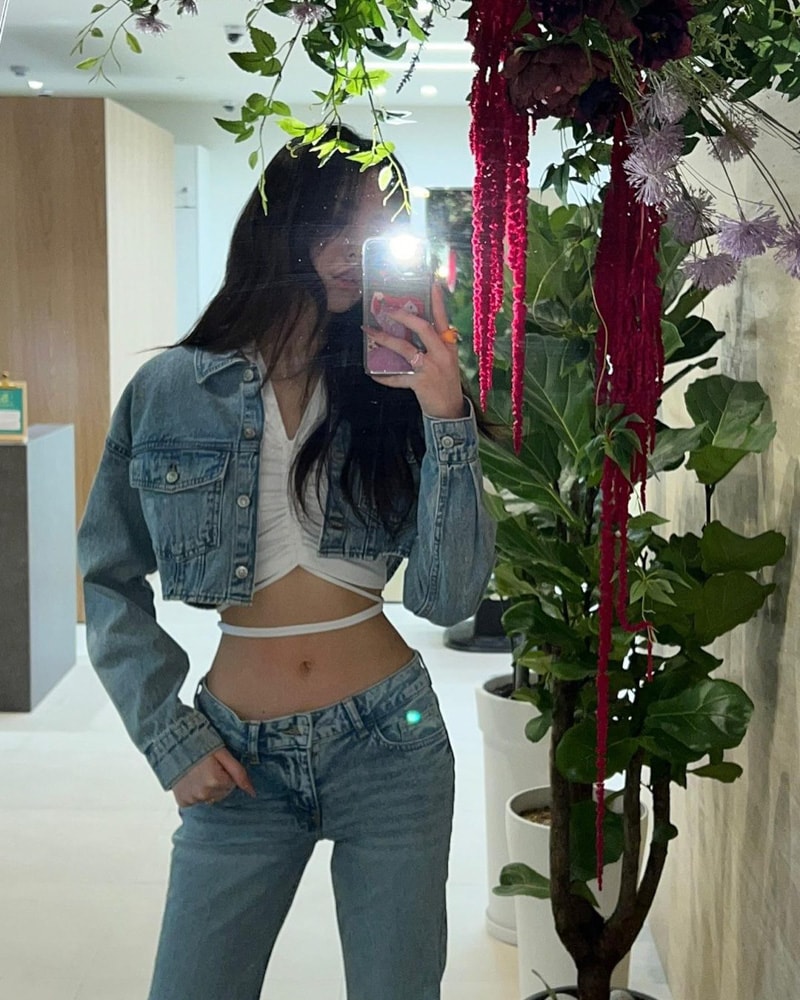 ITZY's Yuna rocked a super sexy denim-on-denim look.
Shop the Trend

Cut-Out
The 'Cut-Out' – a party-oriented and glamorous trend – made a major comeback in S22. We are seeing popular K-pop idols that are enthusiastically promoting cut-out pieces everywhere, fueling a resurgence in party wear.
Minnie ((G)I-DLE)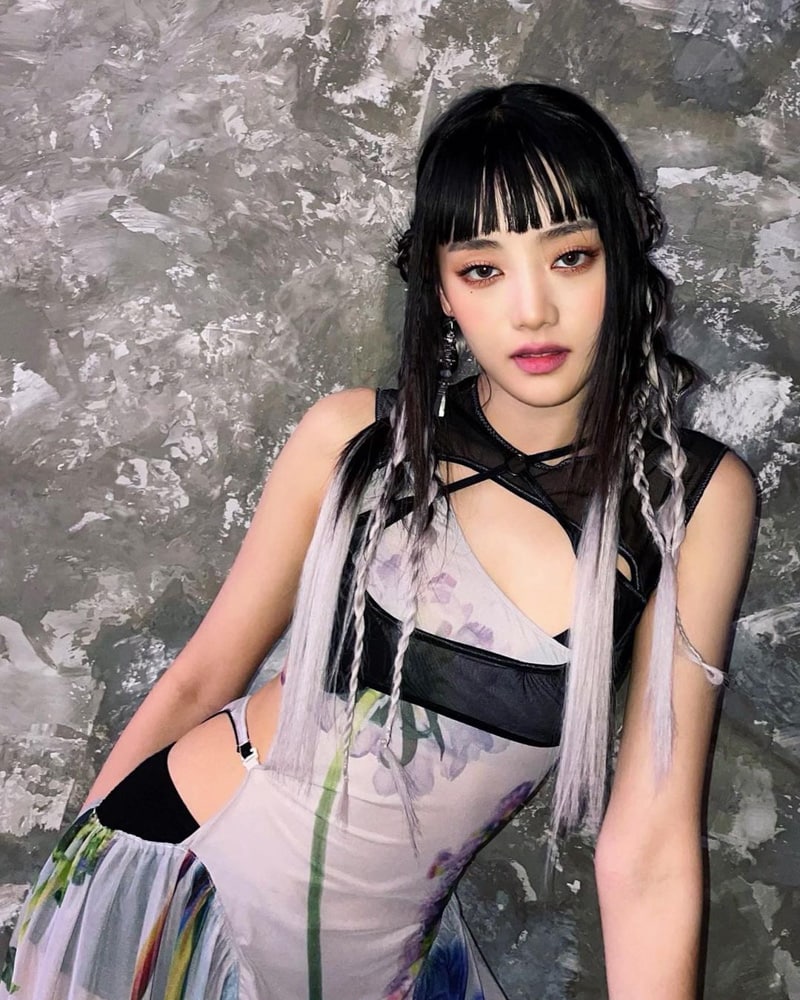 (G)I-DLE's Minnie looks sexy and exotic in her cut-out dress.
Yeji (ITZY)
Yeji created a hip-hop-oriented party look with a cut-out top.  
Shop the Trend

Shiny Material
Good news for metallic and shinny material lovers, the futuristic, tech-loving style of the late 1990s and early 2000s is making a comeback.
Soyeon ((G)I-DLE)
Soyeon looks like a party queen in her metallic shiny dress and matching heels.
Shop the Trend

Velvet Tracksuit
If you have been following the latest fashion news, then you must know, that the velvet tracksuit is back, and this time with a roar!
Jennie (BLACKPINK)
Jennie teases the new velvet trend in her olive green velvet tracksuit and finished up her look on a high note with the chic orange-colored shades. 
Shop the Trend

Baguette Bag
The baguette bag is characterized by its compact form and a short shoulder strap, intended to be worn under the arm to emulate the effortlessly chic style of Parisian women. It doesn't matter if you are a seasoned fashionista or you are new to the fashion world, a baguette bag is designed to impress.
Solar (MAMAMOO)
With a crop top and low-rise pants, MAMAMOO's Solar completed her fun holiday look with a chic violet baguette bag.
Shop the Trend

Waist Chain
Joining the comeback of the Y2K trends with crop tops, low-rise bottoms, and velvet tracksuits is the fabulous waist chain.
Hwasa (MAMAMOO)
Hwasa pulled off her exotic and romantic look with the dramatic bling of a waist chain.
Shop the Trend

If you like this post, share it with a friend who might like it as well. And don't forget to follow our Facebook Page for more news on Korean fashion & beauty!