Summer is here and it's time to amp up your summer-style wardrobe! If you are currently looking for summer-style inspiration, you're on the right page.
We have curated our favorite K-Pop idols' fashion favorites and in this article, we'll focus on a summer staple – sunglasses! 
Please note: This post contains affiliate links to products we trust and recommend. If you choose to purchase a helpful product using these links, we may receive a small commission for referring you – at no extra cost to you. These funds help us keep this blog up and running.
Gentle Monster Crella 01 Sunglasses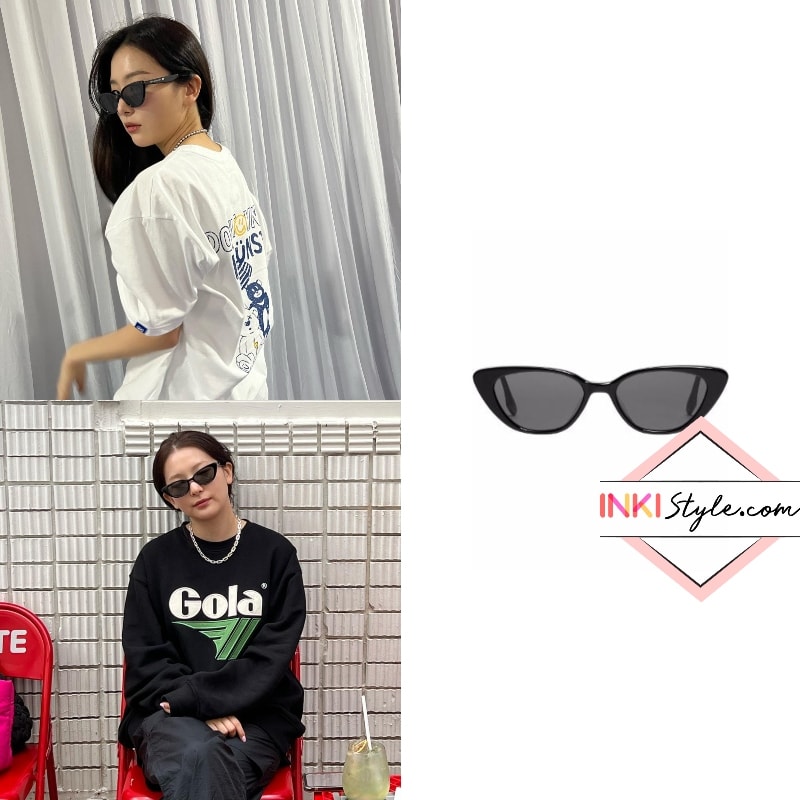 Pins
Cat-eyes-shaped sunglasses will never go out of style and for this summer season and Gentle Monster's Crella 01 might be something you'd like to rock.
Seulgi is looking fiery in such a laid-back hip-hop outfit accentuated with her sophisticated eyewear. We can truly see how versatile this pair is for you can wear it with something casual or formal – both look so cool!
Fake Me Deadzone BSV Sunglasses
Pins
This super retro look brought to us by BTS' RM and J-Hope is definitely a look we should go for this summer.
This pair of Fake Me Deadzone BSV sunglasses truly screams "Idol" and we can see how RM and J-Hope rocking them in concerts and promotions lives up to that statement!
Projekt Produkt RS10 C0WG Sunglasses in Pink
Pins
Wendy is looking all fun and bubbly with her Projekt Produkt sunglasses in the model RS10 C9WG Pink.
The rosy pink tinted lenses truly give the look a more preppy vibe that truly suits Wendy's retro outfit and hairstyle! If you're looking for a low-key statement pair of sunglasses, this should be it!
Saint Laurent 461 Betty Sunglasses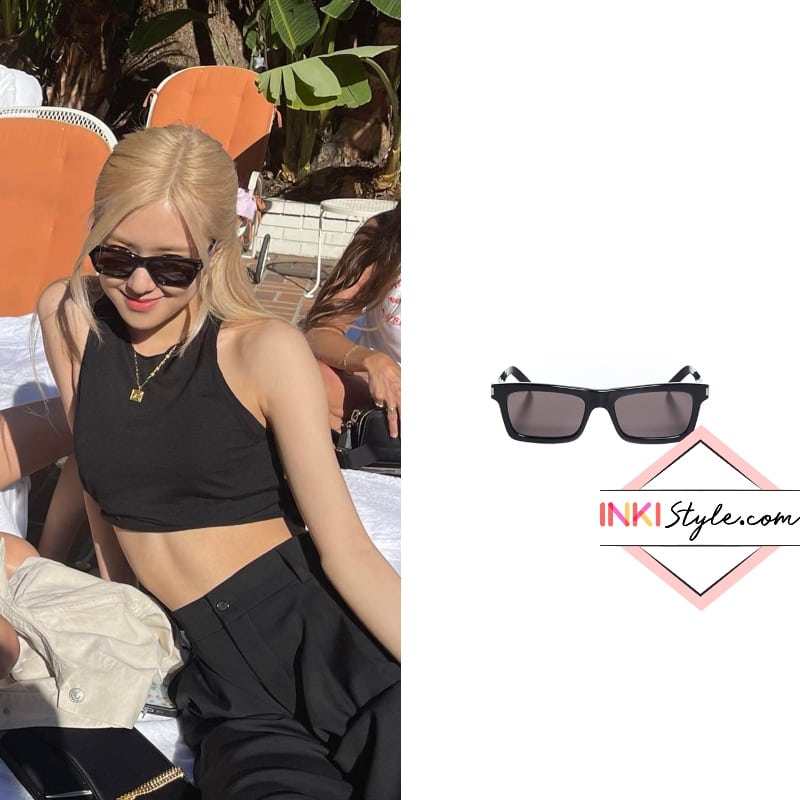 Pins
Rosé is simply dazzling under the sun in her Saint Laurent 461 Betty sunglasses! It's one proof that you can never go wrong with a black pair of frames that can suit even the simplest outfit.
In this look, Rosé went for a classic all-black outfit which was perfectly adorned by her sophisticated Saint Laurent frame.
Givenchy GV Day Sunglasses
Pins
Now let's go for something a bit more colorful with this pair of Givenchy GV Day sunglasses.
In this look, we can see AESPA's Ningning rocking her signature purple frame which is also perfectly coordinated with her purple pullover sweater. Super cute, don't you think?
Gentle Monster Corsica 01 Sunglasses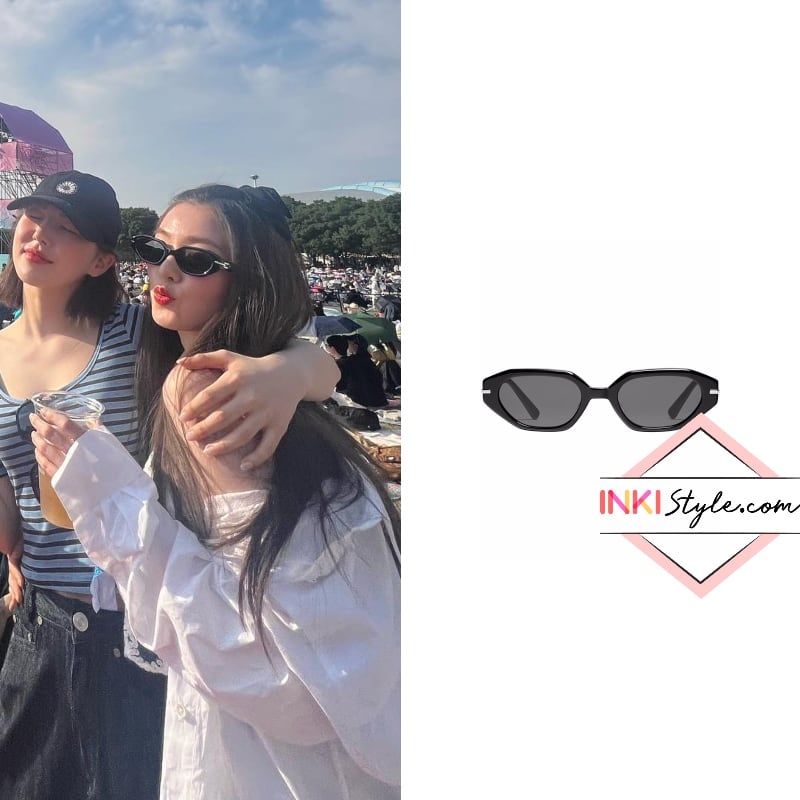 Pins
In this shot, we can see how Irene beautifully rocked her pair of Gentle Monster Corsica 01 at a jazz music festival in Seoul.
With the edgy shape of the glasses, it's a perfect fit for Irene's dollish and elegant profile!
Gentle Monster Dadio 01 Sunglasses
Pins
Of course, we have another Gentle Monster entry on this list because this brand is just an absolute K-Pop Idol staple!
BTS' J-Hope was spotted wearing Gentle Monster's Dadio 01 several times, at the airport and on social media. Its gradient lenses add style and uniqueness to J-Hope's looks for sure!
Manomos Disco Sunglasses
Pins
Another pair that offers a touch of color would be these Manomos Disco sunglasses.
BTS's Jungkook and Suga totally rocked this pair with gradient lenses in fun colors that nicely matched their light-colored outfits.
Dior 30montaigne Mini Bi Sunglasses
Pins
Dior's muse Jisoo was accompanied by her 30Montaigne Mini Bi Sunglasses in her recent getaway to Madrid, Spain.
The super classy black pair embellished with Christian Dior's iconic emblem instantly gave a superstar statement that fits Jisoo's small face so well!
Electric Knoxville Sunglasses
We know how pretty much anything Suga wears looks extremely hip and stylish, right? We spotted him rocking a pair of Electric Knoxville sunglasses in such an effortlessly stylish manner with his sunglasses acting as a hairband! How cool is that?
Projekt Produkt AU1 Sunglasses in Black
Pins
The unique edges of Projekt Produkt's AU1 sunglasses nicely framed Yeri's as well as Miyeon's gorgeously small faces!
Its bold design truly makes an instant statement that can turn any outfit into a head-turner!
Louis Vuitton LV Moon Sunglasses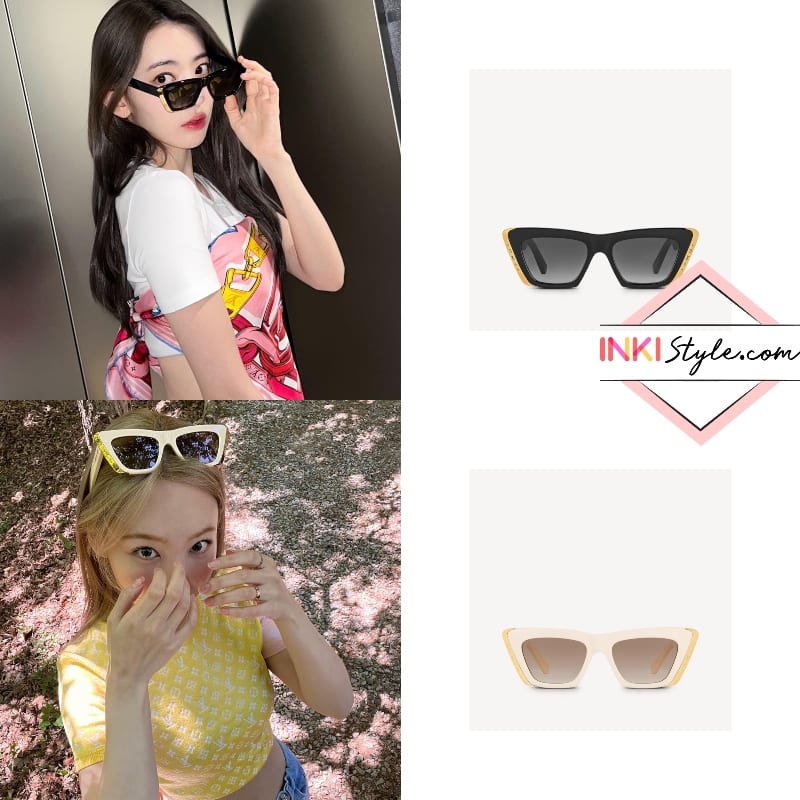 Pins
Last but definitely not least would be this pair of luxurious sunglasses from Louis Vuitton. Their LV Moon sunglasses brings such a high society vibe that will surely transform any look!  
In this photoset, you'll see how LE SSERAFIM's Sakura rocks the black pair with the gold accent while TWICE's Nayeon went for the cream variant. Both look extremely gorgeous!
Ready to glow under the summer sun with these edgy sunglasses? Let us know which ones are your personal picks!
Continue reading:
If you like this post, share it with a friend who might like it as well. And don't forget to follow our Facebook Page for more news on Korean fashion & beauty!