As we approach the festive year-end holidays, it also gives us the chance to flaunt our party outfits to greet the New Year! If you're looking for a fancy year-end party outfit inspiration, then we've got you covered.
Check out our list of New Year's Eve party outfits inspired by our favorite K-Pop idols!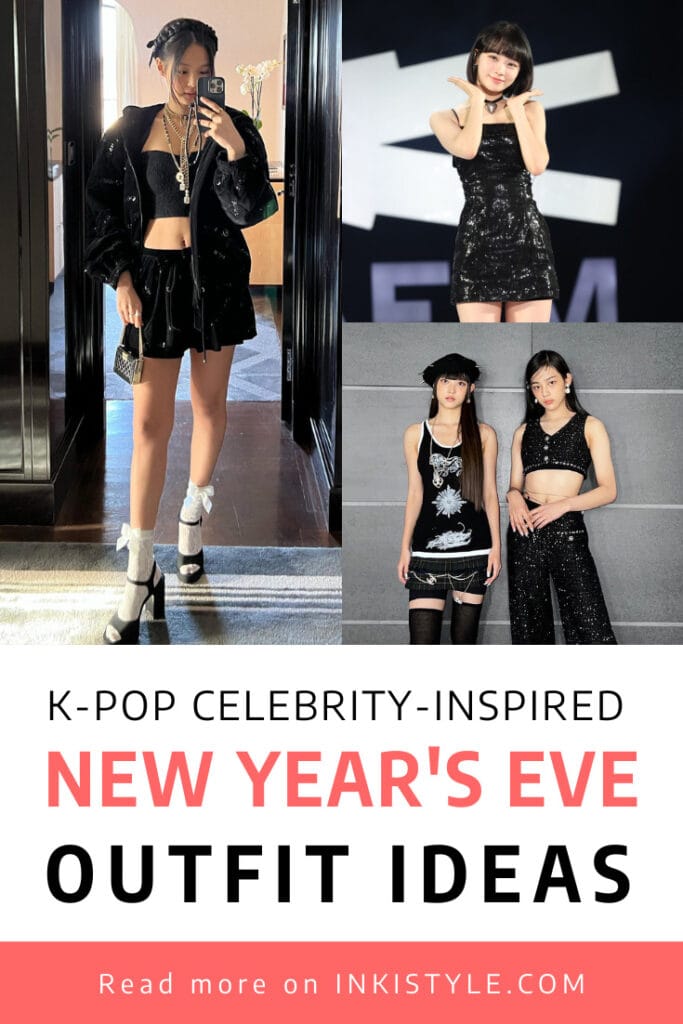 Please note: This post contains affiliate links to products we trust and recommend. If you choose to purchase a helpful product using these links, we may receive a small commission for referring you – at no extra cost to you. These funds help us keep this blog up and running.
K-pop Inspired New Year's Eve Party Outfits
Soyeon ((G)I-DLE)
Soyeon is looking extremely fun and fancy in her sexy white cutout dress and extravagant fur wrap! The all-white party ensemble featured a subtle gleam that perfectly matches her gorgeous hairdo and look. 
The fur wrap is undeniably the focal point of the look and since it featured a voluminous look, then the semi-skimpy dress truly brought balance to her ensemble.

Karina (aespa)
If you'd like to rock a very dainty and sweet look for New Year's Eve, you'd love this outfit that Karina is wearing. It has a very girly vibe that won't only look fancy at a party but also for your casual brunch dates with your friends!
The contrasting pastel pink and black details are perfectly complementing each other which makes it universally flattering for all complexions.

Jennie (BLACKPINK)
Jennie's super edgy street-style look in this photo is definitely something that can turn heads at any party you go to! She went to show some skin by going for a smocked bandeau crop top and a matching garter skirt.
The oversized jacket added more depth to the look which totally worked so well with the monochromatic tones of the entire outfit. To spice up her look, she went for white ankle socks embellished with lace bows and chunky-heeled sandals.

Lisa (BLACKPINK)
Lisa went for the classic black sequined top which is basically every girl's go-to party dress. The halter cut gave her look a very sexy vibe baring her collarbones and her back. The sparkly sequined top created a very festive look that matches her sultry makeup look 
The mini skirt and the belt brought a nice balance to her look. Everything about this look screams "party" and something that's quite easy to pull off. The gold chain leather bag also made a nice touch to her party look.

Yuna (ITZY)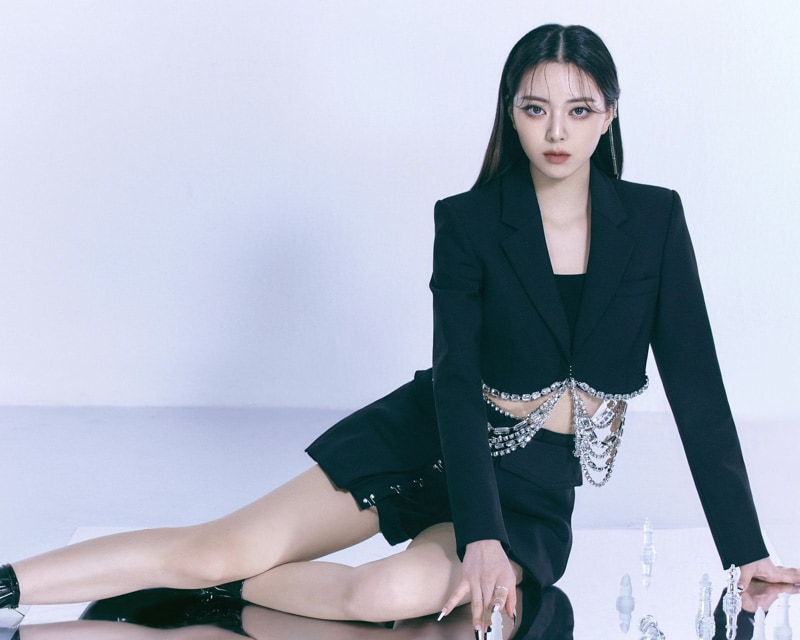 Here's another all-black ensemble because, why not?! Black has always been an iconic color, especially for parties and Yuna's outfit is definitely a sultry take on the classic suit. Her cropped blazer featured crystal embellishments that drape by her midriff for that classy touch.
We also love how she went for patent leather ankle boots that amplified her party look! Not to mention how her dangling silver ear cuff matches the crystal draping on her blazer.

Rei (IVE)
Light reflective details are always party-worthy and Rei's skirt in this style ensemble is something that's made for the dance floor! Her striking silver skirt took the spotlight and so her basic crop tee worked perfectly in keeping the entire look proportioned.

Wonyoung (IVE)
Do you fancy dramatic embellishments? Then here's how Wonyoung pulled off such a captivating style! She went for a heavily-embellished top and skirt coordinate along with black socks and vintage loafers. Must be a bit heavy considering the heavy beadwork but it's sure to make everyone's eyes shine for a New Year's Eve party!

Chaewon (LE SSERAFIM)
If you want to channel cute and sexy at the same time, then take Chaewon's sparkly little black dress here for inspiration. It features a simple straight bodice that cinched Chaewon's waist for added definition.
Her black ankle boots complemented her dress to match her petite figure and of course, her heart choker was the cherry on top!

Solar (MAMAMOO)
Talk about pretty flounces of fabric gracing an eye-catching Barbie pink dress! Solar totally nailed her dolly fantasy look with this intricately flounced strapless dress paired with chunky strap heels!
In addition to her fancy dress code, her makeup is also on point! Just look at how gorgeous her metallic eyeshadow looks right in this photo!

Haerin & Minji (NewJeans)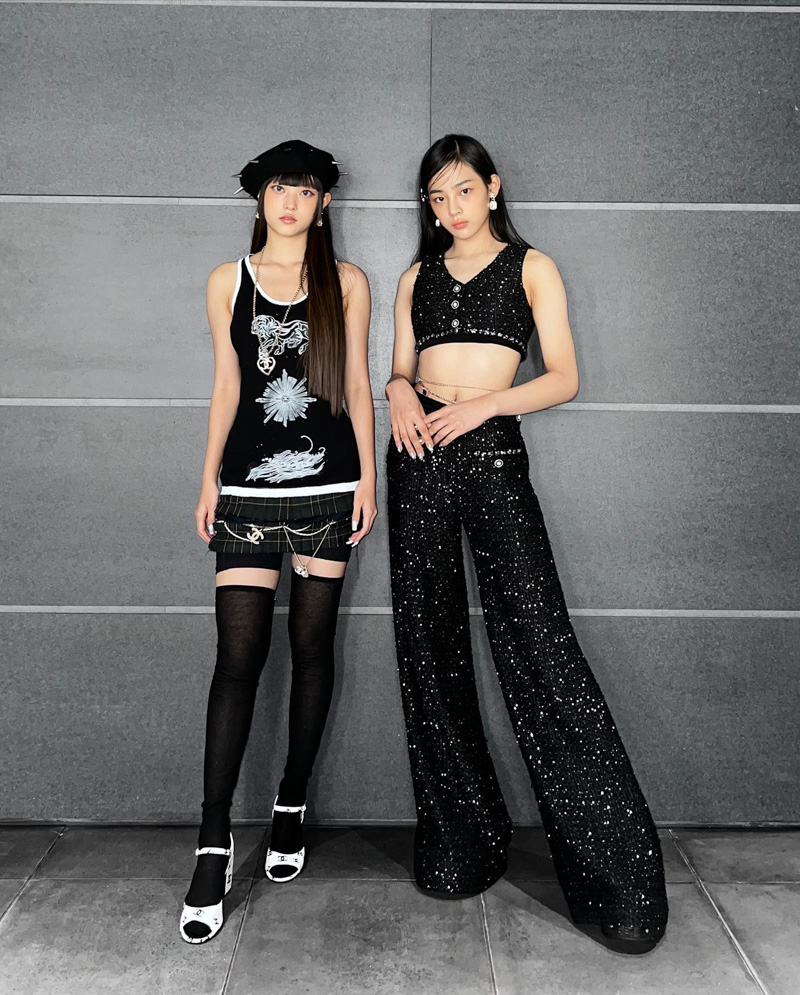 Here's another super awesome monochromatic party ensemble by Haerin and Minji. Haerin is rocking a very Y2K outfit featuring a hip-length fitted tank top, layered plaid mini skirt, and cycling tights. She also accessorized her look with a spikey beanie and an oversized silver pendant necklace. Her see-through over-the-knee socks and Chanel heels also made the look more catchy!
Meanwhile, we have Minji who flaunted a sparkly tweed coordinate. More than the sophisticated details, her wide-leg pants gave so much emphasis to her very slender figure. To spice up the look a bit, she went for a belly chain that made the look even sexier!

Haewon (NMIXX)
Let's take a short break from the all-black ensembles with Haewon's pastel-style pieces! If you're looking for something soft-hued, then Haewon's party-ready white top layered with a glistening blue button cardigan and fluffy furry skirt are something to take note of!
We love how her outfit isn't too visually loud but since it features a semi-skimpy silhouette, then it can still definitely turn heads!

Dahyun (TWICE)
Last but definitely not least on our list is Dahyun's asymmetrical cutout dress. It features a very flattering bodice made from sparkly fabric. It's simple to pull off because it's just a one-piece dress. But since it has a form-fitting silhouette, it gave Dahyun a very classic party look!

All set for New Year's Eve? Whatever holiday festivities you have lined up in your calendar, we hope that these looks from today's biggest K-Pop stars gave you some style inspiration!
If you like this post, share it with a friend who might like it as well. And don't forget to follow our Facebook Page for more news on Korean fashion & beauty!