As you were browsing your social media streams, have you stumbled upon that one stunning makeup look sported by your favorite Korean celebrity? Ever wondered what beauty products were used to achieve such stunning looks?
Check out this article as we break down all these K-Celebs' makeup looks for you.
Have you read?
Please note: This post contains affiliate links to products we trust and recommend. If you choose to purchase a helpful product using these links, we may receive a small commission for referring you – at no extra cost to you. These funds help us keep this blog up and running.
Cha Jung-Won's Makeup on Instagram
Pins
In her recent car selca posted on IG, Cha Jung-Won can be seen channeling a super fresh, natural look with her flushed cheeks and full lips are the main scene-stealers.
For her faint coral cheeks, the shade #28 Rose Plume from Hermes' Silky Blush would be a great product to achieve this hue. Then for her full matte lips, you can use Espoir's New Couture Lip Fluid Velvet in the shade #Serenade.
Jung Eun-Chae's Makeup on Instagram
Pins
We can't help but fall in love with Jung Eun-Chae's super classy makeup look right here! We can see how the main focus of her makeup look is her vibrant red lips which can be achieved with Cle De Peau Beaute Lipstick Cashmere in the shade #103 Legend.
To bring full focus on her gorgeous red lips, the rest of her makeup look had to be minimal. A combo of Cle De Peau Beaute's Radiant Cream Foundation and Translucent Loose Setting Powder can definitely give you that flawless skin look.
IZ*ONE Wonyoung's Makeup on Instagram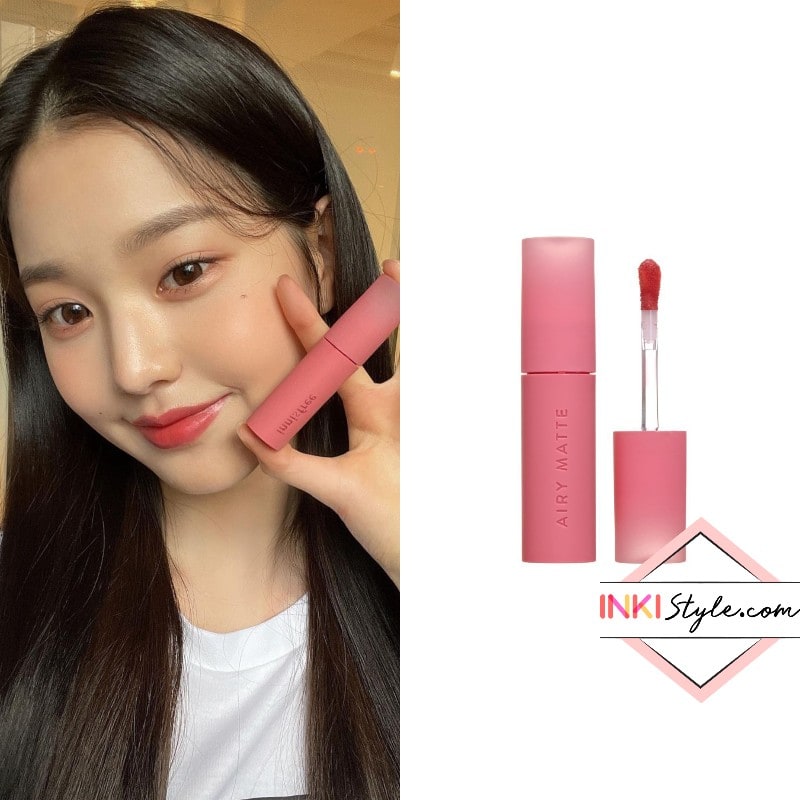 Pins
Velvet matte tints are still in trend and IZ*ONE's Wonyoung still proves how stylish such lip makeup still is in her recent Instagram post!
In this look, she's wearing the Innisfree Airy Matte Tint in the shade #2 Soft Rose on her lips which also goes well with her rosy eye and cheek makeup look.
(G)I-DLE Miyeon's Makeup on Instagram
Miyeon looks superbly alluring in her recent post on Instagram as she focuses on soft, neutral tones for her look.
For her eyes, she used a mix of pink, peach, and brown which can all be found in Chica y Chico's Eye Palette in #09 Milk Tea at Noon.
Then for the cheeks, she went for something subtle like 3CE's Mood Recipe Face Blush in the shade #Nude Peach.
We also can't help but swoon over her nude lips with a slight touch of sheen to increase plumpness. This lip makeup look can be achieved with 3CE's Mood Recipe Color in #218 Mirrorlike as the base and Romand Juicy Lasting Tint in the shade #Nucadamia as a lip topper.
BLACKPINK Jisoo's Makeup on Instagram
Pins
As one of Dior's brand muses, it's no surprise to see Jisoo flaunting the fashion house's products from time to time.
In this one look that she sported in one of her IG posts, we can see her almost bare face with just Dior's Rouge Satin Lipstick on her lips. In this look, she wore the shade #219 Rose Montaigne.
TWICE Dahyun's Makeup on Instagram
Pins
As Dahyun preps for her show appearance, she blessed her fans with a quick snap on Instagram showing her very sweet girly look.
Her glossy and plump lips are quite a scene-stealer! She achieved such look with A'Pieu Juicy Pang Mousse Tint in the shade #CR05 Grapefruit.
GIRL'S DAY Minah's Makeup at the 'Snowball' Press Conference
Pins
Minah's look definitely is red carpet-ready for the press conference of 'Snowball'. She went for very minimal eye and face makeup and just focused on her gorgeous MLBB lip color.
For her lips, you can mimic such faint coral nude shade with MAC's Matte lipstick in #Kinda Sexy and Powder Kiss Lipstick in #Mandarin O.
Sooyoung's Makeup on Instagram
Pins
Sooyoung is looking sexy in her recent IG post oozing with the "I woke up like this" kinda vibe! Her natural beauty just shines perfectly with just a touch of soft matte color on her lips.
For this look, you can achieve such velvety shade with Rouge Dior Forever Liquid Transfer-Proof Lipstick in the shade #558 Forever Grace.
Go Min-Si's Makeup on Instagram
Pins
Last but not least is Go Min-Si's very laid-back, tomboy look in her recent Instagram post. We can see her sporting a very trendy fashion ensemble with only minimal makeup on.
She just added a soft tinge of color on her lips with also a bit of sheen with Clio's Melting Dewy Tint in the shade #02 Flash Moment.
Which among these K-celebrity makeup looks are you eyeing to try?
Continue reading:
If you like this post, share it with a friend who might like it as well. And don't forget to follow our Facebook Page for more news on Korean fashion & beauty!