In addition to the thrilling plot of 'Eve', Seo Ye-Ji's high-end fashion and jewelry choices as the scheming Lee Ra-El keep us coming back for more.
So without any ado, here are some of the most glamorous looks presented by Ye-Ji in the previous episodes of the drama.
Have you read?
Seo Ye-Ji's Fashion in the K-Drama 'Eve' Episodes 3-4
Please note: This post contains affiliate links to products we trust and recommend. If you choose to purchase a helpful product using these links, we may receive a small commission for referring you – at no extra cost to you. These funds help us keep this blog up and running.
Look #1
This imposing Dior outfit from episode 3 consists of a Montaigne bar jacket and a medium lady Dior bag.
Pins
Shop the Look for Less
Look #2
Ye-Ji's 'off-duty' looks are just as refreshing. One instance of which can be seen here as she wore a polka-dot-print pleated cardigan and midi skirt from Sacai to go with her ribbon Cortina flat sandals from Gianvito Rossi.
Pins
Shop the Look for Less
Look #3
While Ye-Ji looked stunning in a baby pink satin ribbon dress from Pinkoi and Jimmy Choo's Bing 100 glitter tulle mules, she upped her outfit by accessorizing with Boucheron's Plume de Paon pendant earrings and a diamond ring. To top it all off, she carried a sexy choc crystal-buckle satin clutch from Roger Vivier.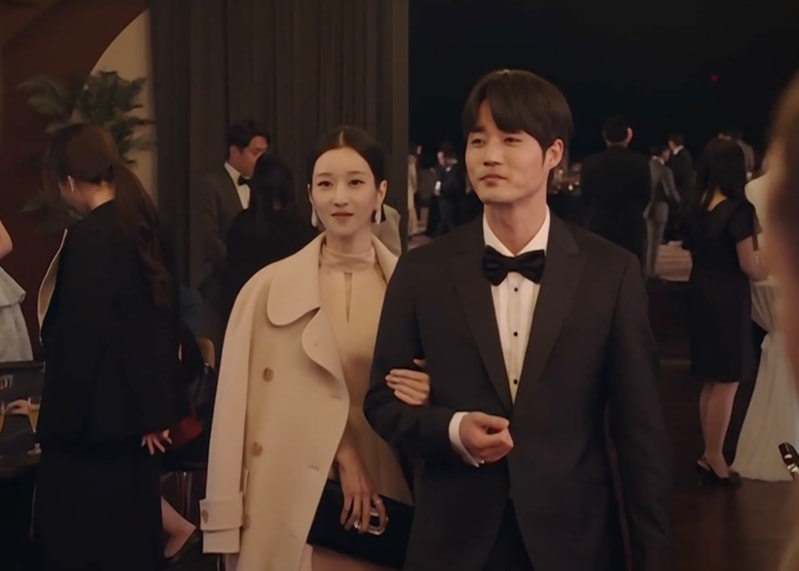 Shop the Look for Less
Look #4
Here, Ye-Ji wore a beige fox crop coat from Theballon and carried a Bottega Veneta Cassette bag to match her outfit. Moreover, she got her simple yet unmissable natural wave stud earrings from ACADIER.
Pins
Shop the Look for Less
Look #5
Ye-Ji's Thom Browne ensemble outfit in episode 4 is composed of a wide lapel sport coat, a crew neck pullover, and a pleated skirt. She completed her look by slipping into a pair of Roger Vivier's Belle Vivier Trompette leather pumps.
Shop the Look for Less
Look #6
In a wool twill buttoned mini dress from BALMAIN and crystal strap sandals from Gianvito Rossi, Ye-Ji was the definition of chic and charisma. She complimented her outfit with the help of the DIVAS' DREAM earrings from Bulgari and a mini Viv choc leather shoulder bag from Roger Vivier.
Shop the Look for Less
Look #7
Ye-Ji presented another fashionable look in a collarless cropped jacket from DEMERE while clutching a medium sulky bag from CELINE.
Pins
Shop the Look for Less
Look #8
This sophisticated outfit was put together with the help of a polka dot-print tie-fastening blouse from Alice+Olivia, a logo buckle belt from Rochas, and a leather shoulder bag from Salvatore Ferragamo. It also featured a pair of rose gold earrings and a bracelet from Bulgari's DIVAS' DREAM collection.
Shop the Look for Less
Look #9
In this scene, our eyes were fixed on Ye-Ji's pearl earrings from TASAKI.
Pins
Shop the Look for Less
Look #10
For the final look today, Seo Ye-Ji wowed the audience in a photoshoot-worthy red gown paired with Odyssey glitter-embellished sandals from Gianvito Rossi. She further elevated her glamorous look by adding jewelry from Bulgari.
Pins
Pins
Shop the Look for Less
Continue reading:
Read more about the fashion in the Korean drama 'Eve' here.
If you like this post, share it with a friend who might like it as well. And don't forget to follow our Facebook Page for more news on Korean fashion & beauty!