It's been a while but we're finally back to cover the next lap of our journey of exploring ace lawyer Oh Soo-Jae's fashion in the K-drama 'Why Her'.
Let's pick up right where we left off and have a look at Seo Hyun-Jin's fashion through episodes 5 to 8 of the show.
Have you read?
Seo Hyun-Jin's Fashion in the K-Drama 'Why Her' Episodes 5-8
Please note: This post contains affiliate links to products we trust and recommend. If you choose to purchase a helpful product using these links, we may receive a small commission for referring you – at no extra cost to you. These funds help us keep this blog up and running.
Look #1
Hyun-Jin starts off with a super sophisticated and charismatic look wearing an overlapped lapel collar tailored coat with matching side-slit flared trousers from Moon Choi.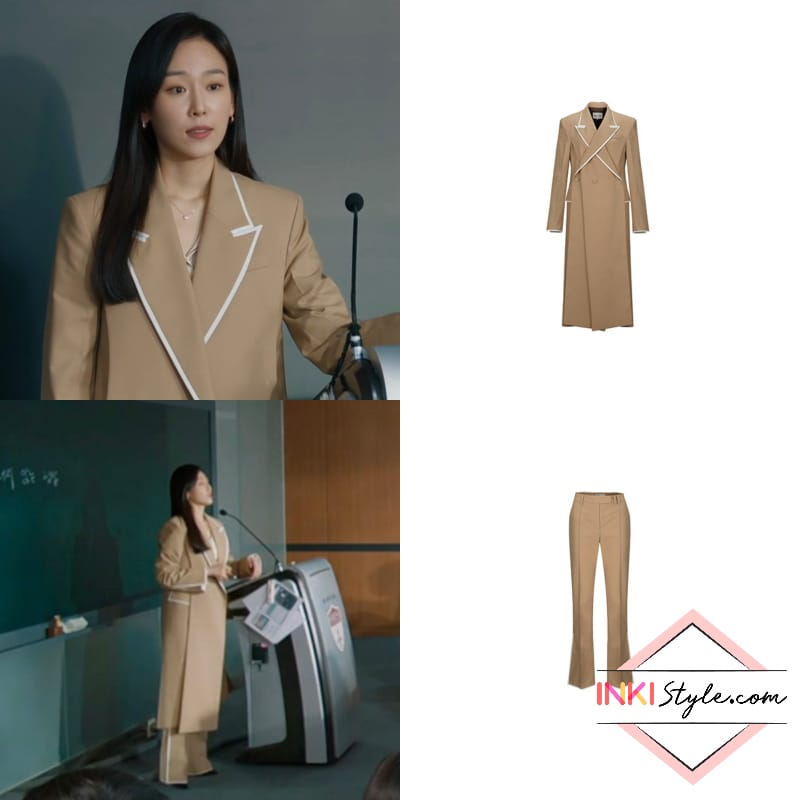 Pins
Shop the Look for Less
Look #2
Next, she dons a classy tailored trench coat from CHAEnewyork.
Pins
Shop the Look for Less
Look #3
Hyun-Jin stuns in a lavish ensemble consisting of a cream tweed jacket and mini skirt from Soonil with which she carries a stylish Rèjane PM handbag from Moynat and dons the AU7 sunglasses from Projekt Product. Her jewelry set is also exquisite, consisting of a Margherita ring and matching earrings from Damiani.
Shop the Look for Less
Look #4
Here, she rocks a unique Pinko two-tone trench coat while the Alexander McQueen croc-embossed jeweled satchel perfectly compliments her outfit.
Pins
Shop the Look for Less
Look #5
This black & white blouse from Lehho is such a pretty pick!
Pins
Shop the Look for Less
Look #6
Hyun-Jin looks comfortable here in a smooth stripe-trim V-neck cardigan from Theory.
Pins
Shop the Look for Less
Look #7
Here, she looks effortlessly stylish in a cropped jacket and matching asymmetric skirt from Recto, and the addition of this dainty mini leather chain TB bag from Burberry really amplifies her look.
Pins
Shop the Look for Less
Look #8
Ending our list this time is Hyun-Jin in a smart BAU by Bride And You classic A-line coat, with a Peekaboo Iseeu small beige leather bag by her side and beautiful Tasaki Balance Note stud earrings adorning her ears.
Pins
Shop the Look for Less
Continue reading:
Read more about the fashion in the Korean drama 'Why Her' here.
If you like this post, share it with a friend who might like it as well. And don't forget to follow our Facebook Page for more news on Korean fashion & beauty!