Why Her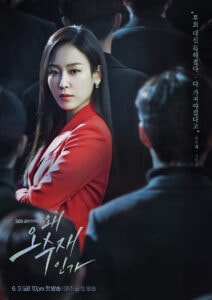 Details:
Title: Why Her? (English title) / Why Oh Soo-Jae? (literal title)
Revised romanization: Wae Ohsoojaeinga
Hangul: 왜 오수재인가
Plot:
The plot tells the story of Oh Soo-Jae (Seo Hyun-Jin) who's an elite lawyer at the prestigious TK Law Firm. The Chairman of TK Law Firm Choi Tae-Kook (Heo Joon-Ho) is a highly ambitious man that aims to get what he wants regardless of morality. She excels as the firm's lawyer but one case changed everything that led to her demotion and now works as an auxiliary professor at a law school. She then meets law student Gong Chan (Hwang In-Yeop) who eventually falls in love with her.
Main Cast:
Seo Hyun-Jin as Oh Soo-Jae
Hwang In-Yeop as Gong Chan
Shop Oh Soo-Jae (Seo Hyun-Jin)'s Outfits: