Set on the beautiful island of Jeju, the newly-released action drama 'Island' follows the story of three people as they battle against an unseen evil that threatens to destroy the world. And while we're falling in love with the unique plot and next-level production of this thrilling show, we can't help but also be captivated by the fashion choices of the female lead, Lee Da-hee.
She has been praised for her ability to effortlessly pull off a variety of different looks—from cute and casual to sultry and sophisticated. Keep reading to take a closer look at her awe-inspiring outfits in the six episodes of the show!
Lee Da-Hee's Fashion in the K-Drama 'Island'
Please note: This post contains affiliate links to products we trust and recommend. If you choose to purchase a helpful product using these links, we may receive a small commission for referring you – at no extra cost to you. These funds help us keep this blog up and running.
Look #1
Let's kick off the list with Da-hee looking breathtaking in a silver necklace from NUMBERING.
Pins
Look #2
She pulled off an incredibly fancy look thanks to her red volume hemline jacket from NANCYBOO and small black Triomphe belt from Celine.
Pins
Look #3
This look of hers is the epitome of class and sophistication, featuring a fashionable jacket from RECTO and a pair of sparkling earrings from GETMEBLING.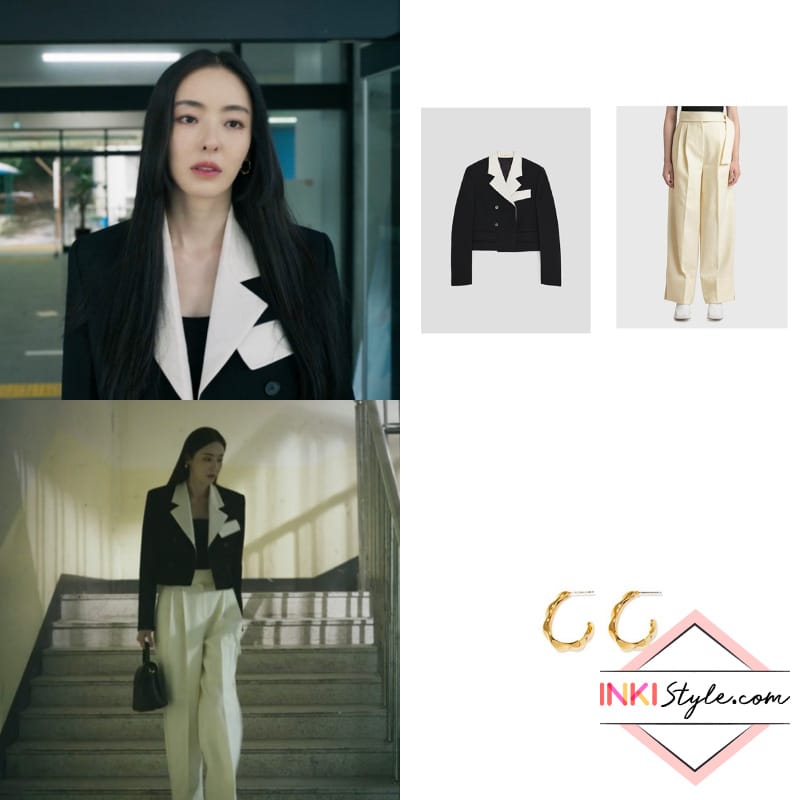 Pins
Look #4
Da-Hee looked like a million bucks in episode 3 when she appeared wearing RE RHEE's faux leather jacket and BURBERRY's mini leather-trimmed canvas shoulder bag.
Pins
Look #5
She showcased an exceptionally stylish outfit consisting of a jacquard crop cardigan and boyfriend-fit knee-length shorts from RECTO. And to finish off, Da-Hee went for a chic white belt calfskin hobo bag from Moschino.
Pins
Look #6
Da-Hee looked effortlessly cute in this tie-dye hoodie from Nike.
Pins
Look #7
We can't get over her sultry ensemble in this scene, which featured a leopard-print blouse and matching midi skirt from Zadig&Voltaire.
Pins
Look #8
She nailed a super classy look using a stylish Lola small quilted shoulder bag from Burberry.
Pins
Look #9
Her cuteness reached new heights in RECTO's oversized gray round-neck sweater and pair of black double-face flared trousers!
Pins
Look #10
Every single detail about Da-hee's classy outfit was perfect, including her chic Lola check-shoulder bag by Burberry.
Pins
Look #11
Da-Hee was absolutely breathtaking in this unique Isabel Marant Vilma graphic-print maxi dress.
Pins
Look #12
You can achieve this gorgeous, casual outfit of Da-hee's with a Praia tweed top and pants from LEHHO, and a pink Medusa Head leather crossbody bag from Versace.
Pins
Look #13
Da-Hee showcased unmatched beauty in this scene, where she coupled a black sailor collar handmade coat with a navy ribbon rib knit from JOHNNY HATES JAZZ.
Pins
Look #14
Her pink Ombré Drussell sweater is the perfect addition to your winter wardrobe, and you can get the exact same one from ISABEL MARANT ETOILE!
Pins
Look #15
Da-Hee featured a unique and definitely eye-catching ensemble in episode 5, which consisted of ETRO's braid-detail military jacket, ruffle-trim blouse, and distressed detail denim jeans. She then finished off with a chic 'The Short Story' leather tote bag from Alexander McQueen.
Look #16
Let's take a moment to appreciate Da-Hee's great fashion sense, as she pulled off an exceptionally fashionable look featuring an exquisite white shoulder bag from BULGARI.
Pins
Look #17
She brought another stylish piece to the table in episode 6: a white belted patch pocket jacket from & Other Stories.
Pins
Look #18
Pins
Continue reading:
Read more about the fashion in the Korean drama 'Island' here.
If you like this post, share it with a friend who might like it as well. And don't forget to follow our Facebook Page for more news on Korean fashion & beauty!