Today is a big day for K-pop as BLACKPINK's Jisoo finally appeared with her debut single album 'Me'. The title track 'Flower' showcases her sultry vocals and the cinematic music video makes it even more memorable.
Jisoo modeled an array of beautiful dresses in the video, wowing us with their intricacy and style. She looked simply stunning in all of them. So, let's take a look at some of her biggest fashion moments from the music video.
Please note: This post contains affiliate links to products we trust and recommend. If you choose to purchase a helpful product using these links, we may receive a small commission for referring you – at no extra cost to you. These funds help us keep this blog up and running.
BLACKPINK Jisoo's 'Flower' MV Fashion
Look #1
Jisoo looked delicately pretty in a lace dress from New Arrivals which stood out with its firm bodice and multilayered skirt.
Pins
Look #2
She paired the luxurious Panthère de Cartier white gold and diamond earrings with her black dress. The onyx detail of the earrings matched the dark vibe of the outfit.
Pins
Look #3
The highlight of fashion has to be this flower-print Fernand gown from Lee y. LEE y. Jisoo styled it with black platform sandals from Paris Texas and pearly jewelry to complete the look.
Pins
Look #4
She wore the blue crystal-embellished knee-high boots, also from Paris Texas, for a confidently chic outfit.
Pins
Look #5
Her loose-fitting elegant look comprises a pink draped gown from Rick Owens and satin pumps from Amina Muaddi.
Pins
Look #6
This iconic red and black look from the chorus would not be the same without the daring chain-detail cut-out sleeve top from RUI.
Pins
Look #7
Jisoo coordinated her lilac night dress with purple platform sandals from Paris Texas.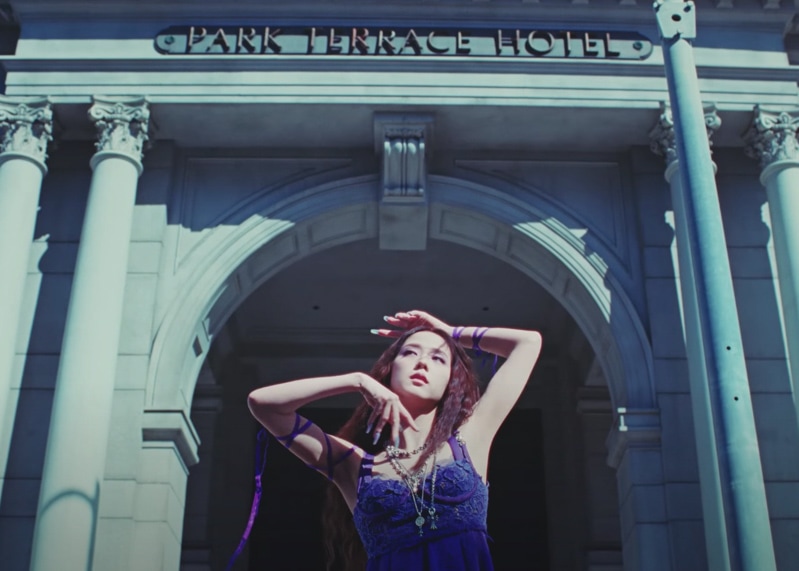 Pins
Look #8
She cut a striking figure in a blue stock bodice dress from Susan Fang with tiny flower print detail.
Pins
Look #9
For the final outfit, Jisoo embellished her sheer pink dress with ruby Panthère de Cartier earrings and matching crystal-embellished boots from Paris Texas.
Pins
If you like this post, share it with a friend who might like it as well. And don't forget to follow our Facebook Page for more news on Korean fashion & beauty!