AESPA is finally back with their unique sound as they just released their third extended play 'My World'. The title track 'Spicy' is a hyper-pop summer anthem that lives up to its name. Its early 2000-esque high school themed music video is the cherry on top of a melodic sundae. 
Not to mention, AESPA had the popular girls aesthetic down to a T and the fashion was worth waiting for. So check out the details below:
Please note: This post contains affiliate links to products we trust and recommend. If you choose to purchase a helpful product using these links, we may receive a small commission for referring you – at no extra cost to you. These funds help us keep this blog up and running.
AESPA's 'Spicy' MV Fashion
Winter's Look #1
First of all, we have Winter in a pink crescent moon cropped top from Marine Serre and a tartan-print pleated mini skirt from Charles Jeffrey Loverboy. She completed her look with Celine's off-white and navy tracksuit jacket and punk buckled leather mules from Alexander McQueen.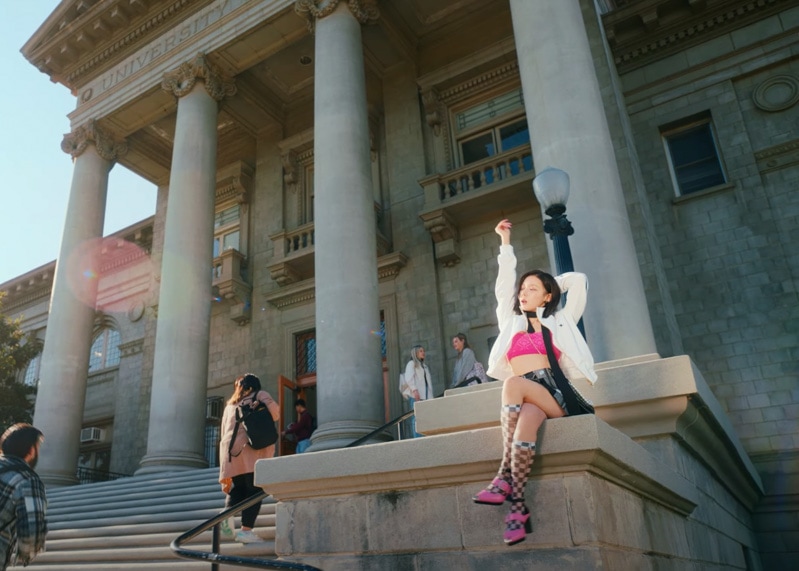 Winter's Look #2
For sultry athleisure wear, she matched a black lace trim mini dress from PRAYING with ankle-high buffed leather boots from Dr. Martens.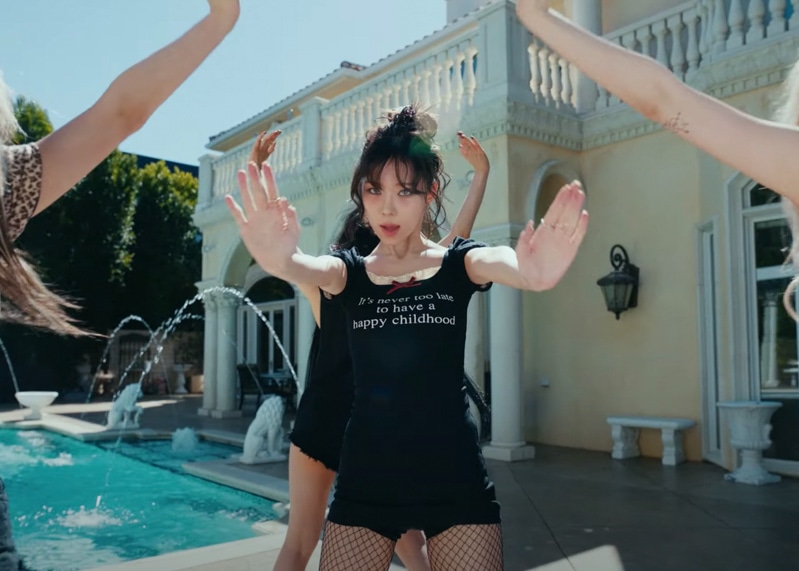 Pins
Winter's Look #3
Winter's green denim chain-link detail top and cut-out straight-leg jeans, all from Andersson Bell, are the perfect party-going outfit. It is just the right blend of modern and vintage design.
Pins
Giselle's Look #1
Giselle was her confident self in the group outfit. She rocked an off-white and navy tracksuit jacket from Celine with an oversized Adidas soccer striped jersey from Balenciaga. The outfit also featured rock and roll tights from Vaquera and black and white sneakers by Balenciaga x Adidas.
Giselle's Look #2
She then wore a graphic-print sleeveless tank top from Aries with logo platform sneakers from R13.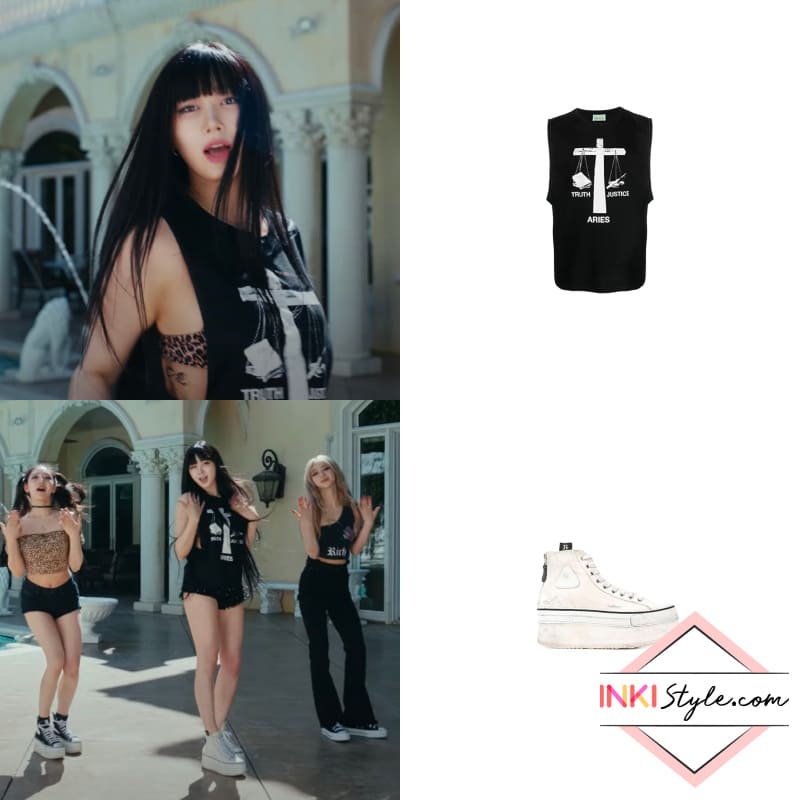 Pins
Giselle's Look #3
This iconic grey-toned crocodile effect mini dress from Diesel is a great look on Giselle.
Pins
Ningning's Look #1
Ningning paired her corset-detailed vest from YCH with Celine's double face jersey tracksuit and optic white block sneakers with wedge outsole.
Pins
Ningning's Look #2
She looked cute in a leopard rose top from EXPIRED GIRL styled with short shorts and platform high-top sneakers from R13.
Pins
Ningning's Look #3
In another incredible outfit, Ningning wore a vibrantly red and violet campbell stretch corset top from Miaou to suit her drapey shorts in dual pink from PAULA CANOVAS DEL VAS.
Pins
Karina's Look #1
Karina's nostalgic outfit comprises Celine's off-white and navy tracksuit jacket jersey, a lettered black T-shirt from YOUHEE, and a pink jacquard miniskirt from Marine Serre. For footwear, she chose a pair of lettered knee socks in mint from CRANK to go with her punk metal-cap leather Alexander McQueen pumps.
Karina's Look #2
Karina's graphic-print one-shoulder top seen here is from Alessandra Rich.
Pins
Karina's Look #3
In the final look, Karina put together a fun outgoing outfit from a pink graphic print cropped t-shirt from Miaou, a faded denim jacket, and high-waisted pants, both from Ottolinger.
Pins
If you like this post, share it with a friend who might like it as well. And don't forget to follow our Facebook Page for more news on Korean fashion & beauty!