After six episodes of mystery, suspense, and thrill, 'Anna' came to an end. The drama received rave reviews for its distinctive storyline and a remarkable performance by the cast. Particularly, Suzy's portrayal of the flawed and vulnerable titular character, Lee Yoo-Mi, is a treat to watch. Moreover, her elegant chic fashion is also worth taking note of.
Therefore, we present to you Suzy's best looks from the final episodes of the drama.
Have you read?
Suzy's Fashion in the K-Drama 'Anna' Episodes 5-6
Please note: This post contains affiliate links to products we trust and recommend. If you choose to purchase a helpful product using these links, we may receive a small commission for referring you – at no extra cost to you. These funds help us keep this blog up and running.
Look #1
This comfortably stylish look from episode 5 has Suzy in a ribbon tie long sleeve check dress from BAU by Bride And You and a gray daily long knit cardigan from RE_L.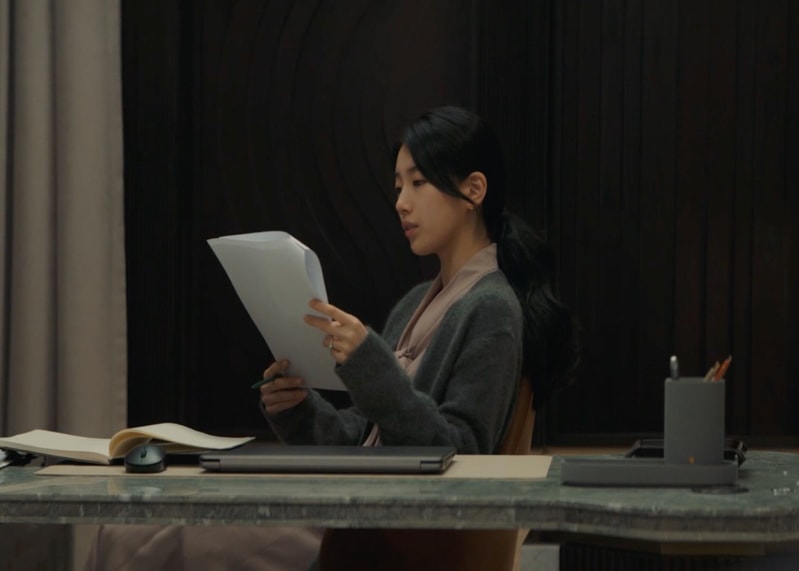 Pins
Look #2
Suzy wore a beige jacket and skirt from HANAVO for a fancy formal look.
Pins
Look #3
She presented another minimalist and pretty outfit from HANAVO in the form of a cream beige herringbone outer coat.
Pins
Look #4
Here, Suzy looked simply stunning in a pastel pink square neck flared dress from BAU by Bride And You.
Pins
Look #5
Her classic notched collar tuxedo dress also from BAU by Bride And You is in vogue for every season to come.
Pins
Look #6
Suzy wore a cashmere blend better flare coat from AvouAvou for this scene. She complimented her look with rose gold Mother-of-Pearl earrings from Bulgari's Divas' Dream collection.
Pins
Look #7
For a crisp and refined look, Suzy opted for a classic A-line coat in navy from BAU by Bride And You.
Pins
Look #8
Wearing a black classic tweed one piece from theActually and refined rebellion neo earrings from TASAKI, Suzy was the definition of grace and beauty.
Pins
Look #9
This fashionable look features a cashmere wool handmade flare coat from AvouAvou and small rose Dior couture earrings.
Pins
Look #10
For Suzy's final outfit, we have come a full circle with a pale peach tweed dress from SOONIL. She also carried a Salvatore Ferragamo studio small tote bag to complete the look.
Pins
Continue reading:
Read more about the fashion in the Korean drama 'Anna' here.
If you like this post, share it with a friend who might like it as well. And don't forget to follow our Facebook Page for more news on Korean fashion & beauty!