'Love In Contract' premiered on 21st September and offers a unique perspective on dating and companionship. The drama stars Park Min-Young, Go Kyung-Pyo, and Kim Jae-Young in lead roles and promises the classic love triangle trope with a refreshing twist. As we eagerly wait for the next episodes, let us take some time off to go through the extensive list of the incredible fashion moments seen in the first two episodes.
Here are the outfits worn by Park Min-Young during her portrayal of Choi Sang-Eun.
Have you read?
Park Min-Young's Fashion in the K-Drama 'Love In Contract' Episodes 1-2
Please note: This post contains affiliate links to products we trust and recommend. If you choose to purchase a helpful product using these links, we may receive a small commission for referring you – at no extra cost to you. These funds help us keep this blog up and running.
Look #1
In the very first episode, Min-Young dressed up in a delicate Miu Miu outfit in the form of a pink tweed crop jacket and a mini skirt. While she also carried a matelassé mini hobo bag from the same brand, we couldn't help but spot a hint of these lovely earrings from Tiffany & Co.
Look #2
To put together this classy outfit, she got a little help from EENK's beige tie-neck scarf blouse and ALAÏA's stunningly eccentric corset small leather bucket bag.
Pins
Look #3
Here, she wore an asymmetric gathered wrap mini dress from Self-Portrait for a polished and effortless look. Moreover, the pearl and diamond earrings from ellepeut added a subtle wave of glamor.
Pins
Look #4
Min-Young proved her ability to pull off a dark and sensual aesthetic by pairing a Dolce & Gabbana frayed edge tweed jacket with a matching fitted skirt. She completed the look by choosing a medium quilted shoulder bag, also from Dolce & Gabbana, to go with the overall tone of the outfit.
Pins
Look #5
We have another stylish look that combines a sky blue jacket from WMM with a cream pearl blouse from NOPROMISE and leather sandals from GIANVITO ROSSI. The accessories include a pair of medium model earrings from FRED and a small white leather bag from Fendi.
Look #6
Next up, Min-Young wore a pink stripe shirt dress and a matching sleep mask, both from AVAM.
Pins
Look #7
This uber chic double-breasted long-sleeved jacket is from Acne Studios.
Pins
Look #8
In this scene, she cut a laid-back figure in a blue crew neck sweatshirt from MAISONMARAIS. Also, the medium leather croissant bag from LEMAIRE doubled as a cool addition to the outfit.
Pins
Look #9
Min-Young then wore a pink ruffle trim top from ISABEL MARANT for a prim and proper outfit fit for a formal outing.
Pins
Look #10
Wearing a black unbalanced shoulder knit top from aimons, a high-rise miniskirt from ALAÏA, and star-like earrings from ellepeut, we have Min-Young in another gorgeous outfit.
Pins
Look #11
While this tweed spencer jacket from Balmain had something to do with her fresh appearance, it is safe to say that the wool hairband and classic pearl earrings from Vintage Hollywood elevated the look.
Pins
Look #12
Self-Portrait's pretty and comfortable speckle-knit dress is a must-have item for any stylish wardrobe. Wear it with off-white storm sandals from PROENZA SCHOULER like Min-Young did and we have a simple yet captivating outfit.
Pins
Look #13
Min-Young donned a pink sailor collar blouse from EENK for loungewear in the second episode.
Pins
Look #14
This logo-button cropped knitted cardigan from Balmain is a good look on her.
Pins
Look #15
SLEEPER's white party pajama set seen here is the embodiment of comfort and leisure.
Pins
Look #16
She then wore an off-white short dress from SPORTMAX and a cherry necklace from ellepeut.
Pins
Look #17
The next look featured a double-breasted blazer in lavender from Stella McCartney and needless to say, Min-Young looked just as beautiful.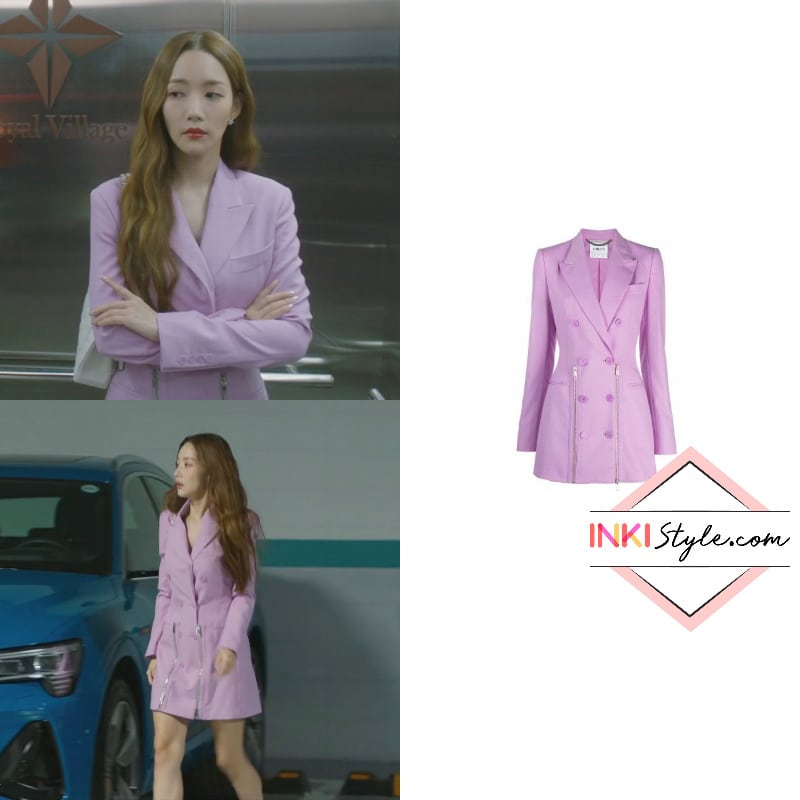 Pins
Look #18
She got this bohemian style graphic-print one-shoulder dress from IRO.
Pins
Look #19
We simply love this printing strap top from SYSTEM for its harmonious color designs.
Pins
Look #20
Min-Young's final outfit for today is a memorable one as it is easy to make an impression in CLAUDIE PIERLOT's floral-print woven blazer and Alexander McQueen's leather crossbody bag.
Pins
Continue reading:
Read more about the fashion in the Korean drama 'Love In Contract' here.
If you like this post, share it with a friend who might like it as well. And don't forget to follow our Facebook Page for more news on Korean fashion & beauty!