ENHYPEN has recently come back with their newest single 'Tamed-Dashed', and they look as dashing as ever! Aside from their honey vocals and world-class choreography, their excellent fashion choices brought up their styling A-game to the nines.
Here are some of their fashion choices shown in the 'Tamed-Dashed' MV which can inspire your next back-to-school outfits.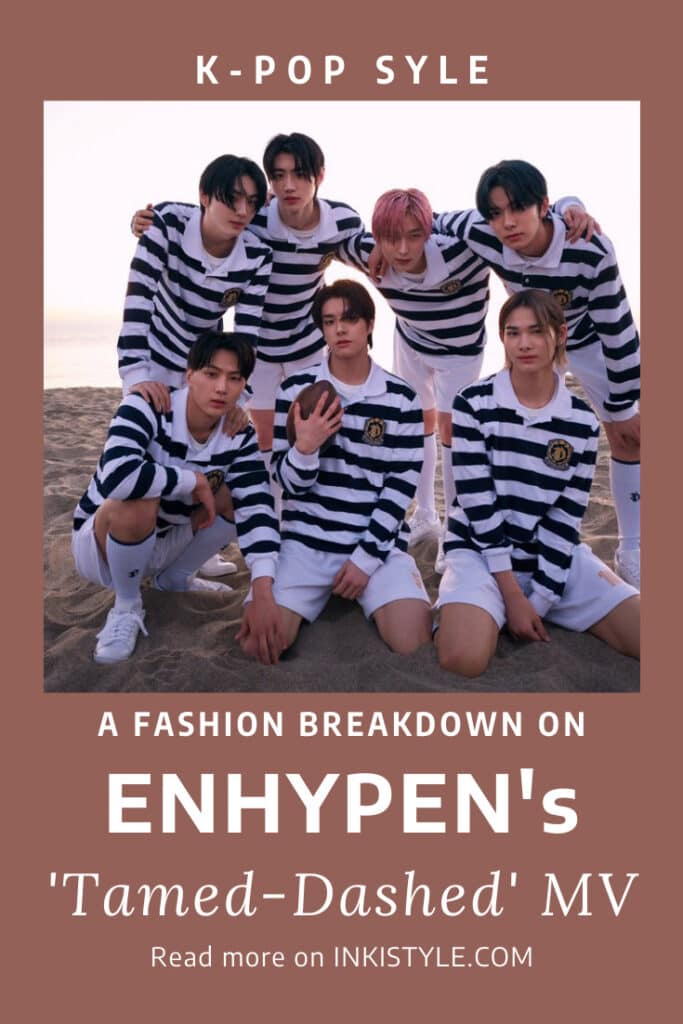 Please note: This post contains affiliate links to products we trust and recommend. If you choose to purchase a helpful product using these links, we may receive a small commission for referring you – at no extra cost to you. These funds help us keep this blog up and running.
ENHYPEN's 'Tamed-Dashed' MV Fashion
Jungwon's Look
Jungwon looked effortlessly chic while wearing a blue Gvasalia-print T-shirt from VETEMENTS and a pair of Triple S low-top sneakers from Balenciaga.
Pins
Jay's Look
Jay is seen here rocking his black medium fit crest logo t-Shirt from Balenciaga.
Pins
Sunghoon's Look
Our ice prince Sunghoon is seen in the MV wearing a navy sweatshirt from Wild Donkey.
Pins
Ni-Ki's Look
Ni-Ki is a star wearing a black embroidered-logo zip-fastening jacket from Balenciaga, a navy NYAC T-shirt from Wild Donkey, and a pair of black Converse Chuck Taylor All-Star '70s high top sneakers.
Pins
Jake's Look
Oi-oi-oi! Jake is seen here donning this navy Cerritos Hoody from HOTEL CERRITOS.
Pins
Heeseung's Look
We can spot Heeseung wearing a white logo-print hoodie from Balenciaga and a pair of black Converse Chuck Taylor All-Star '70s high-top sneakers, the same ones that Ni-Ki has on.
Pins
Sunoo's Look
Last but definitely never the least, Sunoo is seen rocking this blue arrows-print hoodie from Off-White and a pair of white Continental 80 Stri sneakers from Adidas Originals.
Pins
If you like this post, share it with a friend who might like it as well. And don't forget to follow our Facebook Page for more news on Korean fashion & beauty!