SM Entertainment debuts their newest girl group, AESPA, with the fresh track called 'Black Mamba'. Aside from being one of SM's newest artists, AESPA made headlines prior to debut with the news of the members having AI versions of themselves. Fans anticipate this fresh concept and even consider it as double the content! With their debut music video premiered on November 17, many viewers witnessed the start of their promising careers!
Check out what the members wore for 'Black Mamba'!
Please note: This post contains affiliate links to products we trust and recommend. If you choose to purchase a helpful product using these links, we may receive a small commission for referring you – at no extra cost to you. These funds help us keep this blog up and running.
AESPA's 'Black Mamba' MV Fashion
Giselle's Look #1
For her first look, Giselle wore this one-shoulder bodysuit by Gucci with a printed skirt.
Pins
Giselle's Look #2
She also wore a soft-hued pair of Sugar Thrillz cargo pants from Dolls Kill to match her loud-colored top.
Pins
Giselle's Look #3
For this look, she paired her AREA satin bow skirt with a purple cropped top.
Pins
Giselle's Look #4
This outfit features a blue top layered under the Club Exx hologram bustier.
Pins
Giselle's Look #5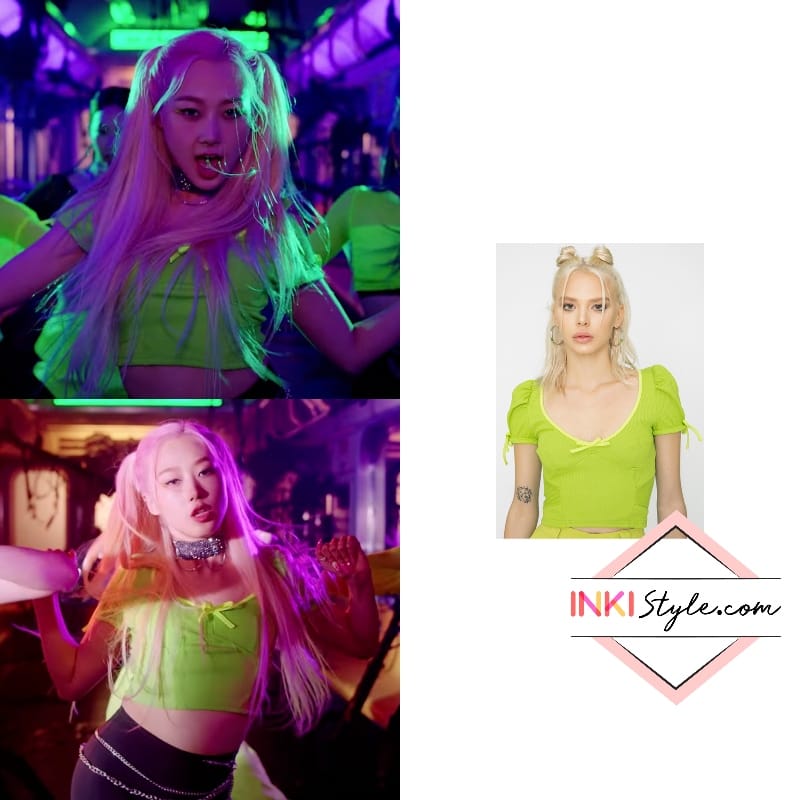 Pins
Karina's Look #1
Karina looked great in this ensemble consisting of the Club Exx rhinestone top and the Dolls Kill Violet Never Leave Ya corset top which were both worn with the My Vision Of Love miniskirt.
Pins
Karina's Look #2
Catch Karina dancing in this Didu gathered biker top paired with the baroque-print skater skirt from Versace.
Pins
Karina's Look #3
She also rocked animal print with this zebra-inspired cocktail dress from In The Mood For Love.
Pins
Karina's Look #4
She added this leather belt from Alexander McQueen to complete her goth goddess look.
Pins
Winter's Look #1
Winter kept her outfit bold and lively with the tie-neck Paris-print dress from Balenciaga which she styled with the STASIA ring from Alinka.
Pins
Winter's Look #2
She looked great in this bright outfit featuring the GG-embroidered sheer tulle bodysuit worn with this cardigan from Ashley Williams. On her skirt, she wore this Chrome Shining Star Chain Belt from Dolls Kill.
Pins
Winter's Look #3
Her cropped top is style with this Tripp NYC Festival Tie Dye shorts and Sugar Thrillz Kandi Utopia fishnet dress (worn cropped).
Pins
Winter's Look #4
Catch this Y.R.U. x Dolls Kill Ballet Bae satin platforms worn by Winter in this scene!
Pins
Ningning's Look #1
Ningning can be seen rocking this strapless romper from Dolls Kill.
Pins
Ningning's Look#2
Cop this electrifying fit by wearing this neon turtleneck from Helmut Lang under a bustier. Then for the bottoms, wear these jeans from KYE and this pair of Club Exx platform boots. She also added this flame-sculpted earrings from Ambush.
Ninging's Look #3
She added a bold touch to her outfit with these logo-print briefs from Palm Angels peeking above her pants.
Pins
Ninging's Look #4
For the bold and colorful theme, she joined the style party with this graphic-print mesh top from Marques'Almeida.
Pins
If you like this post, share it with a friend who might like it as well. And don't forget to follow our Facebook Page for more news on Korean fashion & beauty!