Loosely based on Louisa May Alcott's classical novel of the same name, the recent drama 'Little Women' translates the events of the book into modern-day South Korea. It stars Kim Go-Eun, Nam Ji-Hyun, and Park Ji-Hu in the role of the iconic sisters and is off to a promising start.
Apart from the drama's enthralling plot and good performances, let's see what Kim Go-Eun's role as the ambitious Oh In-Joo has to offer in terms of fashion.
Have you read?
Kim Go-Eun's Fashion in the K-Drama 'Little Women' Episodes 1-4
Please note: This post contains affiliate links to products we trust and recommend. If you choose to purchase a helpful product using these links, we may receive a small commission for referring you – at no extra cost to you. These funds help us keep this blog up and running.
Look #1
In the first episode, Go-Eun wore a zip-up hoodie from SY2C for a decent stay-at-home look.
Pins
Look #2
Her outfit here is composed of a warm and comfortable rosewood wool cardigan from VANESSA BRUNO and the Rowie Mary Jane shoes from ROH SEOUL.
Pins
Look #3
Go-Eun went for a soft peach outfit and contrasted it with a black tweed jacket from cordinary. Her Jimmy Choo Bee embellished suede pumps and LOEWE flamenco clutch mini gag added a touch of luxury and glamor to the look.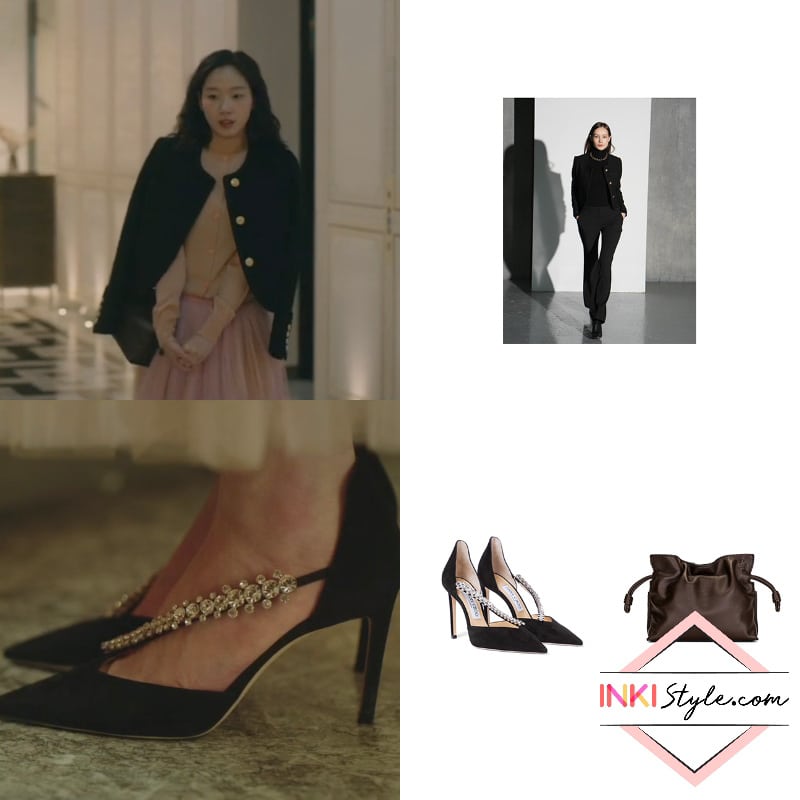 Pins
Look #4
It seems that Go-Eun loves her cardigans as much as it suits her. This time, she chose a charcoal cardigan from URAGO to match her pleat skirt and carried a bundle bag in black from YOEMIM.
Pins
Look #5
This stylish green collar wool knit top seen in episode 2 is from LENINA.
Pins
Look #6
Wearing a lovely pair of yellow gold earrings from Ellepeut to go with her delicate silk-blend dress from JOSEPH, Go-Eun was the picture of grace. Moreover, Roger Vivier's flower strass buckle satin clutch tied the whole outfit together.
Pins
Look #7
Today's final look is one of our favorites. Go-Eun paired a jacquard low vest from URAGO with the Selma Blouse from ba&sh and wore BY MINA's 'Mary Jane' strap shoes for a stunning androgynous look.
Pins
Look #8
Pins
Look #9
Pins
Look #10
Pins
Continue reading:
Read more about the fashion in the Korean drama 'Little Women' here.
If you like this post, share it with a friend who might like it as well. And don't forget to follow our Facebook Page for more news on Korean fashion & beauty!