We have caught Some K-stars wearing the same outfits from time to time, as a result, we as fans can't stop ourselves from comparing who wore it better.
This month, we have gathered some A-lister celebrities from South Korea that wore the same outfits on different occasions. Get your snacks and coffee, let's get ready and pick your favorite looks.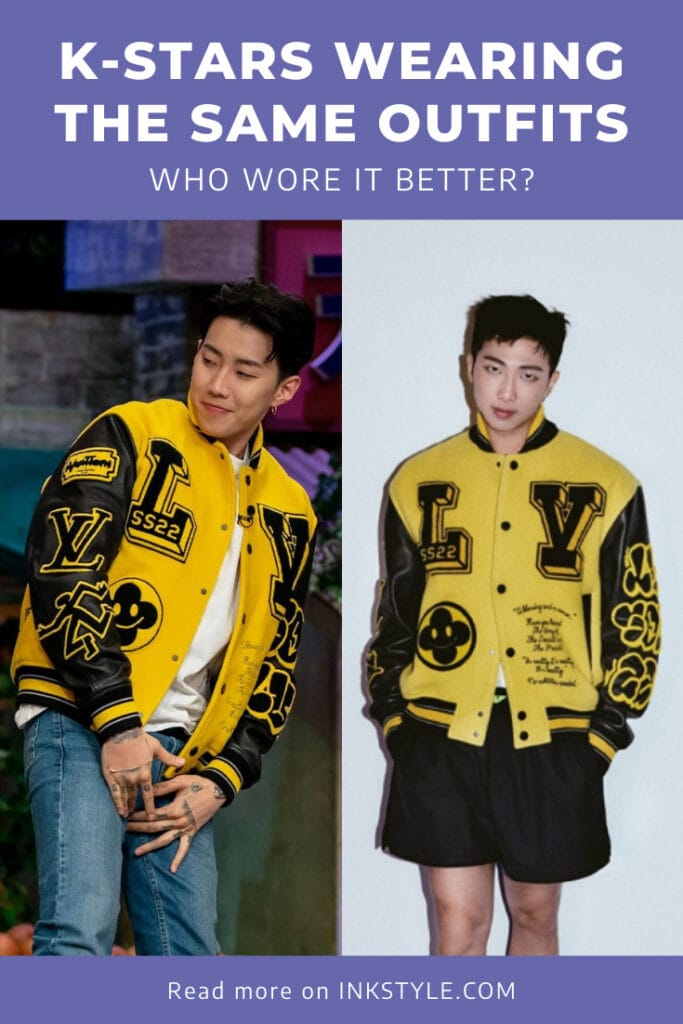 Have you read?
Please note: This post contains affiliate links to products we trust and recommend. If you choose to purchase a helpful product using these links, we may receive a small commission for referring you – at no extra cost to you. These funds help us keep this blog up and running.
RM (BTS) vs Taeyong (NCT)
Pins
BTS's RM and NCT's Taeyong both chose a retro-inspired stripe-jacquard polo sweater from BODE for their looks.
RM embraced the vintage vibe and styled the sweater with a pair of classic bootcut trousers. Meanwhile, Taeyong gave his look a modern street-style twist with a striped beanie hat, a pair of skinny jeans, and distressed platform sneakers.
Taeyong's look perfectly balanced the vintage element and the modern styling. Our vote goes to Taeyong.
Yuna (ITZY) vs Sunmi
Pins
This Miu Miu bouclé single-breasted jacket has a classic silhouette with a young and refreshing touch. Yuna of ITZY and Sunmi both shared their looks featuring this jacket.
Sunmi's ensemble is influenced by modern pop culture, while Yuna's look is classy and elegant. Our vote goes to Yuna.
Taeyong (NCT) vs Kim Jae-Wook vs V (BTS)
Pins
Taeyong, V, and Kim Jae-Wook all wore this graphic-knit wrap cardigan from BODE.
While V's and Kim Jae-Wook's looks are both classic and simple, Taeyong styled the cardigan with edgy leather pants, platform sneakers, and a cool leather bucket hat.
The point goes to Taeyong as we love the combination and contrast of his look.
Jay Park vs RM (BTS)
Pins
Jay Park and RM both favored this statement-making leather bomber jacket from Louis Vuitton.
We like how Jay Park's styling is youthful, laidback yet eye-catching. This is the look you need if you want to stand out of the crowd effortlessly.
The point goes to Jay Park for his bold and fun styling.
Lee Min-Jung vs Han Ga-In
Pins
Lee Min-Jung and Han Ga-In both picked the elegant pleated trapeze dress from Alaïa. The pleated poplin fabric combined with the classic silhouette made this dress the perfect choice to stand out in the crowd without putting much effort.
We believe both stars nailed their look. Which one do you like better? Let us know in the comment section!
Continue reading:
Read more of our 'K-Fashion Face-Off' series here.
If you like this post, share it with a friend who might like it as well. And don't forget to follow our Facebook Page for more news on Korean fashion & beauty!