'Crash Course In Romance' has become an absolute sensation among fans, showing stellar viewership both on television and on Netflix.
The plot has been thickening and our main characters are sharing intense moments, making the waiting time for the next episode seem uncharacteristically long. But, the best way to wait is by continuing our journey of exploring the fashion of the ever-charming Jung Kyung-Ho as Choi Chi-Yeol in episodes 5 to 8 of the drama. So, let's go!
Have you read?
Jung Kyung-Ho's Fashion in the K-Drama 'Crash Course In Romance' Episodes 5-8
Please note: This post contains affiliate links to products we trust and recommend. If you choose to purchase a helpful product using these links, we may receive a small commission for referring you – at no extra cost to you. These funds help us keep this blog up and running.
Look #1
Kyung-Ho looks charismatic in episode 5 wearing a bold rib half zip-up sweater from Insilence which he pairs with comfy two tuck wide pants from millo. His Gotham portfolio bag from Coach is a hard to miss addition.
Pins
Look #2
Next, we see him in a classic feather-pin knitted cardigan from Golden Goose in episode 6.
Pins
Look #3
This brown check borrowed button-down shirt from Our Legacy looks undeniably fashionable on Kyung-Ho, while these ball star nappa leather sneakers from Golden Goose stand out.
Pins
Look #4
There's something very Chi-Yeol about Kyung-Ho in a wool blend V-neck knit top from System Homme in episode 7, and we love to see such looks.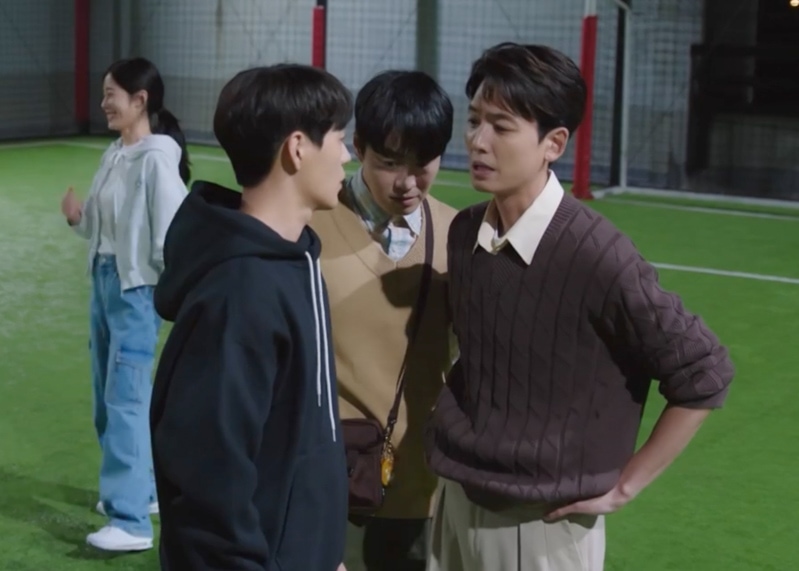 Pins
Look #5
This ash blue hollywood satin suit men set from Bummer Chores makes for some luxurious home-wear.
Pins
Look #6
Kyung-Ho goes completely casual for his next look, wearing a solid round tunnel overfit setup sweatshirt from Attentionrow.
Pins
Look #7
We're already at episode 8, and Kyung-Ho looks rather sublime in a three button wool blazer from Insilence that he wears on top of a highlands green raccon collar shirt cardigan from Satur. He pairs them with normal coverband wide loose denim pants from Millioncor.
Pins
Look #8
In a suave look, we see him don a charcoal hooded anagram zip parka in wool from Loewe.
Pins
Look #9
Lastly, we see Kyung-Ho draw viewers in wearing a serene soil brown wool trucker jacket and matching wool trucker pants from Minimal Garments Lab.
Pins
Continue reading:
Read more about the fashion in the Korean drama 'Crash Course In Romance' here.
If you like this post, share it with a friend who might like it as well. And don't forget to follow our Facebook Page for more news on Korean fashion & beauty!