Picking up where we left off last time with Suzy's fashion in the Netflix drama series 'Doona!', we are back with a final update on her trendy wardrobe as the titular character Lee Doo-Na.
Against the backdrop of ambient cinematography and a mellow soundtrack, Suzy effortlessly captures the vulnerability and inquisitive nature of Doo-Na. This is very much evident in her style, which is casual contemporary clothing mixed with playful additions. So, let us take a closer look at her outfit choices from the final half of the drama.
Have you read?
Suzy's Fashion in the K-Drama 'Doona' Episodes 5-9
Please note: This post contains affiliate links to products we trust and recommend. If you choose to purchase a helpful product using these links, we may receive a small commission for referring you – at no extra cost to you. These funds help us keep this blog up and running.
Look #1
In episode 5, Suzy relaxed in a black script cropped cardigan by ROCKCAKE, paired with purple and white check-print seersucker shorts from GANNI.
Pins
Look #2
For a delicately fresh summer look, she styled a baby blue lace string bustier with white glossy satin pants from SOFT SEOUL.
Pins
Look #3
Since a little black dress never goes wrong, Suzy opted for a black puff mini dress from ZEROPLANET to go out for the night. She complemented her timeless look with coordinating black leather rose-heel sandals from LOEWE and a black glitter finish mini bag from Bulgari's Serpenti Forever collection.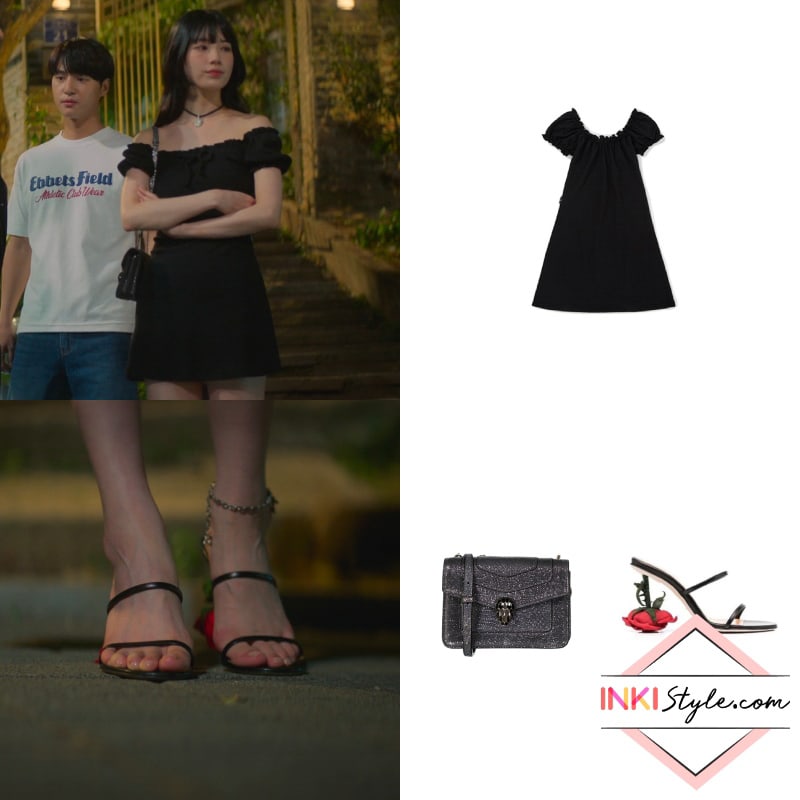 Pins
Look #4
This look from episode 6 features a cream double strap ruched sleeveless top from SOFT SEOUL, a cute outfit that is very much in vogue.
Pins
Look #5
Suzy combined a brown logo corset crop top from CRANK with light purple wide training pants of the same brand. It is a simple yet polished look suitable for any casual day.
Pins
Look #6
Here, she layered a black ruffle crop top over a melange grey high top from GROVE and wore it with a pair of blue straight denim pants from Marithe Francois Girbaud. This tiny black quilted chain bag from OTHER AND is a chic addition to the look.
Pins
Look #7
She achieved a comfortable ensemble with the help of a multicolor wool-cashmere jumper from Zadig&Voltaire and low-top sneakers from Y-3.
Pins
Look #8
In episode 7, Suzy's black compass midnight crossword wrestle-back top from SMFK and heart archive sweat pants from TARGETTO worked as pretty dance gear when paired with black and white Air Jordan "Panda" sneakers.
Pins
Look #9
She then dressed up in a khaki trench-style belted long coat from VOCAVACA and black 1918 lace-up boots by RICK OWENS x Dr. Martens for another effortlessly stylish streetwear, complete with a red 'Hammock' small leather shoulder bag from LOEWE that seized our immediate attention.
Pins
Look #10
This oversized lavender cable knit sweater from INSTANTFUNK is a must-have for one's nonchalant pastel fall wardrobe.
Pins
Look #11
For a stunningly cute vintage outfit from episode 8, Suzy wore a brown sailor Mustang jacket from Lang&Lu and embellished it with a small brown crinkle heart tote leather bag from MARGESHERWOOD.
Pins
Look #12
In this scene, she exuded a sense of laidback sophistication in a coat by Max Mara Weekend with houndstooth pattern sleeves.
Pins
Look #13
We then see her in a cozy cream stitch line crop knit pullover from RE_L.
Pins
Look #14
Suzy's purple 60s Milton jacket from RECTO embodies the essence of retro elegance without being too overwhelming.
Pins
Look #15
She cut a low-profile figure with the help of her 1984 embroidered navy ball cap from Dolphin Wave Apparel.
Pins
Look #16
This scene is iconic for a lot of things but her check ensemble from CIDER, in the form of a sweetheart neck crop top and pleated buckle belt skirt, made it even more memorable.
Pins
Look #17
To start the final episode, Suzy wore a fashionable blue one-shoulder denim dress from INSTANTFUNK and topped it off with a plaid beret.
Pins
Look #18
She looked discreetly glamorous in a ruffle detail halter neck crop top from Blumarine and white gold and diamond jewelry from Bulgari as a pair of four-petal design earrings and rings adorned her.
Look #19
Her brown two-tone tweed crop jacket from JOY GRYSON appears delightfully tailor-made.
Pins
Look #20
In a bold outfit fit for a stage performance or a pop music video that is a departure from her casual outfits seen so far, Suzy stepped out in a sand beige and black toile iconographe tulle ensemble from Valentino. It comprised the brand's tulle cropped top, gloves, shorts, tights, and V-logo boots.
Look #21
Pins
Look #22
She dressed in pink from head to toe in a tweed crop jacket and mini skirt, all from JOY GRYSON.
Pins
Look #23
In the final look, we have Suzy making a luxurious statement in a poplin-trim lace mini dress from Prada.
Pins
Read more about the fashion in the Korean drama 'Doona!' here.
If you like this post, share it with a friend who might like it as well. And don't forget to follow our Facebook Page for more news on Korean fashion & beauty!