Netflix's newest series 'Doona!' sees the return of Suzy to the world of web series after her leading role in 'Anna'. In the new romance series adapted from the webtoon 'The Girl Downstairs', Suzy stars as the retired K-Pop celebrity Lee Doo-Na who retreats from the public eye at the peak of her fame. In her low-profile life, she catches the attention of an ordinary college student played by Yang Se-Jong.
Suzy's street style as Doo-Na is particularly commendable as it blends various styles without becoming too overwhelming. So, without further ado, let us get into her fashion from the first four episodes.
Suzy's Fashion in the K-Drama 'Doona!' Episodes 1-4
Please note: This post contains affiliate links to products we trust and recommend. If you choose to purchase a helpful product using these links, we may receive a small commission for referring you – at no extra cost to you. These funds help us keep this blog up and running.
Look #1
In one of the first looks from episode 1, Suzy cut a casual figure in a green varsity jacket from INSTANTFUNK.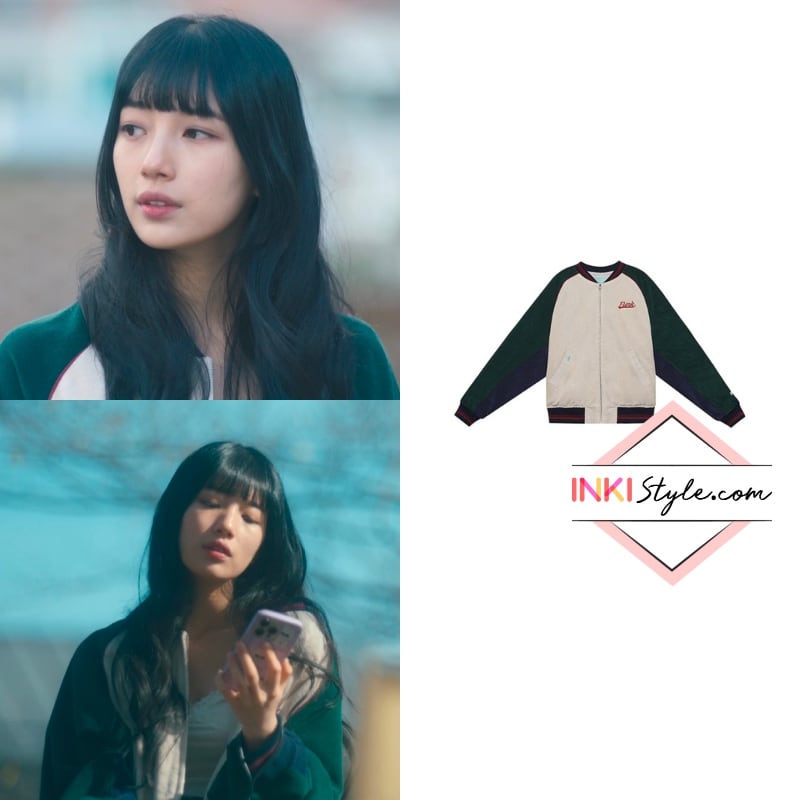 Pins
Look #2
She looked lovely in an ivory one-shoulder full-sleeve button tee from threetimes paired with vintage-looking brown checkered sweatpants from 1993STUDIO. A pink crystal embellished heart-motif hair clip from Gucci further complemented the look.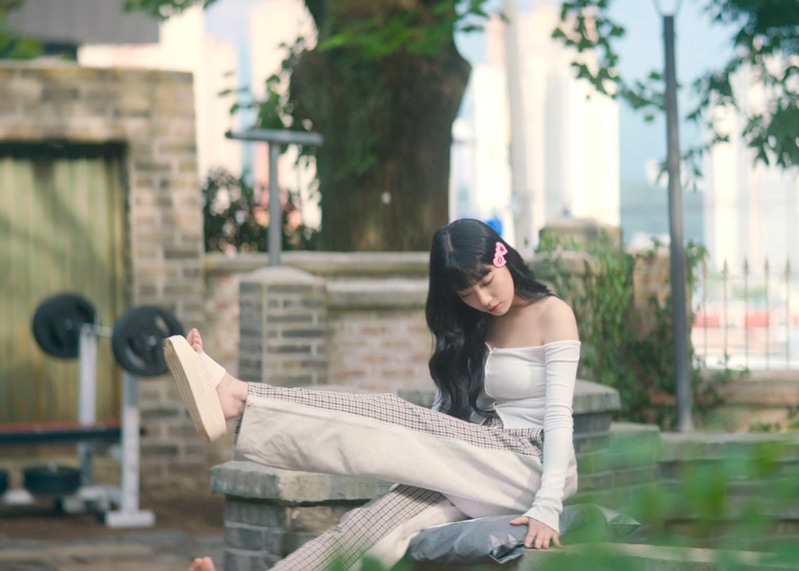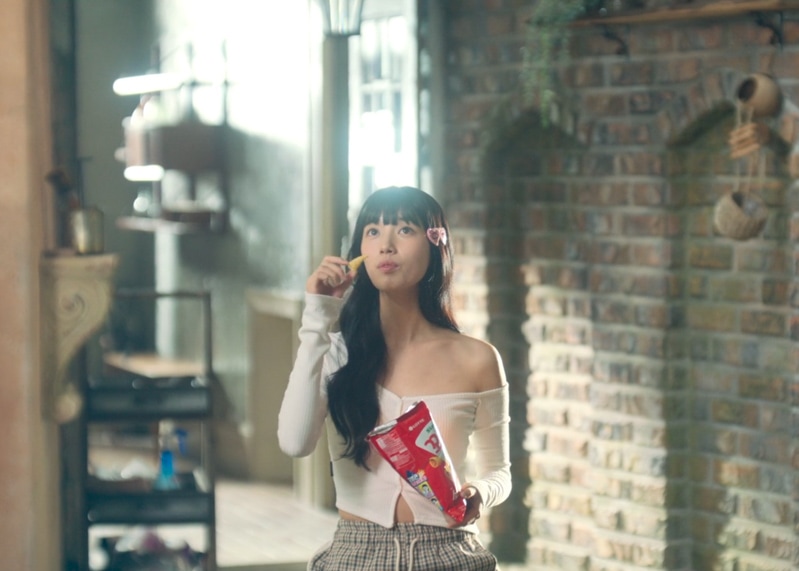 Pins
Look #3
Here, she wore an oversized red and black damaged wool stripe knit sweater from CLUT STUDIO. The attire is effortlessly stylish.
Pins
Look #4
Pink is a good shade on Suzy as proven by her choice of this cardigan from ADIDAS ORIGINALS.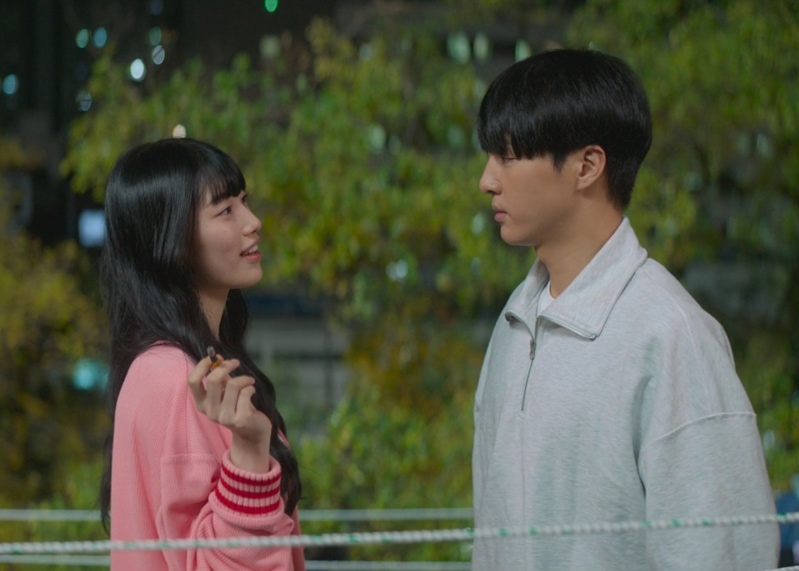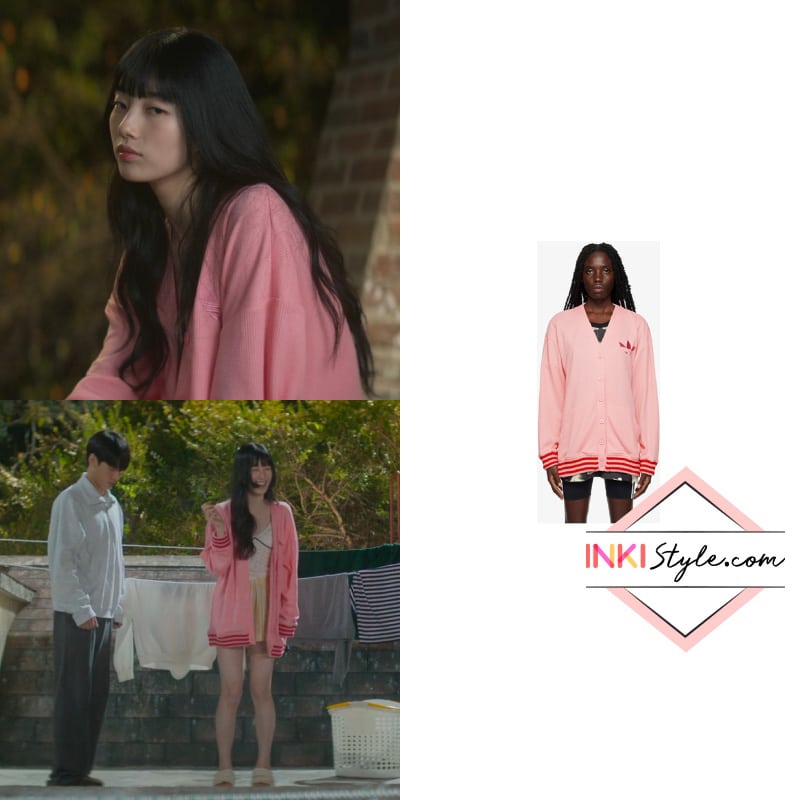 Pins
Look #5
In a similar outfit, she styled a navy blue velvet jersey track jacket from Storm London with a beige cropped classic lace camisole from WONDER VISITOR, complete with a burgundy patch cap from BLUR 1.0 to top it all off.
Pins
Look #6
Her purple/multicolor cropped cable knit cardigan seen here is from Sculptor.
Pins
Look #7
While Suzy's black and pink ensemble featuring the combination of a pink cropped cardigan and a floral black mini dress is very voguish in itself, she improved upon it by styling it with a pair of Dr. Martens polished leather boots in black, a black cotton ball cap from MISCHIEF and a brown leather bucket bag from Editorial.
Her pendulum cross earrings from ILLE LAN, crafted in white gold and silver, added a touch of resplendence to her look.
Look #8
In episode 2, she wore a green loose-fit check shirt bolero over an ivory bustier sleeveless tube top, both from NOT YOUR ROSE, for a trendy laidback look.
Pins
Look #9
She rocked a pair of navy crystal heart jogger pants from ROCKCAKE, displaying a perfect blend of comfort and style.
Pins
Look #10
This pink and brown color block classic velour zip-up jacket from WONDER VISITOR is another cute addition to her low-key and fashionable wardrobe. It goes surprisingly well with pajama bottoms as seen with this outfit.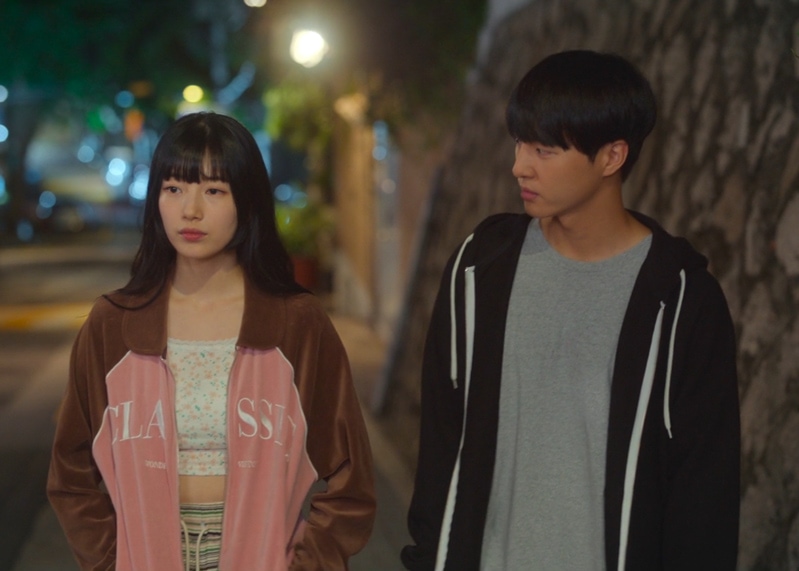 Pins
Look #11
Suzy coordinated a baby blue floral jacquard cropped cardigan from Miu Miu with a grey lace bra top from threetimes for a dainty look in episode 3.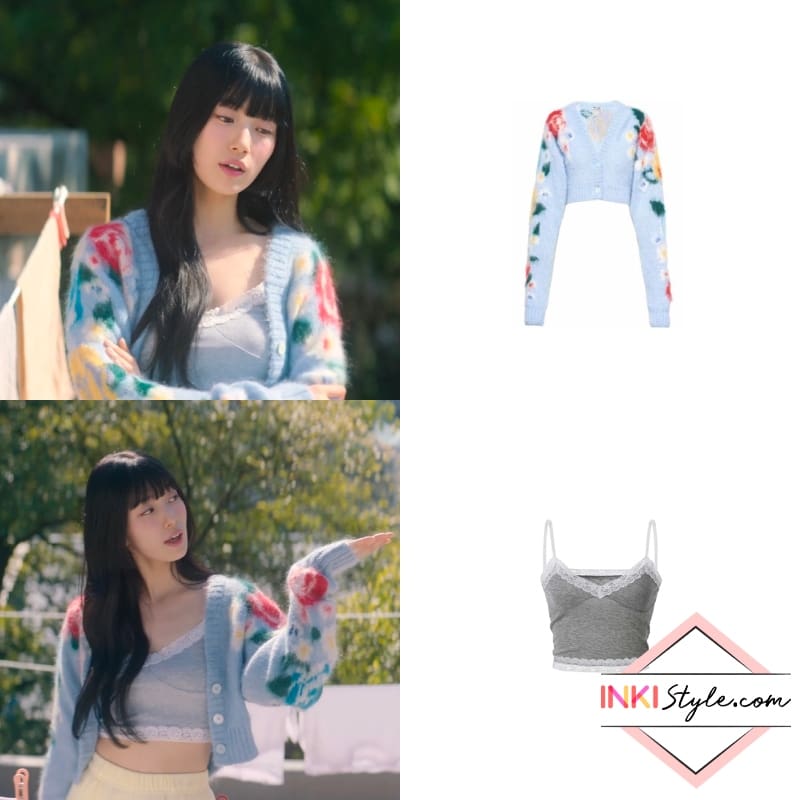 Pins
Look #12
Wearing an oatmeal corset knit zip-up cropped jacket from CRANK with brown contrast stitch carpenter pants from SCULPTOR, she achieved an athletic look in a sophisticated manner.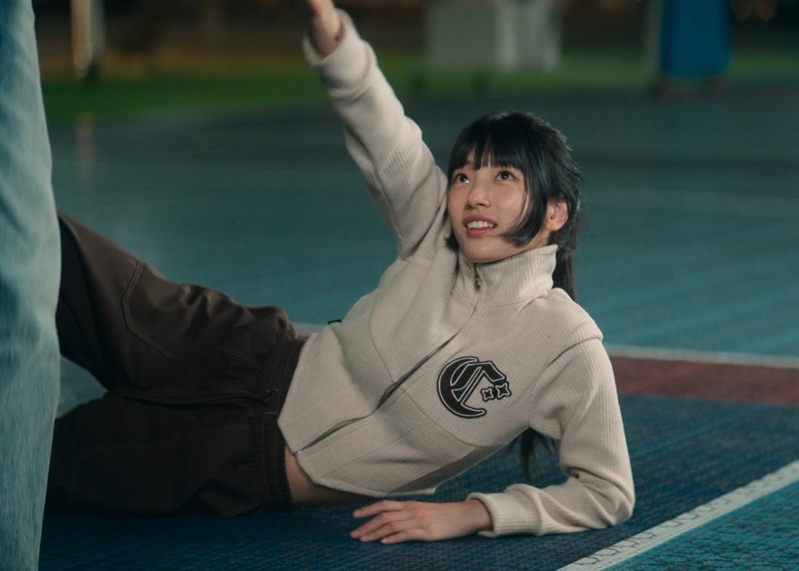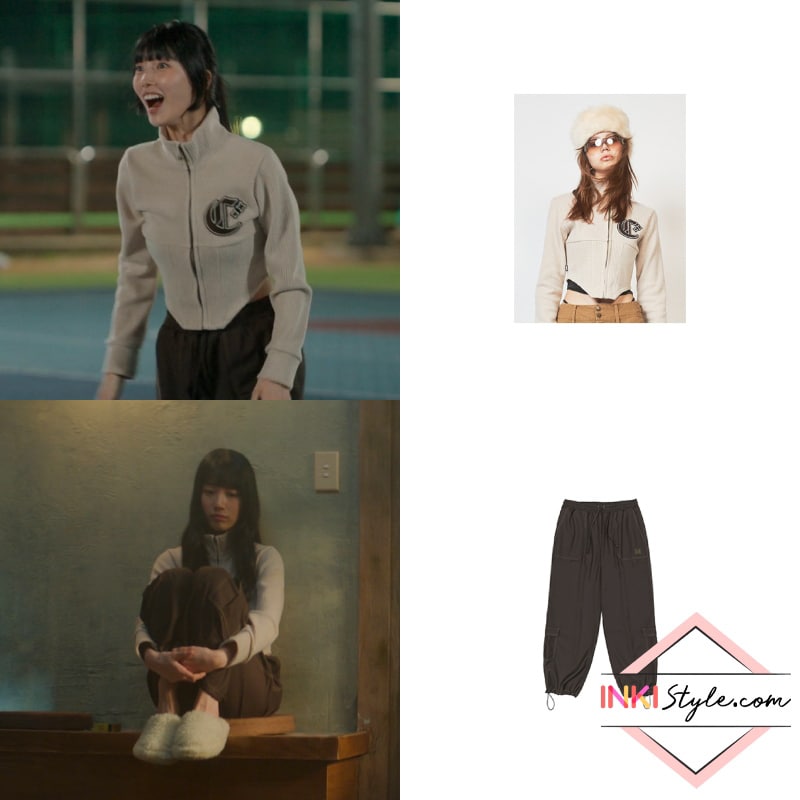 Pins
Look #13
In this scene, she opted for a baby pink side cutout cardigan from threetimes, its structured form balancing the silhouette of her flowy shorts. The overall outfit is a cute one suitable for an easy-going date night out.
Pins
Look #14
Suzy's fresh summery outfit here consists of a flower pattern frill mini dress from NOT YOUR ROSE, Teddy bear low-top sneakers from Palm Angels, and a pink burrow leather shoulder bag from OFF-WHITE.
Look #15
She lounged in yet another Ms Terry varsity jacket from INSTANTFUNK, but this time in the shade of grey.
Pins
Look #16
Once again, she showcased her signature chic and comfortable style in this pink jersey zip-up from Matin Kim layered over a rhombus flower camisole from MISCHIEF.
Pins
Look #17
Suzy's butterfly print long-sleeve top from Sugar Thrillz gives off a subtle versatile charm and promises to look great with either sweatpants or jeans.
Pins
Look #18
These beige cargo overalls from INSTANTFUNK look stunning on her, especially when adorned with a black daisy necklace from TWENTYONEAUGUST and a pearl mini bag from L.E.E.Y.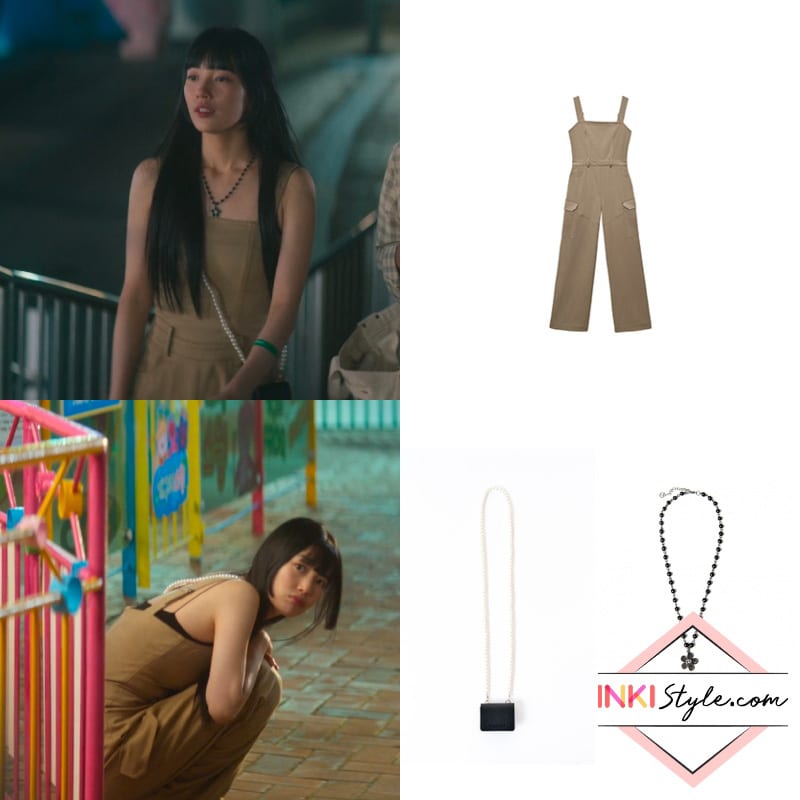 Pins
Look #19
Suzy's final look for today is none other than this utterly beautiful flower-print black dress with a ribbon detail from DUNDROP.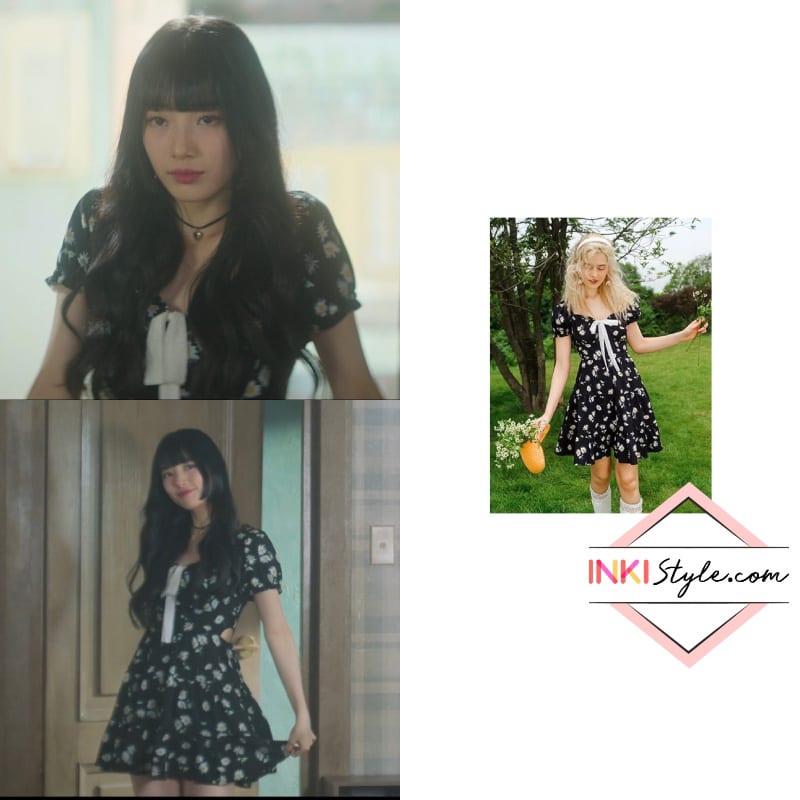 Pins
Continue reading:
Read more about the fashion in the Korean drama 'Doona!' here.
If you like this post, share it with a friend who might like it as well. And don't forget to follow our Facebook Page for more news on Korean fashion & beauty!