Here we are again, breaking down your favorite looks of Moon Ga-Young's from the smash hit K-drama, 'True Beauty'. From cozy combinations to chic ensembles, our girl Ga-Young can wear whatever she wants and still look like a true beauty.
Don't believe us? Then you may want to check out these stunning outfits of hers in episodes 7 and 8!
Have you read?
Moon Ga-Young's Fashion in Episodes 7-8 of K-drama 'True Beauty'
Please note: This post contains affiliate links to products we trust and recommend. If you choose to purchase a helpful product using these links, we may receive a small commission for referring you – at no extra cost to you. These funds help us keep this blog up and running.
Look #1
Ga-Young is always an eye-catcher in her school uniform. This time, she looked stunning when she paired this unbalanced ribbed cardigan from ON&ON with the Vittore mini hoop earrings from Swarovski.
Pins
Look #2
Nothing is more adorable to watch than Ga-Young in a cute, comfy outfit. To pull this look off, she went for a beige sweatshirt from EcommaE and a pair of gray sweatpants from INSTANTFUNK.
Pins
Look #3
She blew us away in episode 7 when she wore this cropped cardigan by POLO RALPH LAUREN.
Pins
Look #4
Here's a cute, casual outfit to copy from Ga-Young herself. For this look, you're going to need an orange knit top from EN OR, sky blue bootcut jeans from INSTANTFUNK, and the Sierra shoulder bag from JOY GRYSON.
Pins
Look #5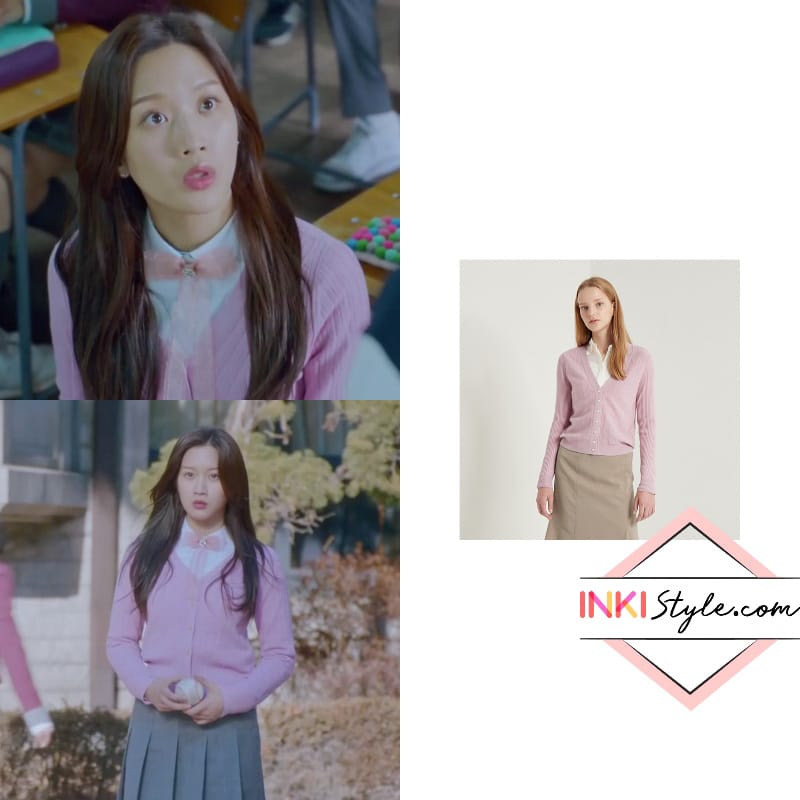 Pins
Look #6
Her cute looks seem like they never end! She used MAISONMARAIS's khaki jacket as a key piece for this sweet ensemble. And what better way to top everything off other than GETMEBLING's black swan pin?
Pins
Look #7
Ga-Young switched to vintage classics with a mint coat by VOCAVACA, which she coupled with a stylish pair of Roger Vivier Viv' Rangers loafers. She once again went for JOY GRYSON's Sierra shoulder bag, but looking this fashionable, no one could blame her!
Pins
Look #8
You know it's Ga-Young when she slips into some comfy set. This time, she went for vvplement's Weekend sweatshirts and sweatpants.
Pins
Look #9
Keeping it chic and casual, Ga-Young donned a denim jacket from Levi's. Of course, since it's a school trip, she's equipped with Mulberry's City Weekender luggage bag and wearing her beige backpack from EMIS.
Pins
Look #10
Admit it! We all have our eyes on this Ga-Young-approved jumper by ON&ON.
Pins
Look #11
Pins
Continue reading:
Read more about the fashion in Korean drama 'True Beauty' here.
If you like this post, share it with a friend who might like it as well. And don't forget to follow our Facebook Page for more news on Korean fashion & beauty!