XG's 'Left Right' music video was a work of art, featuring a wide array of bold colors, beautiful vocals, impressive dance moves, and exceptionally stunning outfits. 
The girls' fashion in the video was arguably the real star of the show, and we're here to give it the attention it deserves. That said, keep reading for a detailed breakdown of their impressive looks.
Have you read?
Please note: This post contains affiliate links to products we trust and recommend. If you choose to purchase a helpful product using these links, we may receive a small commission for referring you – at no extra cost to you. These funds help us keep this blog up and running.
XG's 'Left Right' MV Fashion
Jurin's Look #1
Jurin's ensemble was simply mind-blowing, which consisted of a faux fur hat by Rashhiiid, utility blouson trousers by Dion Lee, bubble clog platforms by Simon Miller, and disco drop earrings by Simon Miller.
Jurin's Look #2
Once again, she managed to leave everyone impressed with her look, which included a long-sleeved fitted crop top from Louis Vuitton, mirror pants from Lado Bokuchava, and a candy ball ring from Jean Paul Gaultier x La Manso.
Pins
Chisa's Look #1
Chisa rocked a daring outfit that featured four unique pieces: Dion Lee's denim corset jacket and cotton-denim parachute jeans, BY FAR's silver boots, and Simon Miller's disco drop earrings.
Chisa's Look #2
Her second ensemble was hot as fire, featuring Lado Bokuchava's red jacket and low-rise pants, and Jean Paul Gaultier's rings.
Juria's Look
With her stylish leather graphic mini skirt from Louis Vuitton, Juria definitely didn't fail to impress. 
Pins
Cocona's Look
Cocona left a lasting impression with her stylish leather graphic mini skirt from Louis Vuitton.
Pins
Harvey's Look
Harvey's colorful outfit included a striped turtleneck pullover by Louis Vuitton, a skirt by Lado Bokuchava, and a candy ball ring by Jean Paul Gaultier.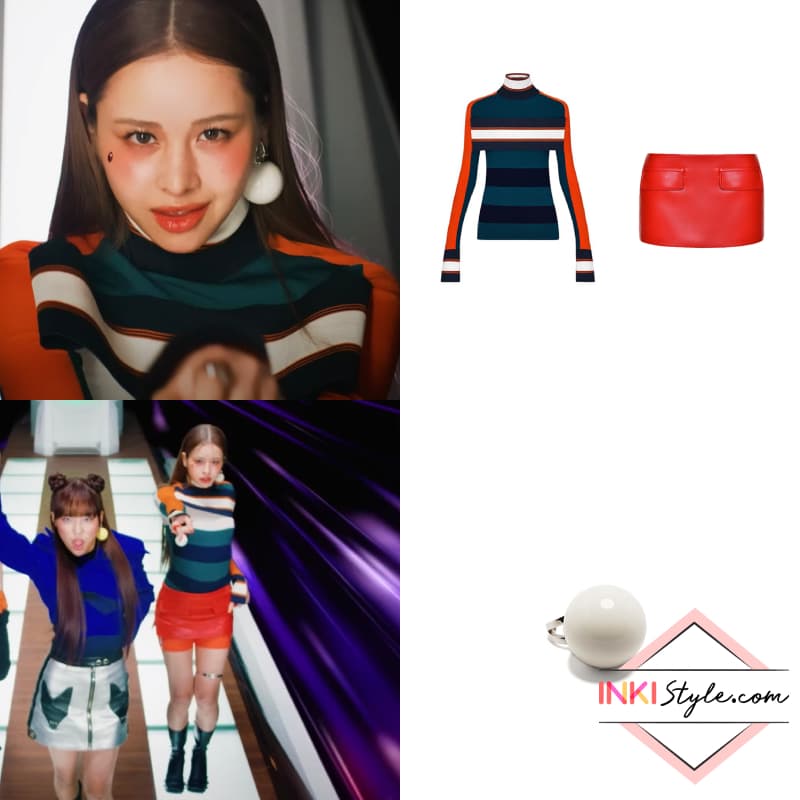 Pins
Maya's Look #1
Maya's look was on the next level, featuring a gorgeous body-conscious biker dress from Louis Vuitton.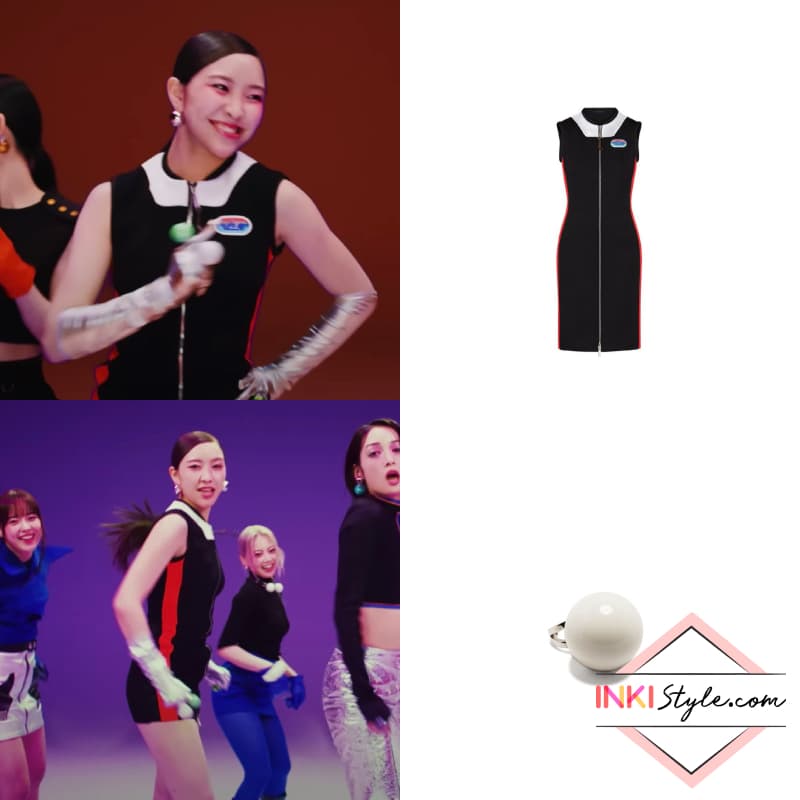 Pins
Maya's Look #2
She served up another jaw-dropping look that consisted of a faux leather slip dress from Kijun, the Enzyma sock runners from Rombaut, warmers from MISU A BARBE, and chunky hoop earrings from Uncommon Matters.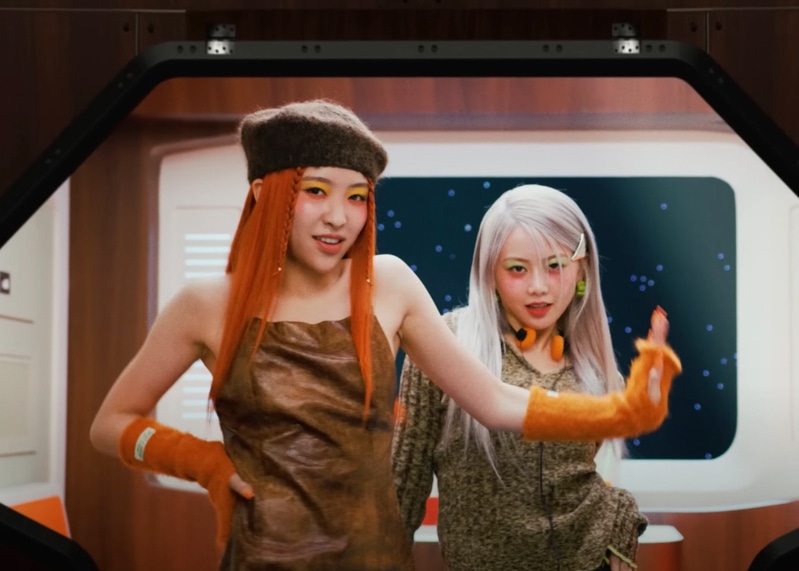 Hinata's Look #1
Hinata's look was one of the cutest, featuring a turtleneck sweater by Prada and a scissors skirt from Lado Bokuchava that perfectly complemented each other.
Pins
Hinata's Look #2
She wowed us again with an impressive look that included a fashionable V-neck polo sweater from ACNE STUDIOS, a miniskirt from MIAOU, the Mariana boots from Molly Goddard, and a cute logo-detailed hair clip from Prada.
Unified Look
All seven members sported a stylish pillow-down vest by ENTIRE STUDIOS, a high-neck crop top from 99percentis, and a striped denim bucket hat by Sunnei.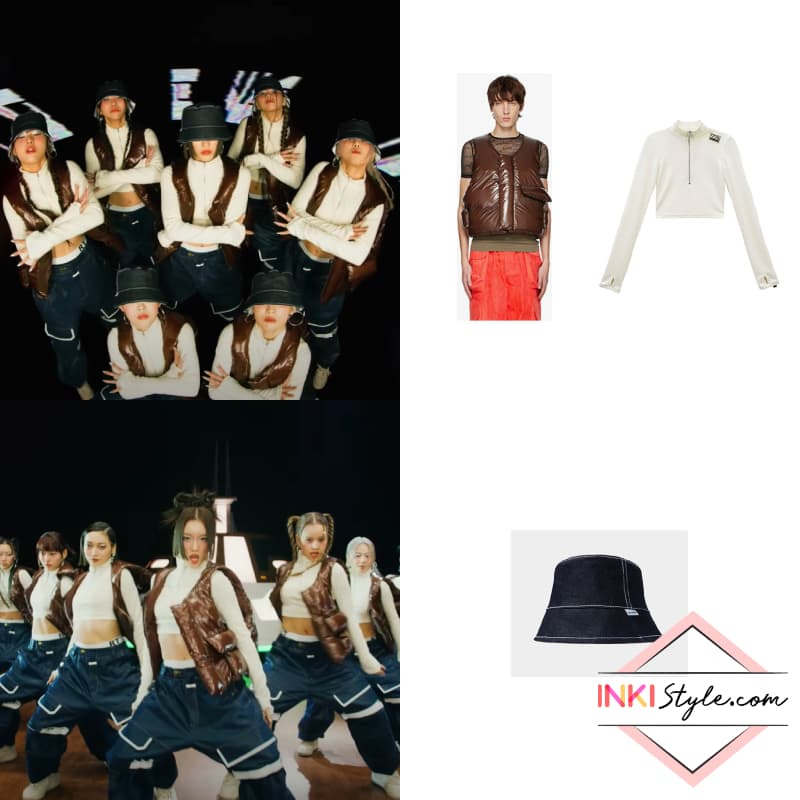 Pins
This article was requested by our readers. Send your requests here!
If you like this post, share it with a friend who might like it as well. And don't forget to follow our Facebook Page for more news on Korean fashion & beauty!