A great love song for the fanbase and amazing outfits with a nice splash of color – that's basically 'Darl+ing' in a nutshell! On April 15, the K-pop boyband SEVENTEEN dropped their first love letter to their English-speaking fans… in English!
'Darl+ing' was a lighthearted song that got the message across, and as fashion lovers, we noticed some of the most beautiful, colorful fashion moments ever in the song's music video. So, we had to break them down for you today and show you exactly what these handsome boys wore in the MV. Let's jump right into it!
Please note: This post contains affiliate links to products we trust and recommend. If you choose to purchase a helpful product using these links, we may receive a small commission for referring you – at no extra cost to you. These funds help us keep this blog up and running.
SEVENTEEN's 'Darl+ing' MV Fashion
Vernon's Look #1
Vernon was the first to appear in the MV, along with his stylish outfit that featured an embroidered-logo jumper from ETRO.
Pins
Vernon's Look #2
Vermon won't stop looking like an absolute stud. For this look, he opted for a chic rib block cardigan knit from System.
Pins
Joshua's Look #1
And there's Joshua, who showed off a charming look that featured a one-of-a-kind oblique sweater from DIOR.
Pins
Joshua's Look #2
Another unique piece that Joshua donned from DIOR is this stylish Dior and Peter Doig sweater.
Pins
Mingyu's Look
We totally love how cute Mingyu looked in this floral paisley denim patchwork jacket by ETRO.
Pins
Wonwoo's Look
Speaking of cuteness, check out Wonwoo wearing a scarf-detail single-breasted blazer and pair of lazy layered trousers from Y/Project.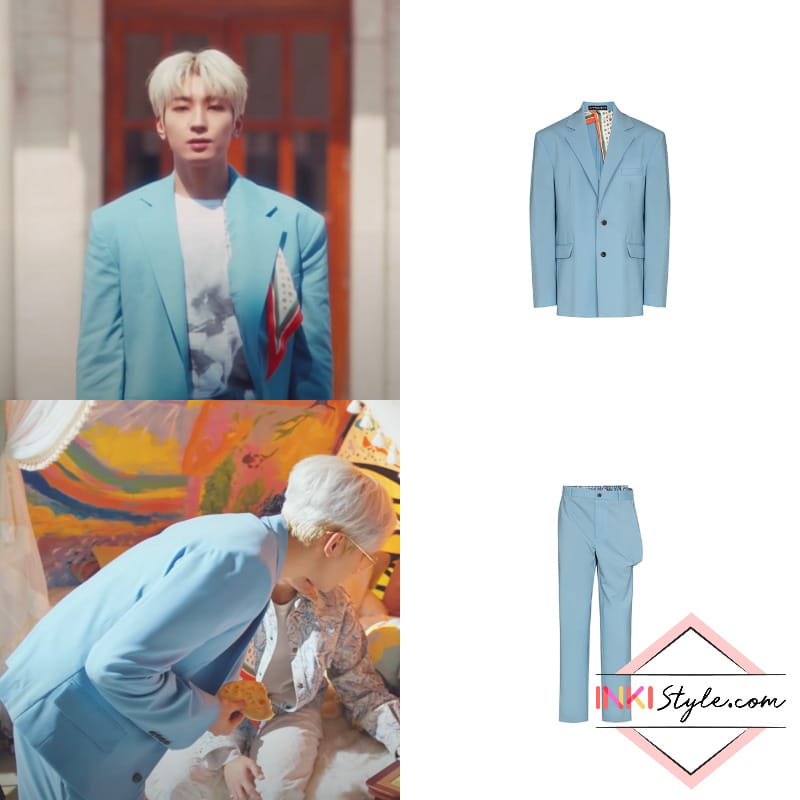 Pins
Woozi's Look #1
If you're having a bad day, this cheerful look by Woozi can definitely make it better. It consisted of a colorful cotton and silk foulard scarf and a rose print denim jacket, both by Acne Studios.
Pins
Woozi's Look #2
Is there anything more good-looking than Woozi in LANVIN's knit polo shirt? We doubt there is!
Pins
Dino's Look
We loved the cheerful vibes Dino brought us here with his cute outfit, which consisted of an appliqué-logo shirt from JW Anderson and a gradient wool sweatshirt from ERL.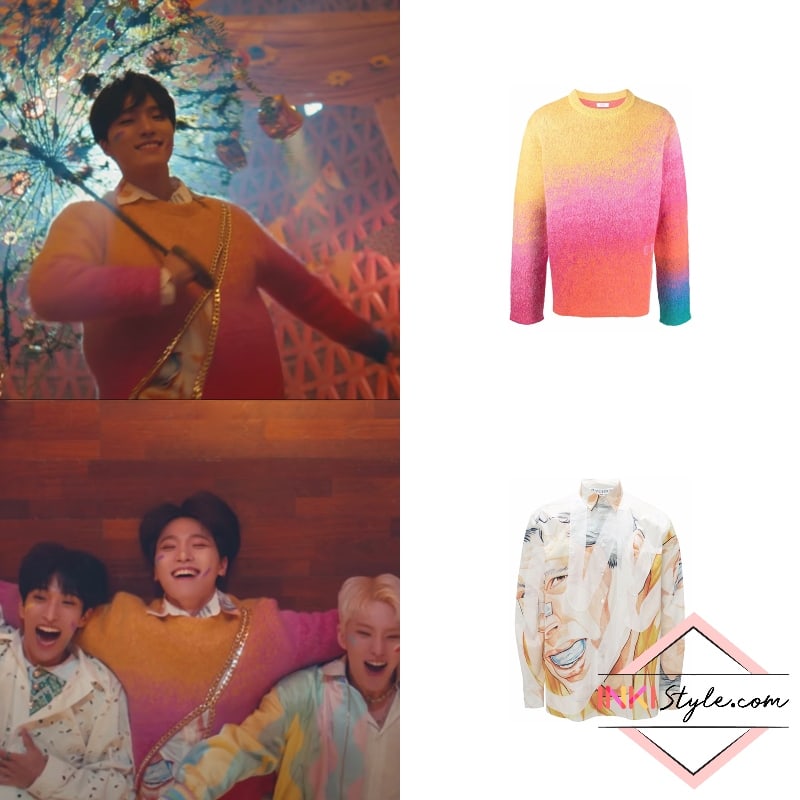 Pins
DK's Look #1
DK pulled off a cute, cheerful look by layering this foliage lace unlined snap button shirt jacket from TOGA VIRILIS on a monogram-pattern polo shirt from Casablanca.
Pins
DK's Look #2
We absolutely loved how simple yet stunning DK looked in the MV when he wore Jil Sander's embroidered patch virgin wool jumper.
Pins
Hoshi's Look #1
If you liked Hoshi's stylish distressed canvas sneakers here, you can get the exact same pair for yourself from VISVIM!
Pins
Hoshi's Look #2
Hoshi took colorful fashion to another cute level when he wore this pretty wave-print logo bomber jacket from Casablanca.
Pins
Jun's Look #1
Nothing beats simple, clean looks, especially this one that Jun wore, which featured a super stylish gradation crochet knit top from System.
Pins
Jun's Look #2
Whether you wear it on its own or layer it like Jun did, Casablanca's logo-embroidered color block jumper will never disappoint you!
Pins
S.Coups' Look #1
No words can describe how fascinating S.Coups looked here in this striped rib-knit polo shirt from Marni.
Pins
S.Coups' Look #2
This look of his is for all the fashion freaks out there. You'll definitely like this fashionable ensemble, which consists of a crocheted straight-point collar shirt from Sunflower topped with a light green soutien collar coat from AURALEE.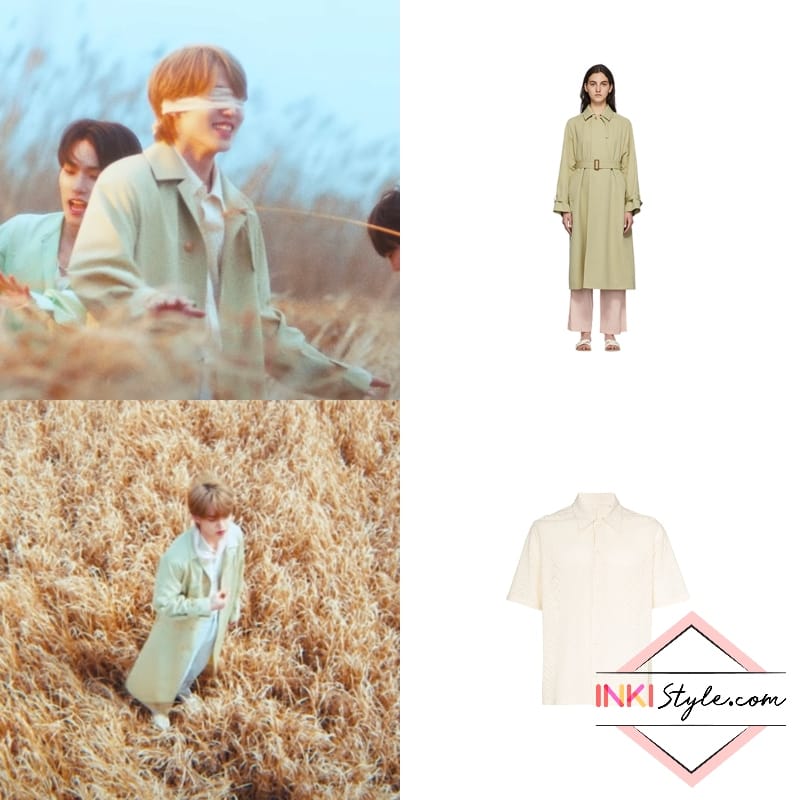 Pins
The8's Look #1
The8 was the fans' Prince Charming when he showed up wearing Munn's white tweed jacket and CASABLANCA's beige diamond monogram shirt underneath.
Pins
The8's Look #2
Looking as charming as usual, The8 wore a masterpiece knitted polo shirt from Marine Serre.
Pins
Seungkwan's Look #1
We had to stop and marvel at this fabulous fashion moment brought to us by Seungkwan. Here's the breakdown for you: He creatively topped off an all-over graphic print shirt from BODE with an off-white shirt from DOUBLET.
Pins
Seungkwan's Look #2
He brought another outfit to the table that we absolutely fell for. This time, he used a pretty Le Maille Menta knit from JACQUEMUS.
Pins
Jeonghan's Look #1
And off to Jeonghan, who pulled off an elegant look with a twist by opting for a geometric G-print shirt from GUCCI.
Pins
Jeonghan's Look #2
He can pull off cute looks, too! Check him out looking all cute and comfortable in AMOMENTO's off-white open knit vest.
Pins
If you like this post, share it with a friend who might like it as well. And don't forget to follow our Facebook Page for more news on Korean fashion & beauty!