We don't see amazing fashion choices every day, but we definitely did on October 17 when LE SSERAFIM dropped their latest bomb, 'Antifragile'!
With that being said, be prepared to have your jaws dropped to the ground and read on as we break down the awe-inspiring looks showcased by the five beauties: Kazuha, Eunchae, Chaewon, Yunjin, and Sakura!
Please note: This post contains affiliate links to products we trust and recommend. If you choose to purchase a helpful product using these links, we may receive a small commission for referring you – at no extra cost to you. These funds help us keep this blog up and running.
LE SSERAFIM's 'Antifragile' MV Fashion
Kazuha's Look #1
Let's kick off with Kazuha's sporty look, which consisted of a side-stripe fitted T-shirt from Balenciaga and a pair of black Pro Training 365 high-waisted from Nike.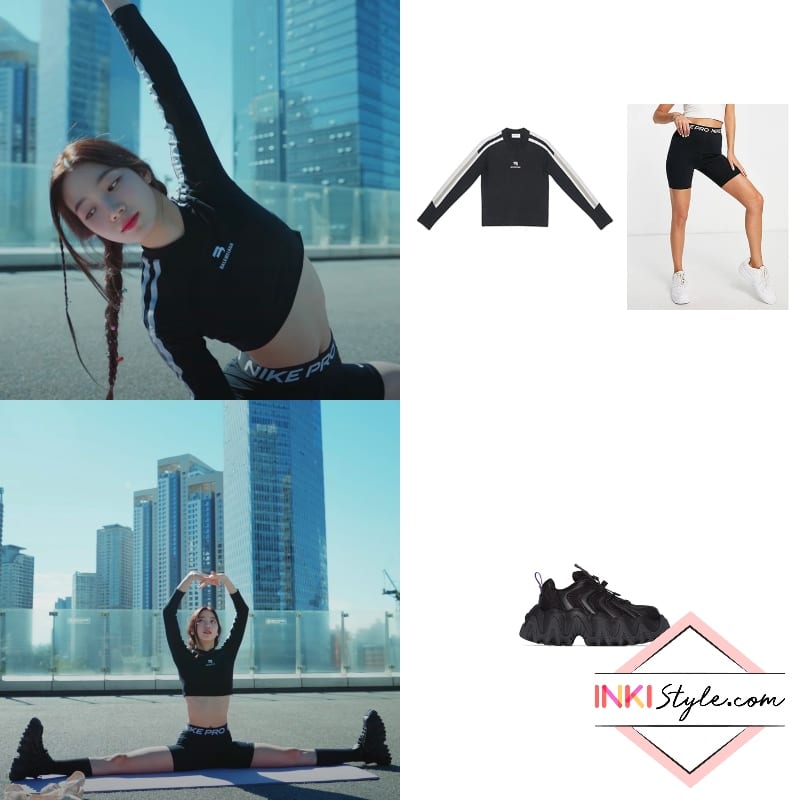 Pins
Kazuha's Look #2
She was definitely creative when she paired these white tights from Praying with the Gabrielle skirt from Ashley Williams!
Pins
Kazuha's Look #3
Pins
Eunchae's Look #1
You can look just as cute as Eunchae did in the MV by wearing a green acrylic sweater from MARC JACOBS HEAVEN, black floral double-stack platform lace-up boots from R13, and a charm-embellished chain-link necklace from Chopova Lowena.
Pins
Eunchae's Look #2
Now isn't this the coolest way to wear these R13 frayed denim overalls?
Pins
Eunchae's Look #3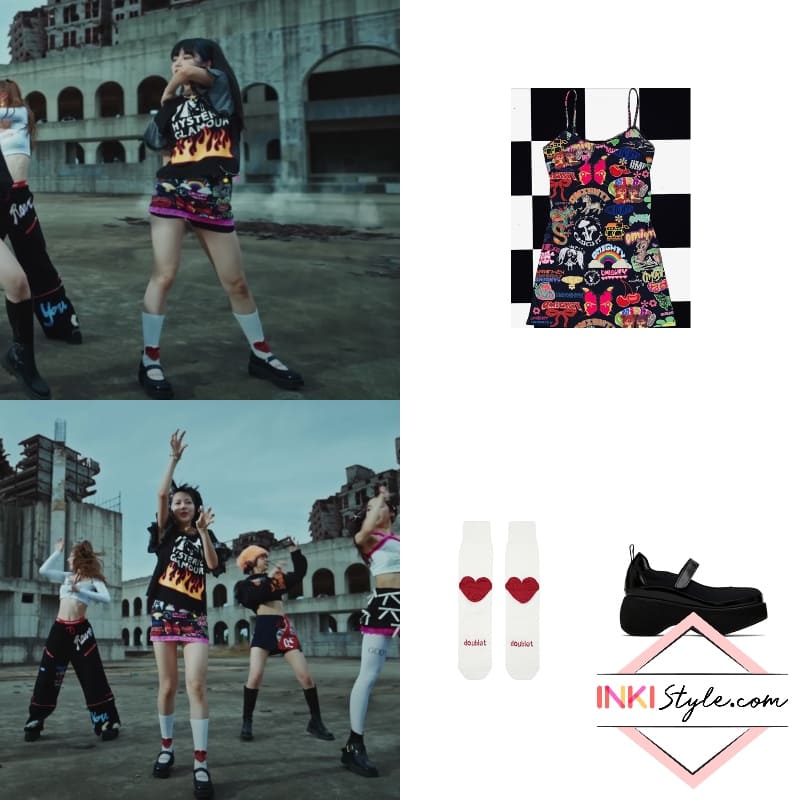 Pins
Eunchae's Look #4
Pins
Chaewon's Look #1
As for Chaewon, she proudly showed off her enviable figure and these GCDS logo print briefs. And to finish off her denim-on-denim look, she opted for statement AC Maxi earrings from Courrèges.
Pins
Chaewon's Look #2
This outfit of Chaewon's was undoubtedly one of the best ones in the MV, which consisted of a Hollywood Babylon-print cotton hoodie from GUCCI and a multicolor polyester mini skirt from PHIPPS.
Pins
Chaewon's Look #3
Want to instantly turn a boring look into a cool and bold one? Chaewon's Norbury denim skirt by R13 is the way to go!
Pins
Chaewon's Look #4
Pins
Yunjin's Look #1
Fans were all mind-blown by this stunning look of Yunjin's, which featured a blue Imagination slip dress from PRAYING and a pair of All Over Pierce printed tights from ASHLEY WILLIAMS.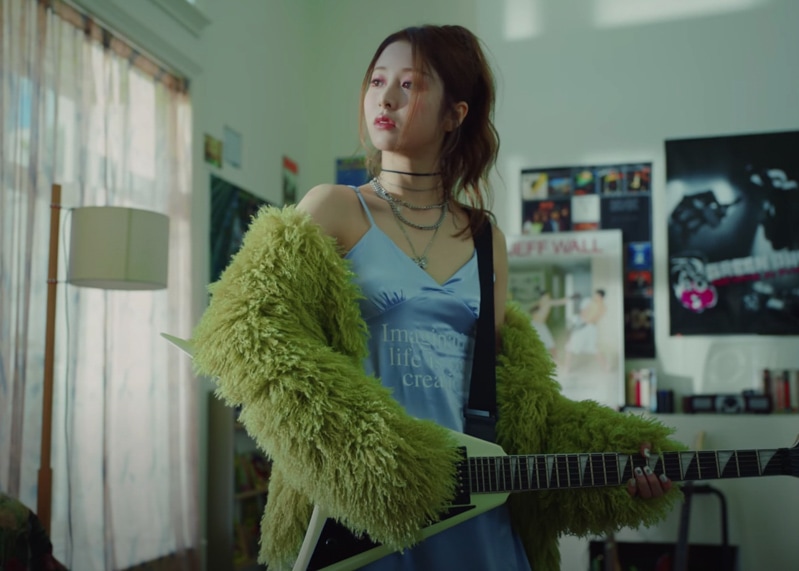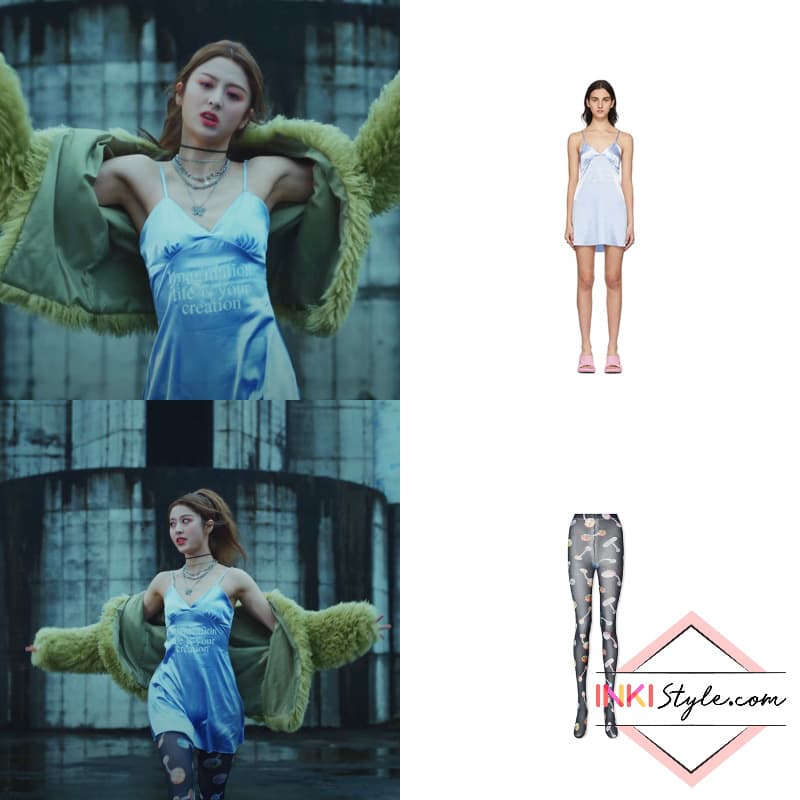 Pins
Yunjin's Look #2
Yunjin featured one of our favorite looks in 'Antifragile', in which she opted for a cute logo-plaque denim top from Prada and a pair of logo jersey briefs from BALENCIAGA.
Pins
Yunjin's Look #3
Pins
Sakura's Look #1
You can easily get Sakura's super cute I Do Not Exist lace cami top from Omighty. You're welcome!
Pins
Sakura's Look #2
Pins
If you like this post, share it with a friend who might like it as well. And don't forget to follow our Facebook Page for more news on Korean fashion & beauty!