IVE is gearing up for the upcoming release of their first extended play 'I've Mine' and just dropped their second pre-release title track 'Off The Record'. Following the tone of their first track 'Either Way', this song further showcases a mellow and easy-going side of IVE. It should come as no surprise that the girl group manages to pull off this concept as well.
As for the music video, the cinematic visuals fit in seamlessly with the whimsical ambiance of the song. This ties in with IVE's styling for the track which is full of vibrant red shades, muted pinks, off-white themes, and knitted attires. All in all, it's just in the mood for the fall season. So, keep reading to find out more details about the outfits.
IVE's 'Off The Record' MV Fashion
Please note: This post contains affiliate links to products we trust and recommend. If you choose to purchase a helpful product using these links, we may receive a small commission for referring you – at no extra cost to you. These funds help us keep this blog up and running.
Yujin's Look #1
Yujin cut a brooding figure in a forest green doodle-print bomber jacket from VETEMENTS in one of the first looks from the video.
Pins
Yujin's Look #2
While her pink and red bow ribbon drop earrings from SIMONE ROCHA matched her red turtle neck, it's also a stark contrast against her cream-shade Marine Serre front zip detail cable knitted jumper, making both the items stand out in its combination.
Pins
Leeseo's Look
For a contemporary yet feminine look, Leeseo styled a floral pattern embroidered white jersey t-shirt from Shushu/Tong with a grey gathered tulle skirt from Molly Goddard.
Pins
Rei's Look #1
The highlight of Rei's playfully cute outfit here is the Dion Lee barley brown and olive green workwear pleated miniskirt.
Pins
Rei's Look #2
Her black knitted vest from ALESSANDRA RICH with a studded red bear motif is another memorable look that has a similar essence to her previous look.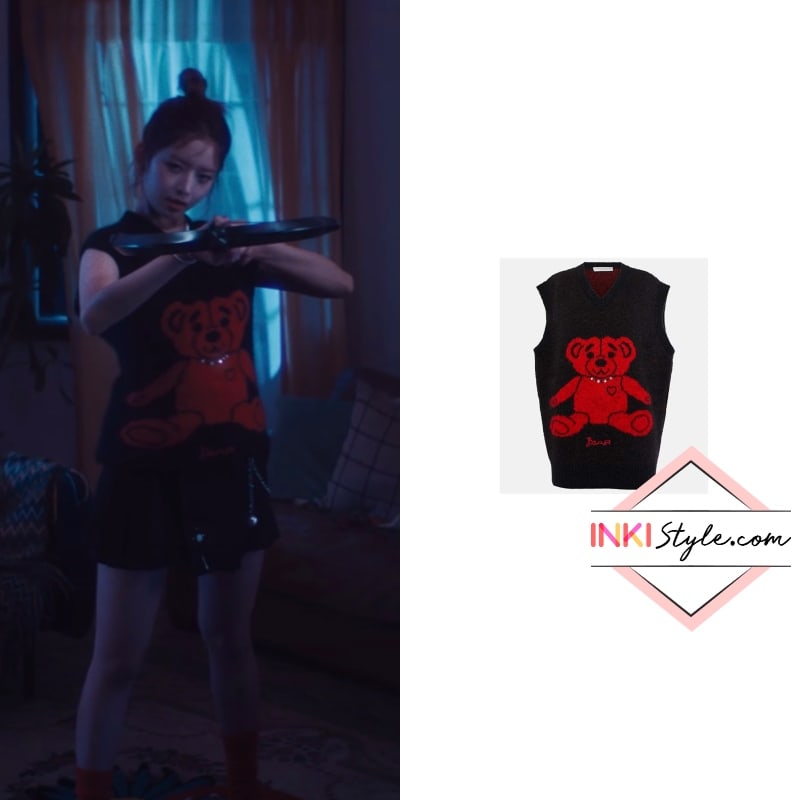 Pins
Liz's Look #1
Liz wore a red striped crewneck sweater from ERL which is a must-have for a fall wardrobe with its versatile fits.
Pins
Liz's Look #2
She then dazzled in a candy red knit vest from PONYTAIL, a logo waistband pleated mini skirt from Miu Miu, and an Alessandra Rich pearl necklace with spikes and crystal detailing.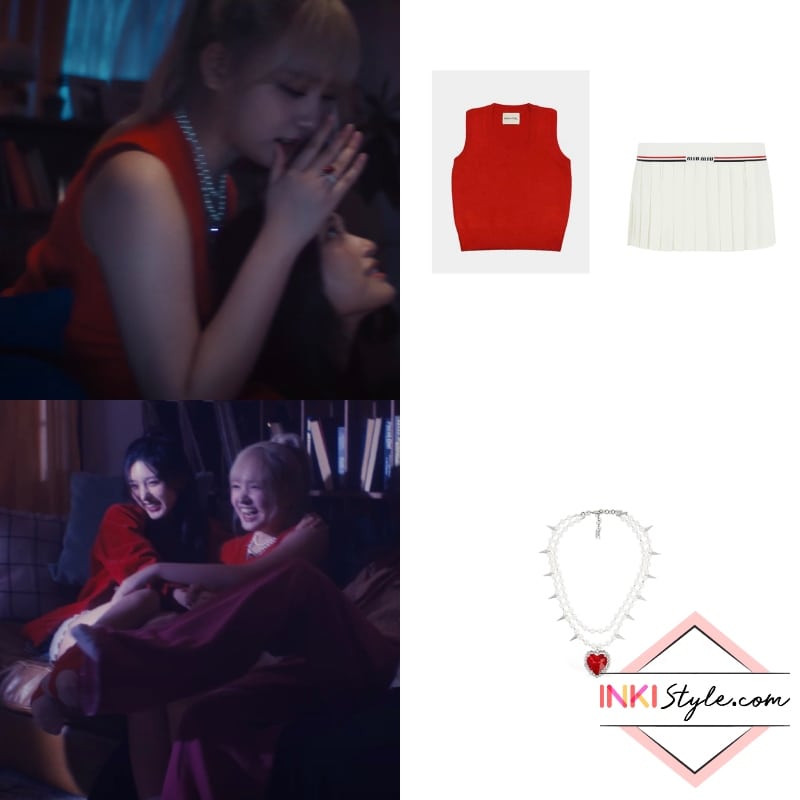 Pins
Gaeul's Look #1
Gaeul paired an off-white distressed printed cotton-jersey hoodie from SAINT MXXXXXX with a distressed denim embroidered-design cap from Martine Rose for a casually trendy look.
Pins
Gaeul's Look #2
Red is definitely Gaeul's color as this embroidered logo long-sleeve shirt from KidSuper suits her perfectly.
Pins
Wonyoung's Look #1
Keeping up with the red and white theme with her cotton vest from PONYTAIL, Wonyoung went a step further to embellish her outfit with a light pink floral applique headband from Alessandra Rich.
Pins
Wonyoung's Look #2
Pins
Continue reading:
If you like this post, share it with a friend who might like it as well. And don't forget to follow our Facebook Page for more news on Korean fashion & beauty!