After teasing 'I've Mine' for weeks with two mellow pre-release singles, IVE finally dropped the highly anticipated extended play with a rap-heavy title track 'Baddie'. The catchy beat drop chorus is already stuck in our heads and the vibrant music video where IVE embodied the crush concept with a little superhuman twist is burned in our minds.
Apart from transitioning into outlaw cats and escaping numerous capture attempts, the girl group managed to stay true to their fashionable roots as baddies. Suffice it to say that IVE's experimental outfit ideas in the music video are here to stay.
IVE's 'Baddie' MV Fashion
Please note: This post contains affiliate links to products we trust and recommend. If you choose to purchase a helpful product using these links, we may receive a small commission for referring you – at no extra cost to you. These funds help us keep this blog up and running.
Wonyoung's Look #1
Wonyoung started off the video in an unforgettable silhouette achieved with the help of a pink faux-fur bunny balaclava and a bubblegum pink logo-plaque heart backpack, both from AMBUSH.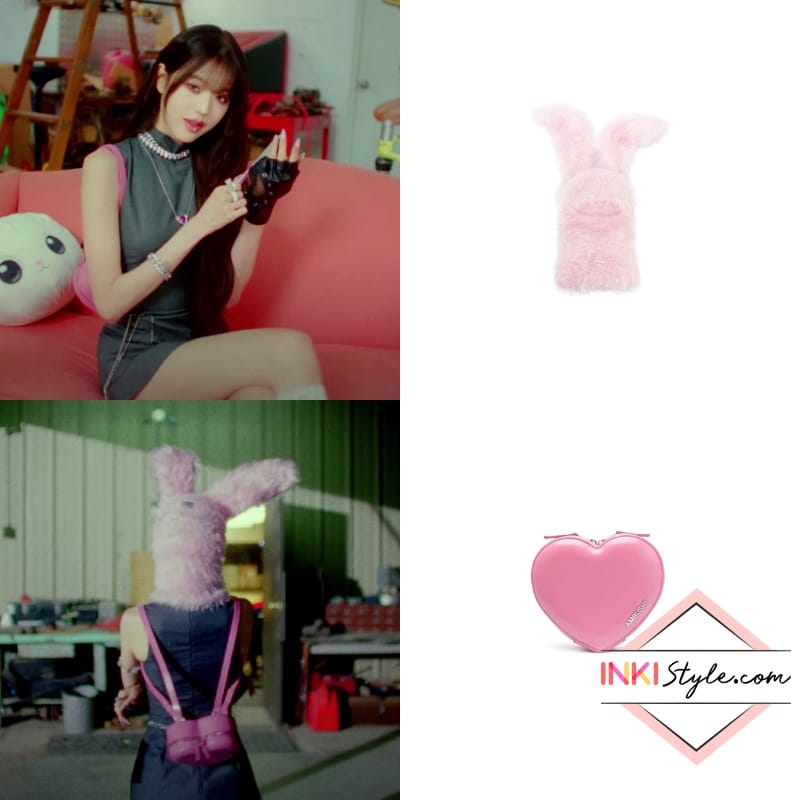 Pins
Wonyoung's Look #2
She maintained the same attitude in a black buckle-detail bralette top from Miu Miu paired with baggy white and red track pants.
Pins
Wonyoung's Look #3
These red platform Chelsea boots from Charles & Keith elevated her white tube top and black mini skirt outfit from cute to edgy.
Pins
Liz's Look #1
With her uniform-inspired blazer and shorts combo, Liz rocked a stylish pair of NEW ROCK white ankle boots to complete the outfit.
Pins
Liz's Look #2
Going for a mix of sporty and preppy aesthetics, Liz styled a cropped vintage Newcastle United home shirt with a twirly pleated skirt from RED Valentino. For footwear to tie the whole look together, she chose off-white AMBUSH logo band embroidered socks to wear with tan paneled ankle boots from PALM ANGELS.
Rei's Look #1
Rei matched the over-the-top energy of the video with her equally quirky outfit comprising of a silver bow rose vase single drop earring from SHUSHU/TONG, a pink teddy-bear backpack from Acne Studios, and black and white leather ankle boots from NEW ROCK.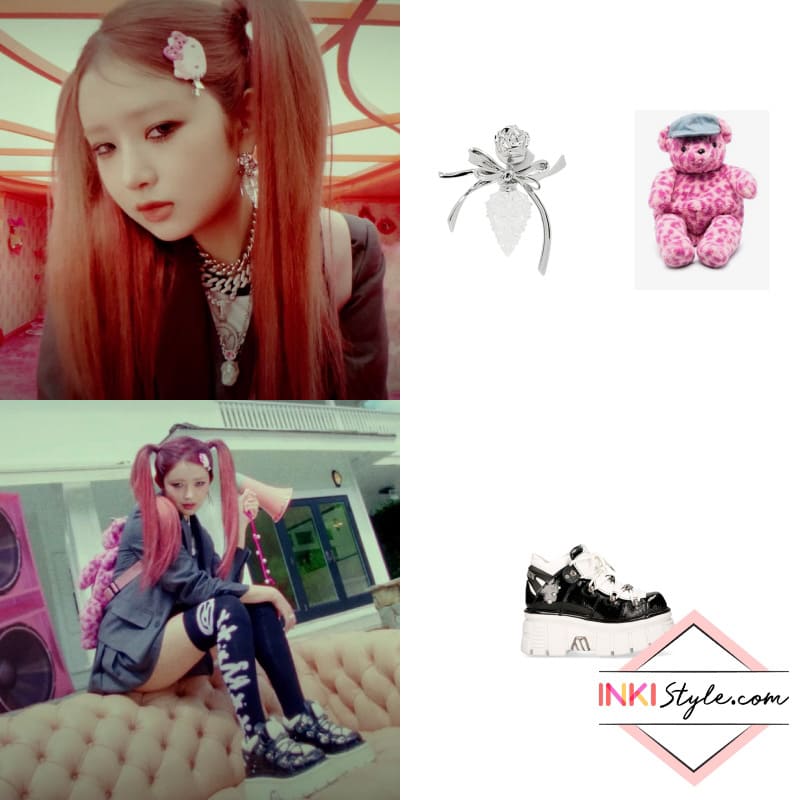 Pins
Rei's Look #2
She then exuded charisma in a white knit beanie from BAPE and a Supreme Eagle moto jersey in black.
Pins
Gaeul's Look #1
For Gaeul's first look, her trendy pair of white platform sneakers from VETEMENTS X NEW ROCK with its blue bullpen drawing design was the highlight.
Pins
Gaeul's Look #2
She then put together a snappy ensemble around a Palazzo Juventus long-sleeve jersey from Palace, improving it with black monogram tights from VETEMENTS layered with black print shorts from LESUGIATELIER. She topped it off with a grey Hyein Seo harness pleated mini-skirt, complete with black logo embroidered socks from AMBUSH.
Gaeul's Look #3
Here, Gaeul wore a pretty beige eyelet-embellished pleated denim miniskirt from Ludovic de Saint Sernin to go with her black leather off-shoulder top.
Pins
Yujin's Look
Yujin sported a cropped navy racing jacket from Hyein Seo in a boldly outlandish outfit that blended conventional styles with the contemporary.
Leeseo's Look #1
As for Leeseo, she balanced her black leather mini skirt and boots with an effortlessly fashionable red Vic top from THE ROW.
Pins
Leeseo's Look #2
Continue reading:
If you like this post, share it with a friend who might like it as well. And don't forget to follow our Facebook Page for more news on Korean fashion & beauty!