ITZY was on fire on November 30 as they released a new music video that will definitely stick in fans' memory for years to come: 'Cheshire'. The five gorgeous girls nailed everything in this out-of-the-box MV, from the impressive choreography they performed on different stages, to the great lyrics that fans are already addicted to.
But let's talk fashion – the girl group showed off an impressive array of bold and unique outfits that you definitely don't want to miss. So, read on as we break down the outstanding fashion choices made by ITZY in 'Cheshire'!
Please note: This post contains affiliate links to products we trust and recommend. If you choose to purchase a helpful product using these links, we may receive a small commission for referring you – at no extra cost to you. These funds help us keep this blog up and running.
ITZY's 'Cheshire' MV Fashion
Lia's Look #1
Every detail about this look of Lia's is perfect, especially her statement red patent thigh-high boots by Demonia!
Pins
Lia's Look #2
We almost mistook Lia for an angel when she appeared wearing this adorable pair of faux-fur snow boots from Moon Boot!
Pins
Yeji's Look #1
Are you going crazy over this jaw-dropping outfit showcased by Yeji? You can easily copy it by getting a short sleeve tee from Alexander Wang, a low-rise denim mini skirt also from Alexander Wang, and a cool logo belt from VETEMENTS!
Pins
Yeji's Look #2
Yeji's black-and-white classy outfit was definitely worth taking note of, which starred a stylish pair of black punk heels by ALEXANDER MCQUEEN.
Pins
Ryujin's Look #1
As for Ryunjin, she rocked an edgy look consisting of a distressed mech lace-up tank top and paneled mesh cotton sweatpants from Windowsen. And to finish everything off, she went for a pair of chain-embellished chunky-sole leather ankle boots from MIU MIU and a silver bristol chocker from Vivienne Westwood.
Ryunjin's Look #2
She looked drop-dead gorgeous when she showed up wearing a cute sports bra from Versace!
Pins
Yuna's Look #1
Yuna got creative by wearing Diesel's boxer underneath Miu Miu's plaid wool miniskirt. And we're all over it!
Pins
Yuna's Look #2
Yuna added sparkle to her outfit by using a statement-making heart clover long crystal necklace from Saint Laurent.
Pins
Yuna's look #3
She also wore the icon faux-fur snow boots from Moon Boot as Lia did, and they both looked equally angelic!
Pins
Chaeryeong's Look #1
Chaeryeong sported a cute yet spooky, black-and-pink outfit that featured a Pink martini edition long-sleeve T-shirt from Balenciaga.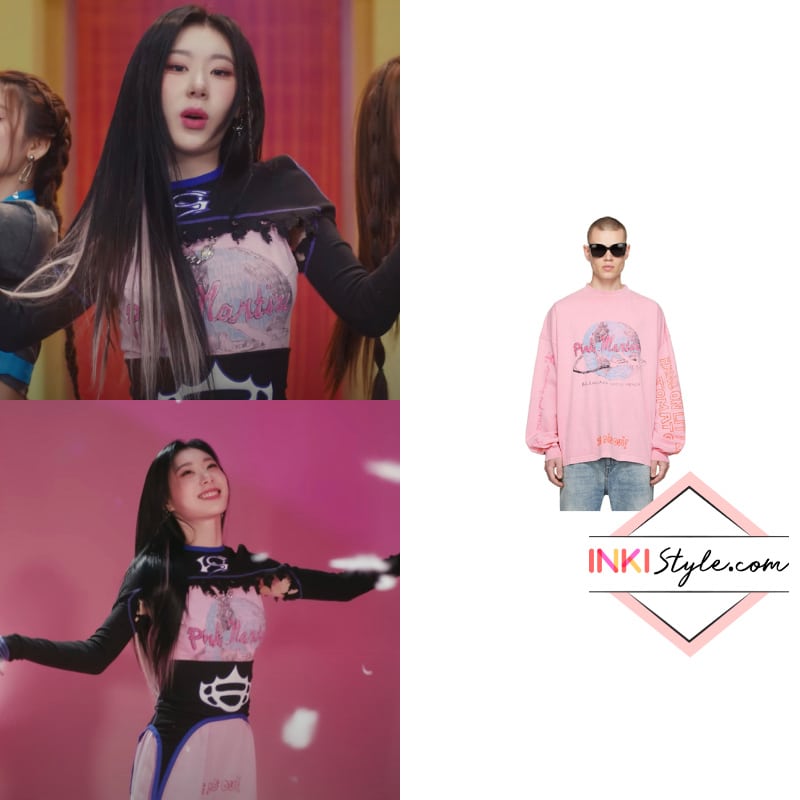 Pins
Chaeryeong's Look #2
Finally, she managed to pull off a flawless, classy outfit thanks to this black wool blazer from Alexander McQueen!
Pins
If you like this post, share it with a friend who might like it as well. And don't forget to follow our Facebook Page for more news on Korean fashion & beauty!