ITZY's latest comeback is going to be the one talked about for years to come. After much teasing about their pre-release English single 'Boys Like You', the group finally dropped the song today.
The accompanying music video, with its Halloween party setting, is nothing short of amazing in terms of visuals and choreography. But most of all, ITZY embodied the rebellious and punk rock aesthetic of the video and delivered some iconic fashion moments. Check out the outfits below!
Please note: This post contains affiliate links to products we trust and recommend. If you choose to purchase a helpful product using these links, we may receive a small commission for referring you – at no extra cost to you. These funds help us keep this blog up and running.
ITZY's 'Boys Like You' MV Fashion
Yuna's Look #1
For her out-of-this-world outfit complete with angel wings, Yuna styled an all-white look with a little help from Balmain's knit sports bandage crop top and dramatic boots by BUFFALO.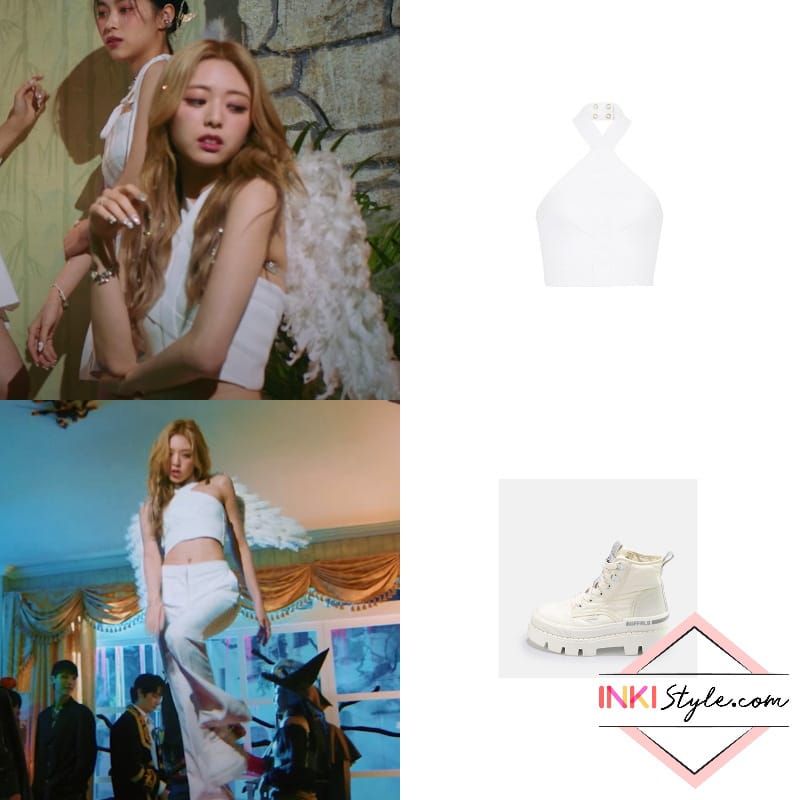 Pins
Yuna's Look #2
In another look, she reinvented the classic school uniform style by dressing up in a graphic-print single-breasted blazer from Raf Simons and a pleated skirt from Current Mood.
Pins
Yuna's Look #3
Yuna then paired a polo top from Louis Vuitton with a cozy cropped open-arm jacket of the same brand.
Pins
Lia's Look #1
Lia's literal angelic look would not be complete without a white strapless silk corset top from MANURI.
Pins
Lia's Look #2
The following look has Lia in DOUBLET's navy miniskirt with burning embroidery detail.
Pins
Lia's Look #3
Wearing a striped mesh sports bra from Celine with an A-line miniskirt from Palm Angels, Lia's next outfit strikes the perfect balance between sporty and trendy. She then opted for the fisherman ankle boots from JW Anderson to achieve the final look.
Pins
Yeji's Look #1
Yeji's first look features a black pleated skirt with chains from Tripp NYC.
Pins
Yeji's Look #2
Next up, she fashioned a white V-neck T-shirt from PUSHBUTTON into an immaculate crop top to go with her army green pleated skirt.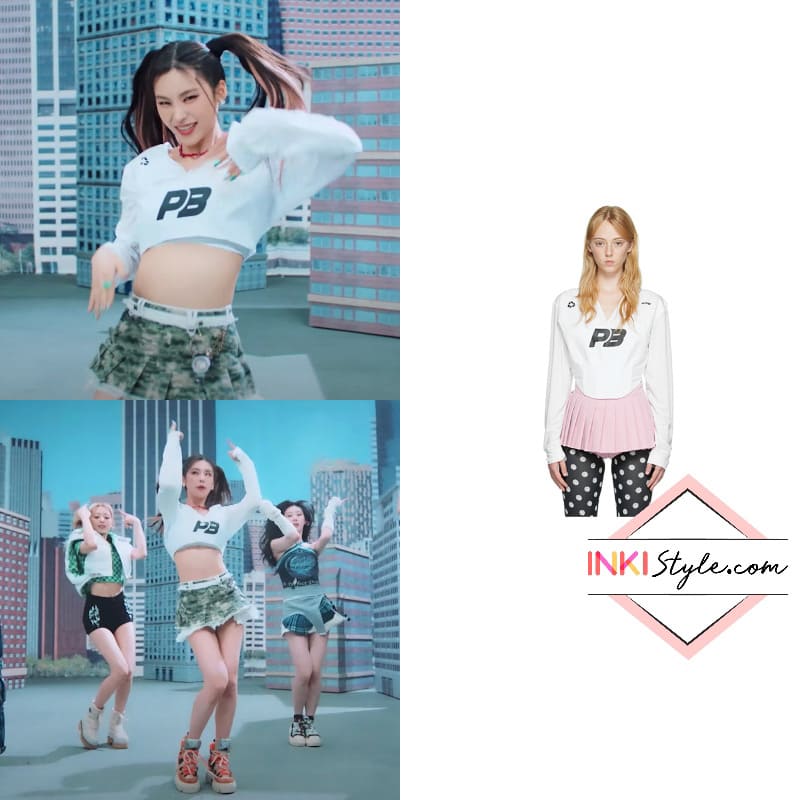 Pins
Ryujin's Look #1
Ryujin's gothic outfit is composed of a newspaper print corset top from With Jéan, a black rock skirt from Tripp NYC, a leather embroidered jacket from DSQUARED2, and lace-up high-top sneakers by Rick Owens.
Ryujin's Look #2
Here, she looked unforgettable in a denim ensemble from Tripp NYC consisting of a matching corset top and strap-on pants. Also, the logo waistband of bikini briefs from HommeGirls made an appearance.
Pins
Chaeryoung's Look #1
Chaeryoung put her own spin on the group's punk aesthetic by combining a distressed knitted vest top from R13 with a pleated mini skirt and fishnet stockings.
Pins
Chaeryoung's Look #2
Chaeryoung's cute outfit, especially with these white rib leg warmers from PRAYING creatively adjusted for long gloves, is a scene-stealer.
Pins
If you like this post, share it with a friend who might like it as well. And don't forget to follow our Facebook Page for more news on Korean fashion & beauty!