(G)I-DLE offered us a glimpse of what their upcoming extended play 'I Feel' is going to sound like. They dropped the pre-release single 'Allergy' on May 15, 2023. The song tells the story of the pressure to fit in with popular fads in the age of social media. Heavily inspired by the Y2K concept in terms of fashion and scenery, the music video is a meta-reference to the current revival of the early 2000s trends. The overall pink tone especially pops out, making it a memorable experience.
So, don't forget to check out all the outfits below!
Please note: This post contains affiliate links to products we trust and recommend. If you choose to purchase a helpful product using these links, we may receive a small commission for referring you – at no extra cost to you. These funds help us keep this blog up and running.
(G)I-DLE'S 'Allergy' MV Fashion
Soyeon's Look #1
Soyeon starts the video off in a multicolor stripe hoodie and check print midi skirt, both from JADED LONDON. Her transparent frame glasses from PROJECKT PRODUCKT and the brown 'Baby Milo' phone pouch from BAPE add to the overall cuteness of the outfit.
Soyeon's Look #2
Next up, she stepped out for a makeover in a 'Myspace Famous' baby white tee from OMighty and orange platform sandals from dELiA*s by Dolls Kill.
Pins
Soyeon's Look #3
Soyeon paired a rabbit cat face tee from ÊTRE AU SOMMET with a pink and white camouflage hoodie from BAPE. This time, she wore a basic knit skullcap beanie from Stussy and crush clog CROCS, both in pink. And of course, no look would be complete without her signature glasses from PROJECKT PRODUCKT.
Yuqi's Look #1
Yuqi completely owned the popular girl look in a faux-fur collar twist aqua blue cardigan from Blumarine and a camouflage print cargo skirt from I.AM.GIA.
Pins
Yuqi's Look #2
On a completely white canvas of her outfit, this iconic Fendi Baguette bag stood out with its salmon pink hue.
Pins
Yuqi's Look #3
In another unabashedly pink look, Yuqi wore an embellished wool crêpe mini dress from AREA with heeled cowboy boots. Her silver sequin baguette re-edition bag from Fendi complimented the campiness of it all.
Pins
Yuqi's Look #4
She then changed into a pretty Alessandra Rich wool blend top with butterfly embroideries and lawn cargo pants from Collina Strada, all in pink.
Pins
Shuhua's Look #1
Coming to this awe-inspiring look again, Shuhua twinned with Yuqi in a rose print faux fur collar cardigan from Blumarine, a pointelle tube top with lace trim from O Mighty, and a pink camo cargo skirt from I.AM.GIA.
Pins
Shuhua's Look #2
For a slightly casual outfit, she styled a fuchsia pink cartoon-print knitted top and high-waist skirt, all from GCDS, with baby pink platform block heels from Public Desire.
Pins
Shuhua's Look #3
Here, Shuhua wore a high neck seamed low back pephem mini dress in hot pink from ASOS DESIGN with a quad cross-body bag by JIMMY CHOO on her arm.
Pins
Shuhua's Look #4
The combination of her crystal bow mini dress from AREA with white platform heels from SIMMI is perhaps one of the most fashionable moments from the music video.
Pins
Miyeon's Look #1
As a part of the popular trio, Miyeon's first look is in a bright pink gathered mini dress from Solace London and a pooch velvet choker from Dolls Kill.
Pins
Miyeon's Look #2
Her confidence while rocking this pink dotted mesh mini dress from Sugar Thrillz is everything. Also, Jimmy Choo's micro cloud clutch bag in pink and gold is the perfect accessory to go with the outfit.
Pins
Miyeon's Look #3
This cute workout attire in the form of a graphic kitten print baby tee and heart print tracksuit, all from Sugar Thrillz, comes with a bonus nostalgia package.
Pins
Minnie's Look
In the last but not the least look, Minnie stole the scene in a graphic patterned green reversible one-piece swimsuit from CHOPOVA LOWENA. She topped it off with a black jacquard visor from DIOR EYEWEAR.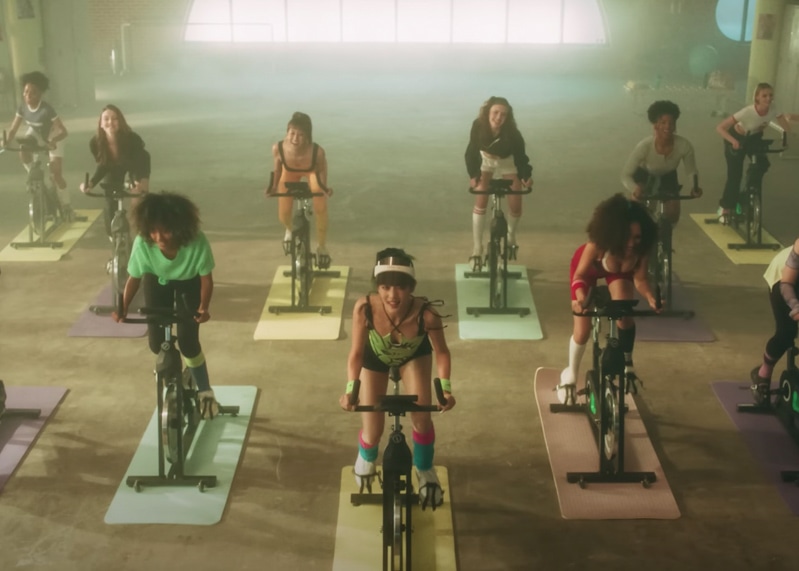 Pins
Continue reading:
If you like this post, share it with a friend who might like it as well. And don't forget to follow our Facebook Page for more news on Korean fashion & beauty!