There is little doubt that 'Destined With You' is becoming one of the most anticipated watches of the week. It manages to strike a perfect balance between fantasy, comedy, and romance. With every episode, we are left wanting more of the enjoyable side plots and genuine chemistry between the characters.
So while we wait for the overarching story to come together, we can keep ourselves busy by fawning over Jo Bo-Ah's incredible work and everyday fashion as Lee Hong-Jo.
Have you read?
Jo Bo-Ah's Fashion in the K-Drama 'Destined With You' Episodes 5-8
Please note: This post contains affiliate links to products we trust and recommend. If you choose to purchase a helpful product using these links, we may receive a small commission for referring you – at no extra cost to you. These funds help us keep this blog up and running.
Look #1
In the first look from episode 5, Bo-Ah wore a crisp brown single jacket from AVA MOLLI that blurs the line between seeming professional and informal, depending on how you style it.
Pins
Look #2
She then stepped out in a brown peaked collar blazer from Marithe Francois Girbaud with a white and black Musubi pattern leather shoulder bag from Acne Studios.
Pins
Look #3
This beige cropped trench coat and shorts ensemble from Romanchic conveys Bo-Ah's uniquely bold fashion sense.
Pins
Look #4
For a relatively laid-back fit that still manages to be stylish, she paired a white collar navy zip-up sweatshirt from Comb Studio with an ivory wool blended kong skirt from SINOON.
Pins
Look #5
Bo-Ah's signature argyle knitted vest from YOUR NAME HERE makes a welcome appearance in episode 6. As is tradition, she complements it with yet another brown notched classic wool jacket, this time from LOEUVRE.
Pins
Look #6
We also can't get enough of her homewear as she makes a beige V-neck line cardigan from Marithe Francois Girbaud look like a trendy fall piece in episode 7.
Pins
Look #7
Bo-Ah then snuggled in her flower fleece blouson jacket from FUNFROMFUN, layering it over a charcoal cable knit vest from Nyhavn. The outfit is the definition of cute.
Pins
Look #8
She then changed into a navy jacquard knit vest from Siyazu and a white broderie top from AllSaints. The pleasing combination also features a cozy black epoque bag from Atelier de LUMEN.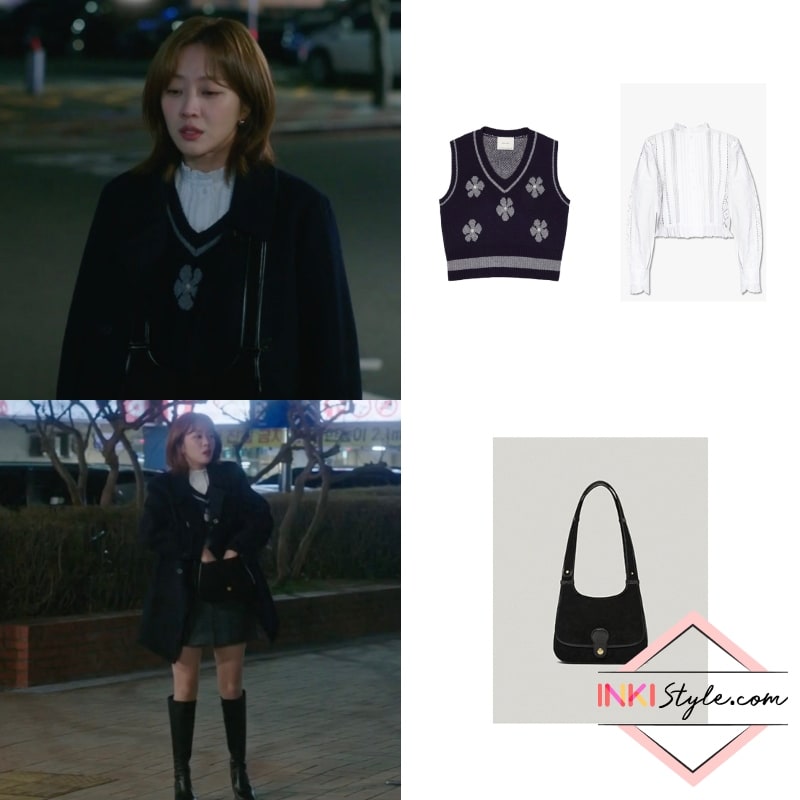 Pins
Look #9
This pure wool sailor collared jacket from UMARMUNG is a vintage look that we can get behind.
Pins
Look #10
With winter in full swing in the show, Bo-Ah traded her blazer for a melange beige suit coat from marron edition in episode 8.
Pins
Look #11
Here, she styled a baby blue alpaca hooded coat from INSILENCE WOMEN with a gray logo V-neck knit sweater from RE_L.
Pins
Look #12
In an all-black outfit, Bo-Ah looked very elegant in her cape-detail jacket from LOEWE.
Pins
Look #13
The last but not the least outfit for the day is this blue and white liberty strip knit sweatshirt from AND YOU that never goes out of style.
Pins
Continue reading:
Read more about the fashion in the Korean drama 'Destined With You' here.
If you like this post, share it with a friend who might like it as well. And don't forget to follow our Facebook Page for more news on Korean fashion & beauty!