The preppy style in the Korean fashion scene is becoming quite big in recent years. It's something we not only see in Korean celebrities, but also in the most stylish fashion districts in Korea.
If you find yourself wanting to embrace the Korean preppy style this Fall/Winter, then we've got you covered! Here are 7 fashion pieces to help you master the prep aesthetic.
Please note: This post contains affiliate links to products we trust and recommend. If you choose to purchase a helpful product using these links, we may receive a small commission for referring you – at no extra cost to you. These funds help us keep this blog up and running.
Polo Shirts
The polo shirt, which is also referred to as "the golf shirt", is quite a trendy staple piece for casual wear. It's simple, but it can definitely turn heads depending on how you would style it.
Hyein (NewJeans)
We spotted NewJeans' Hyein sporting her polo top with an A-line short skirt which gives a youthful and sporty vibe.
Shop the Trend

Button-up Shirts
If you're into something comfy and more loose-fitting, a button-up shirt makes a great clothing piece for your preppy wardrobe.
Jisoo (BLACKPINK)
To amp it up a bit, you can layer a knitted vest over it just like how Jisoo (BLACKPINK) rocked hers!
Chaeyoung (TWICE)
For a youthful, school-girl vibe, you can also steal TWICE Chaeyoung's style by accessorizing it with a tie for a cuter look!
Shop the Trend

Pleated Skirts
When we think of mini pleated skirts, we think of Y2K fashion. But guess what? They are back and conquering the Korean entertainment scene! We see these pleated skirts in almost every idol girl group like the following snaps we got from NMIXX's Lily, Taeyeon, and TWICE's Dahyun!
Lily (NMIXX)
Lily styled hers in a coordinated top and skirt ensemble, along with a black tie and black leather belt.
Taeyeon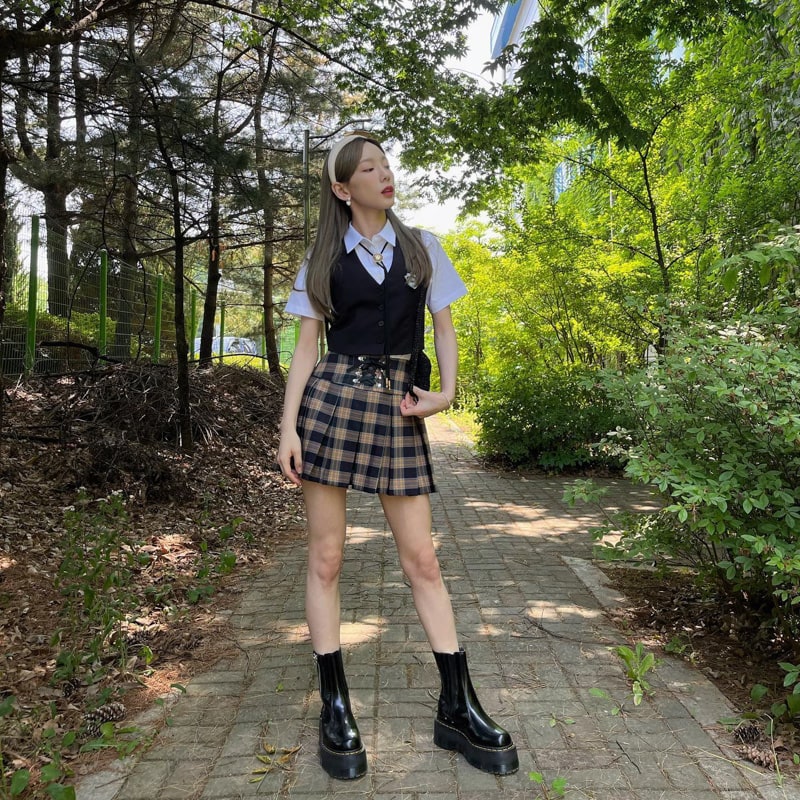 It almost goes the same for Taeyeon who just added a vest to make it more "school girl".
Dahyun (Twice)
Dahyun's preppy style ensemble, on the other hand, makes a perfect airport fashion outfit with her cotton collared crop top.
Shop the Trend

Blazers
This year's Korean preppy style blazers are either long blazers or cropped blazers. The conventional, tailored blazer is still quite timeless, of course. However, both long and cropped blazers suit the modern, street style more.
Kim Se-Jeong
Here we can see Kim Se-Jeong wearing a long blazer that's almost the same level as her mini skirt.
Sooyoung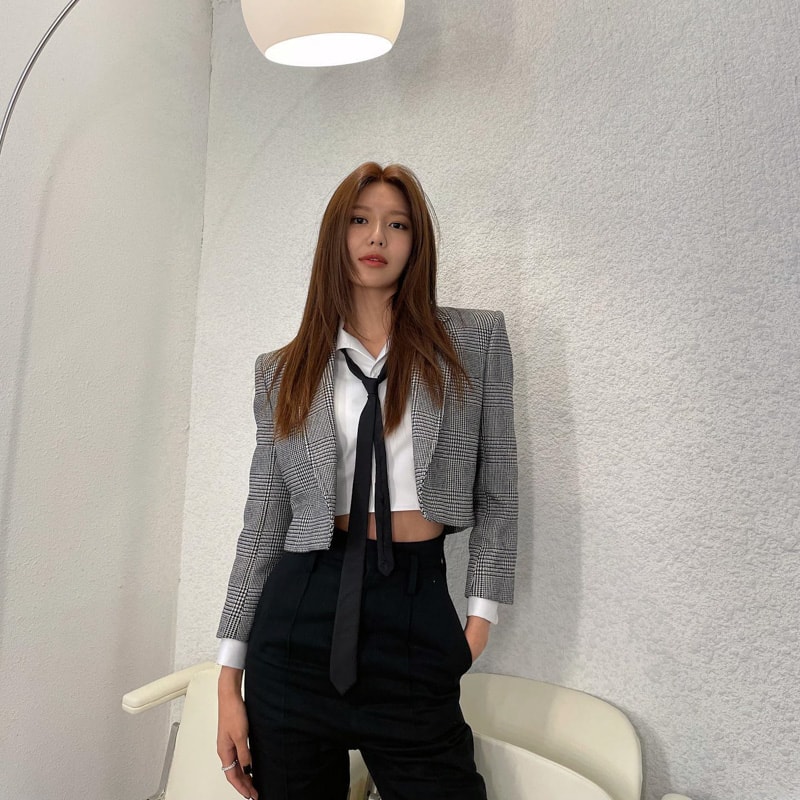 Meanwhile, Sooyoung paired her cropped blazer paired with high waist pants.
Shop the Trend

Varsity Jackets
The varsity jacket (also known as the baseball jacket) is an absolute must-have this year – most especially for those who are very much into K-fashion.
Han Hyo-Joo
To give you an idea of how to wear them with swag and class, here's Han Hyo-Joo donning hers in simple casual pants and combat boots. 
Nayeon (TWICE)
We also loved TWICE Nayeon's sexy take on her varsity jacket by going for a crop top and denim jeans!
Shop the Trend

Loafers
There's something about loafers that we seriously can't get enough of! You may opt for lighter ones with lower heels, but the platform and chunky-heeled loafers have been quite a common sight in many K-pop idols! Again, its preppy look is apparent due to how youthful the ensembles are!
NewJeans
In this look, we can see how NewJeans translated that look.
Joy (RED VELVET)
RED VELVET's Joy went for the more casual and laid-back route by pairing her loafers with a simple denim mini dress.
Shop the Trend

Mary Jane Shoes
Last but definitely not least in our preppy style fashion must-haves is a pair of Mary Jane shoes. You can go for flat ones or Mary Jane pumps. Either way, both are very easy to pair in numerous clothing coordinates.
Sakura (LE SSERAFIM)
LE SSERAFIM's Sakura is looking sweet and dainty with her preppy ensemble featuring a pair of white Mary Janes! 
Shop the Trend

See? Gearing your Korean preppy style wardrobe isn't as hard as you think. In fact, it's actually fun because most of them are very easy to mix and match! So which among these looks did you fancy the most?
If you like this post, share it with a friend who might like it as well. And don't forget to follow our Facebook Page for more news on Korean fashion & beauty!