As K-pop fans, we have great fun to look at the bold and whimsical outfits celebrities post on their Instagram accounts or wear on stage. But, how many of the current Korean fashion trends are wearable as a day-to-day outfit? Well, there actually are plenty that we can totally wear every day.
If you love to look polished but comfortable, come and check out some of the best trends we have cherrypicked for you today. We promise you will not be disappointed!
Also, make sure to read until the end of this article for a coupon code to get 20% off your next Spring fashion purchase.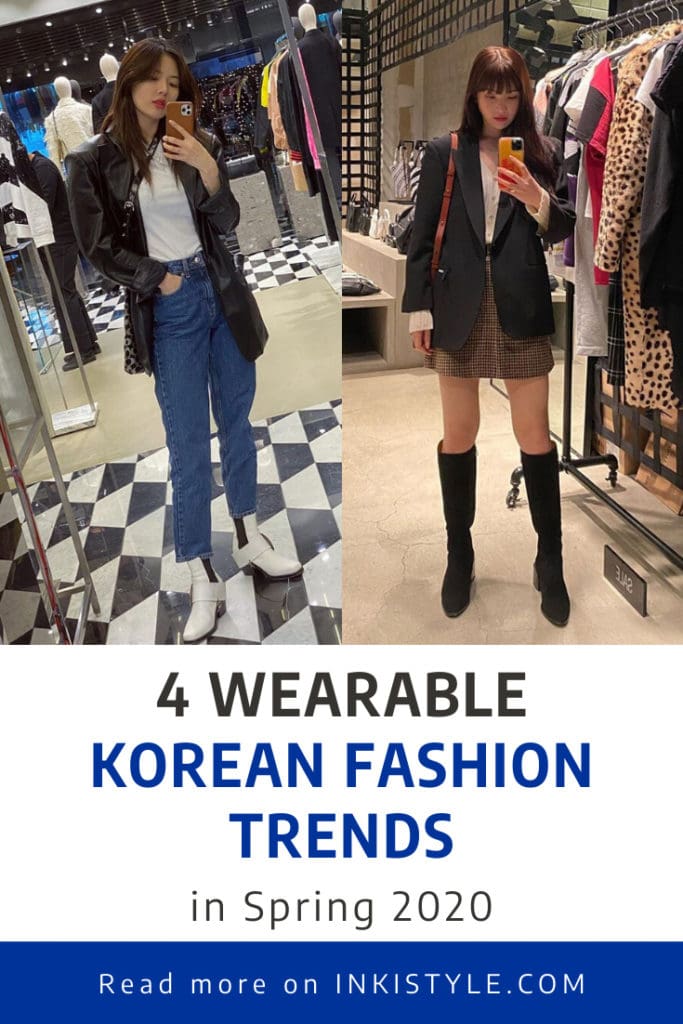 Leather
Celebrities are obsessed with leather (or faux leather) trend, and so should you! Leather pieces are timeless and all-time chic, thanks to the clean lines and minimal embellishment. Despite the obvious advantages, some of you may still think leather pieces are hard to pull off in real life. Here are some tricks we can learn from our K-pop celebrities.
HyunA
As a perfect starting point, try neutral colors like black and brown as they are most versatile and easy to wear. Let a single leather piece be the focus of your outfit as HyunA does and ground it with a simple tee and a pair of basic jeans.
Im Soo-Hyang
Style your leather skirt with an oversized cozy sweater to soften the look. Yes, you can create a super feminine and romantic outfit like Im Soo-Hyang with a hard leather piece.
Shop The Trend
Vegan Leather Oversized Classic Blazer ($195)
Style this oversized vegan leather blazer with a flowy slip-on dress and pair of sneakers to create a stunning contrasting spring look.
Vegan Leather Belted Overshirt Jacket ($135)
Pair this belted vegan leather jacket with trending bike shorts and a pair of sophisticated heeled sandals for a super edgy look.
Vegan Leather Midi Skirt ($115)
Try a basic turtleneck with this vegan leather midi skirt to create a slim-fit look or pair an oversized collared sweater for a super stylish and cozy look.
Oversized Blazers
Oversized blazers can be styled with a button shirt and suit pants or casual tee and jeans. Therefore, we believe this is the one trend that is most versatile, which means you can wear in the office or a weekend outing with friends.
Joy (RED VELVET)
Oversized blazers look bigger, longer, wider and broader, but they are not hard to master. Check out Joy's outfit here. She softened the look by pairing it with a girly blouse and a short skirt.
Seulgi (RED VELVET)
Vintage and boyish charm – we love this super laidback look from Seulgi and the color combination she chose.
Shop The Trend
Super Oversized Blazer In Beige ($175)
Feeling adventurous? Why not picking a loose-fit deep-V pull over to go with this beige blazer and add a little bit of sexiness to your boyish look? Don't forget to roll up your sleeves and walk like you don't care a thing in the world!
Oversized Black Classic Blazer ($155)
Try a slim-fit dress shirt with bold color or statement-making pattern inside this cool black blazer and wrap it up with a pair of ankle boots.
Super Oversized Blazer In Gray ($175)
Layer up your look with a shirt, dress, or cardigan in different lengths and throw this super oversized grey blazer as a final touch.
Crops & Cut-outs
There is nothing wrong with showing a bit of your skin every now and then. These sweet crops & cut-outs do not only work on stage but also work wonders in real life too.
Lisa (BLACKPINK)
Lisa channeling that street edginess with this sexy tee and high waist jeans. Having the right makeup style is the key.
Sunmi
Layering up cropped tops together to create some sexy cut-outs like Korean singer Sunmi without showing too much skin.
Shop The Trend
Cut-out Long Sleeve Top ($55)
Add a little bit of flair to your basic wardrobe by adding this low-key cut out top.
Single Breasted Cropped Blazer ($125)
There are so many reasons you shouldn't miss this cute cropped blazer, especially if you love layered looks!
Open-back Ribbon Tie Ruffle Sweatshirt ($65)
We all love a little peek-a-boo at the back. This open-back ribbon tie ruffle sweatshirt has a laidback yet whimsical quality to it. Pair it with a pair of fitted leather pants and your favorite blings, you are guaranteed to stand out from the crowd.
Puff Sleeves
Puff sleeves were one of the defining trends of 2019 and it is still going strong in 2020. If you missed it last year, there is still time for you to jump on the trend train now! We have to admit that puff sleeves are more exaggerated than other pieces in our regular wardrobe. However, we can still incorporate them into our everyday looks.
Jessica Jung
Lace and puff sleeves are best friends. Putting them together with the pink high waist jeans, Jessica Jung created a super dreamy and girly look.
Suzy
Instead of a normal blouse, puff sleeves can provide that extra volume you need to stay casual but stand out from the crowd like how Suzy did here.
Shop The Trend
Puff Shoulder Ribbed Top ($55)
Style this puff shoulder ribbed top with pleated high waist pants or skirt in neutral colors. This way you don't need to step out of your comfort zone but still take on the trend effectively.
Sheer Puff Sleeve Top ($65)
Dial-up the drama with this sheer puff sleeve top. Tuck it into fitted pants or a side-split flowy skirt, your look will be so wonderfully luxurious without even trying.
Puff Sleeve Hourglass Blouse ($75)
This puff sleeve hourglass blouse has a super feminine and laidback vibe. Pair it with casual jeans or a floral skirt for a perfect outfit for a weekend outing.
So, which trends will you be rocking this season? Start shopping for your Spring outfits now at The Dallant with the coupon code below!
The Dallant Sale
20% off. Free shipping for US orders over $50. International shipping available.
Please note: This article is sponsored by The Dallant. However, all opinions remain our own and we provide an honest assessment of all sponsored products and services.
If you like this post, share it with a friend who might like it as well. And don't forget to follow our Facebook Page for more news on Korean fashion & beauty!